by Jeff Thomas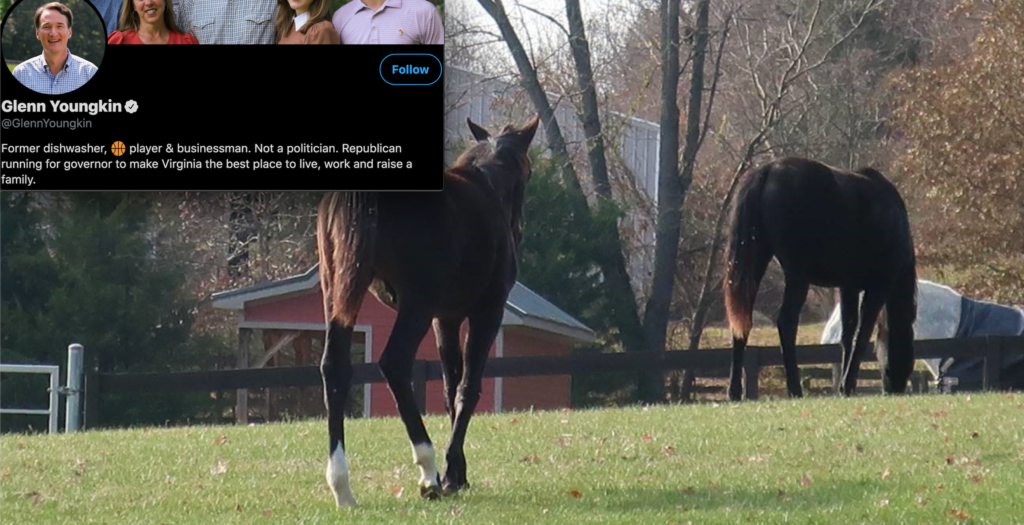 While ordinary people were suffering and dying at the beginning of the pandemic, Glenn Youngkin worked hard to pay less in private estate taxes.
The Richmond Times-Dispatch's Patrick Wilson, winner of the 2019 Freedom of Information Media Award and 2020 Virginia Press Association First Place Award in Investigative Reporting, had a bombshell scoop with political ramifications. The Times-Dispatch has not endorsed a Democrat for governor for decades and is hardly a friend of the Democratic Party.
Wilson reported that Youngkin went to Fairfax County with his hands out in the spring of 2020 to get an "agricultural/forestry" tax break for the empty woods he bought around his mansion. The minimum size for an "agricultural" or "forestry" tax district is 20 acres. The Youngkins spent the last twenty years buying up million-dollar lots around their mansion and conned the government into designating it a "conservation district."
The tax break was not for a "horse farm," in fact, but for woods and grass surrounding Youngkin's 7BR/7BA family compound at 9640 Georgetown Pike, Great Falls, VA 22066, built in 2005. The details are in an insane 110-page public document, recounting the centimillionaire's long quest to not pay hundreds of thousands of dollars he would owe in property taxes on his private estate's yard.
Glenn Youngkin's gubernatorial conflicts disclosure lists ownership interests in Mane Manor, LLC, the Stable at Mane Manor, LLC, and Normandy Farm, LLC.
"The seven parcels constituting the 31.54-acre Farm were purchased incrementally starting in 2001 by the owners, Glenn and Suzanne Youngkin, trustees for Normandy Farm and Mane Manor. The size of this property contrasts with the smaller properties surrounding it. The property is developed for equestrian use and includes two outdoor riding arenas, stables, horse pastures, and storage buildings. Equestrian facilities typify land use in the immediate area, which is also characterized by stately homes, mildly undulating terrain, mown pasture lined with low wood fences, and scattered woodland areas."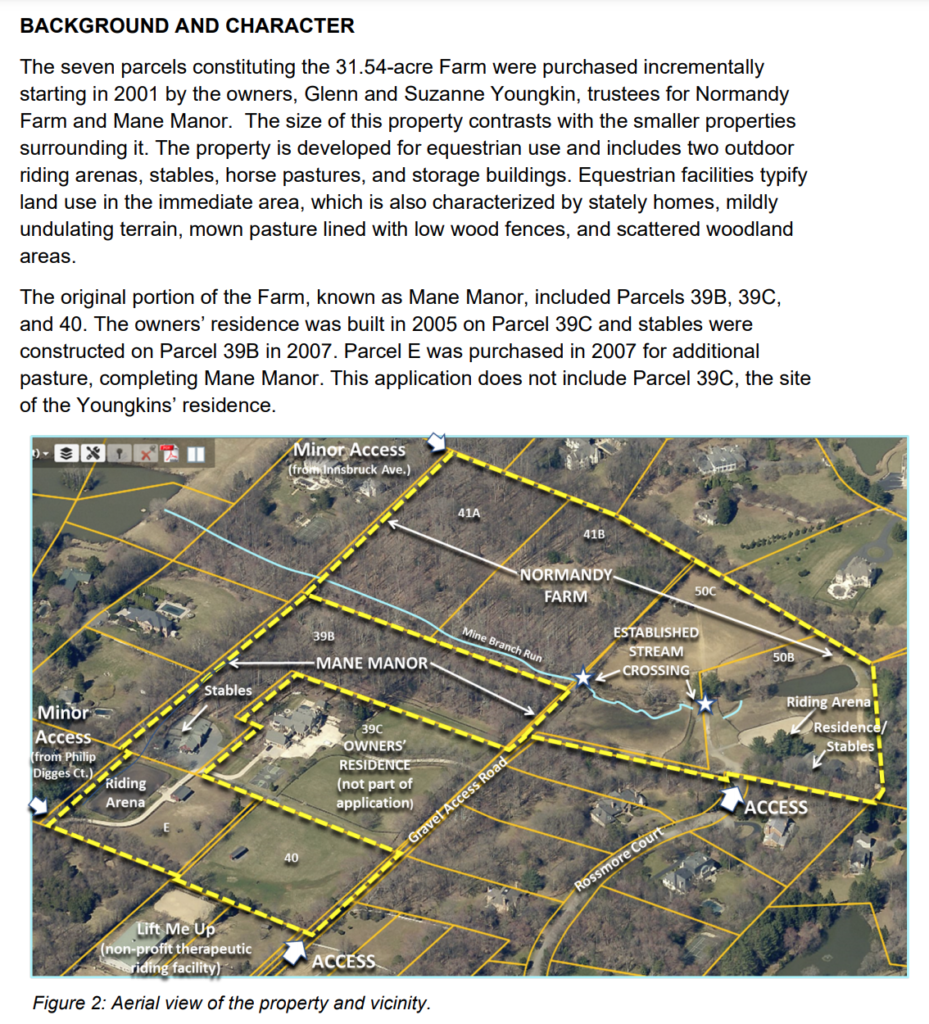 Glenn Youngkin's 'agricultural district' is actually the suburban lots he bought up around his mansion
On October 7, 2019, Youngkin applied to establish the vacant parcels around his compound as a special Fairfax County Local Agricultural and Forestal District (pp. 26-30/110), which would provide a property tax abatement for a minimum of eight years. This application was signed by Suzanne Youngkin (p. 27/110). The Youngkins hired attorney Andrew Painter of Walsh, Colucci, Lobeley & Walsh, a boutique Northern Virginia real estate firm, to see the application through (pp. 31-38/110). The local government used taxpayer funds to conduct soil, vegetation, watershed and environmental planning analyses regarding the application. On February 11, 2020, staff of the Planning Commission recommended establishment of the Mane Manor Agricultural and Forestal District (pp. 1-2/110), pending approval of the Board of Supervisors on March 24, 2020.
On March 11, Fairfax County Public Schools announced they would close, and on March 12, Governor Northam declared a state of emergency. On March 24, 2020, when the world was falling apart, the Fairfax Board of Supervisors delayed a vote on the Mane Manor Agricultural and Forestal District until April 14, and delayed the vote again until June 9. At no time during Pandemic Spring did the Youngkins stop pushing their tax break.
At the June 9, 2020 meeting, when the unemployment rate was 11.1%, Suzanne Youngkin called Fairfax County to pitch the scam in audio captured on the public record. "I want to underscore the fact that my husband and I are just pinching ourselves that we have been given an opportunity to preserve the equestrian heritage here in Great Falls. As many of you know, stables are becoming few and far between." (audio at 0:37 here). The "Mane Manor" special tax district was approved. Let them eat "equestrian heritage"!
The Mane Manor Agricultural and Forestal District consists of 31.54 total acres. 22.35 acres are in pasture/equestrian "conservation" for private use by the Youngkins; 9.19 acres are in "forest" (p. 5/110 from application packet document).
Calculation of tax break
Tax assessments of each parcel:
Parcel 40: $681,510
Parcel E: $651,510
Parcel 50C: $1,241,000
Parcel 50B: $1,043,740
Parcels 41A, 41B and 39B have not been separately assessed for tax purposes but are roughly 1.5x larger than parcels 50C and 50B combined. Thus, a fair estimate is ($1,241,000 + $1,043,740) x 1.5 = $3,427,110
Total estimated assessed value for all seven "Mane Manor" parcels = $7,044,870 
Fairfax County property tax rate = 1.14%
Property records indicate the tax assessments for the seven Mane Manor parcels are roughly $7,044,870. Over eight years, at Fairfax County's property tax rate of 1.14%, the Youngkin's private horse tax district will save them $642,492.14 in taxes. Glenn Youngkin paying or not paying hundreds of thousands of dollars in taxes is the equivalent of me deciding whether to get my Chipotle with or without guacamole.
The Problem of Inauthenticity
The private horse estate tax break he got for his front yard is emblematic of the issue that haunts Youngkin and could sink his campaign. Wealth is not seen as a negative in politics: witness Virginia's most popular politician, also the richest Senator, Mark Warner. But Youngkin's problem is that, unlike world-class con man Donald Trump, the Virginia Republican gubernatorial nominee comes across as fake to his supporters. Youngkin does not believe the Big Lie. He reeks of inauthenticity.
According to the book Double Down, opposing campaigns faced a tactical decision with both John Kerry and Mitt Romney. They could be attacked as either unprincipled flip-floppers or out-of-touch millionaires. Kerry was portrayed as a flip-flopper and Romney as an out-of-touch millionaire, while Bush was "the Decider" and Obama was "someone who understood the problems of real Americans." The different strategies reflected the political world created by the 2008 financial crisis: you can't trust a flip-flopper or a selfish Scrooge to help protect your interests when they're in office. But after the Great Recession, it became much more effective to bash somebody as an aloof elitist.
Youngkin is both an out-of-touch millionaire AND an unprincipled flip-flopper. The self-conscious biography he lists on his Twitter profile is: "Former dishwasher, basketball player & businessman." Glenn Youngkin's father, Carroll Youngkin, was the starting center on the Duke basketball team. Glenn attended Norfolk Academy, the expensive private school where white parents sent their children after integration so they would not go to school with Black children. Just because a privileged boy had a summer job doesn't mean he is a "former dishwasher." Pretending he was poor is offensive.
Youngkin's psychological insecurity has compelled him to harp on this fake biography ad nauseum. In one weird ad, he spends the whole commercial talking about "National Egg Day."
"No, I didn't know it was National Egg Day. The thing about National Egg Day is you have to know what kind of egg you like. I remember, you know, when I was working at the diner, people would walk in and we'd say, 'That guy's a poached egg, that woman's a fried egg, that lady is a scrambled egg.' So you gotta know what kind of egg you want. I'm a big fan of fried eggs that become one big egg. What I do think is everybody should like eggs on National Egg Day."
Did he really spend his years at Harvard Business School and in Carlyle's boardroom talking about "the diner"?
Some Democrats have said consultants are misguiding him. I think it's more likely his consultants are flattering his wealth while taking him for all he's worth. There has also been much made over his ever-changing positions on abortion and the Second Amendment. It's clear that he could not care less about those issues and just wants to use the government to make himself even richer and flatter his own ego. He is so out-of-touch that nobody can bring him to reality.
Glenn's horse website at normandy.farm, which readers should archive before he pays someone to banish it down the memory hole, has "European fronted stalls," a "designer club room," and, he assures us, is available only to "extremely limited clientele resulting in concierge-type attention and care." You won't have to see any working-class horses here! The services he offers read like they comes from another planet:
"Receiving a wholistic [sic] care strategy that combines exercise, nutrition, ample turn-out, individualized maintenance and as much or little show exposure as is desired, horses at Normandy Farm are prepared to excel. Customized, all-inclusive programs are designed for each animal with riders' enjoyment and safety as a top priority. With an emphasis on dressage, trainers work alongside esteemed veterinarians, farriers, breeders, and sports medicine care providers to maximize potential and produce the sport's finest athletes."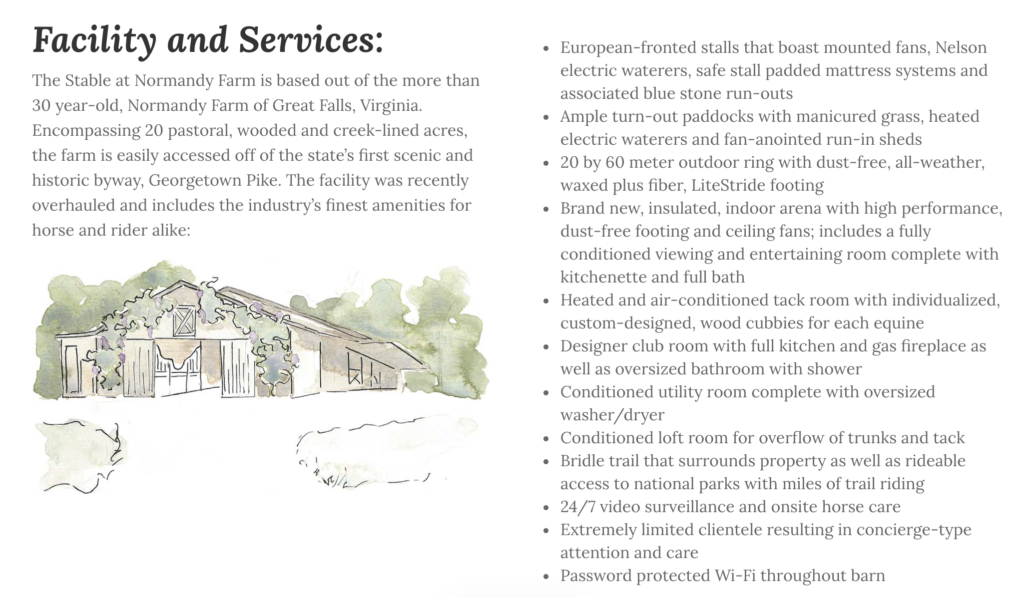 Glenn Youngkin's "agricultural district" in his front yard has "European fronted stalls," a "designer club room," and, he assures clients, is available only to "extremely limited clientele resulting in concierge-type attention and care."
Glenn's campaign website paints an alternate picture:
"When COVID-19 hit Virginia, Glenn and Suzanne founded the Virginia Ready Initiative, a nonprofit, public-private partnership dedicated to helping Virginians who are out-of-work get the training they need to secure in-demand jobs. To date, roughly 2,000 Virginians have started the journey with VA Ready, preparing for a new career and new life. When crisis strikes, Glenn doesn't just talk – he acts."

Youngkin tweeted as recently as yesterday from his horse farm front yard 
When the pandemic hit, Youngkin acted on his values. His only government experience is ripping off taxpayers for his front yard horse scam.