Advertisement

As you read the Richmond Times-Dispatch story, Youngkins received 95% tax cut due to conservation status of their horse farm, keep in mind that the Youngkins are worth something like $300 million, so obviously they didn't need the $150k+ tax break from Fairfax County to "preserve" their horse farm (note: it's crazy that Fairfax County actually *granted* this tax break; what on earth?).
GOP gubernatorial nominee Glenn Youngkin and his wife last year successfully petitioned Fairfax County to designate their horse farm as an agricultural district, which led to a 95% reduction in the taxes they pay on the 31.5-acre property in Great Falls that surrounds their home.

The agricultural district reduced the Youngkins' real estate tax bill on the farm by a total of $151,844.90 in 2020 and 2021 combined, according to public information that the Fairfax County Department of Tax Administration provided to the Richmond Times-Dispatch.
To put this in perspective, $150k is just 0.05% of $300 million. If you're worth $2 million, the equivalent would be a tax break of just $1,000. Or if you're worth $200,000, the equivalent would be a tax break of just $100.  Anyway, the point is, the Youngkins certainly didn't need the tax break, let alone in the midst of the COVID-19 pandemic, when presumably Fairfax County had a lot more important things to be dealing with. The fact that the Youngkins thought it was very important to milk the county for this tax break (aka, "dodge property taxes," as Terry McAuliffe puts it) really shows where their priorities are…
Anyway, check out some of the reactions, below, such as:
Terry McAuliffe: "Folks, I can't say I'm surprised. Using his luxury horse farm to dodge property taxes? Glenn Youngkin is sounding more and more like his idol Donald Trump every day!"
Virginia Dems: "While Virginians struggled to make ends meet during the pandemic last year @GlennYoungkin was focused on avoiding taxes on his multimillion dollar private horse farm. We're starting to think this guy is a little out of touch."
The Virginia Dems' Grant Fox: ".@GlennYoungkin is just like you and me. Eating ice cream, playing basketball, and designating his multimillion dollar personal horse farm as a conservation area to avoid paying taxes on it."
Liz Charboneau of American Bridge: "the pretending you grew up poor even though you went to Norfolk Academy to getting a tax cut for your horse farm pipeline" and "you know what's REALLY 'unnecessary'? It's not the American Rescue Plan, it's a tax cut for a man worth hundreds of millions of dollars' horse farm"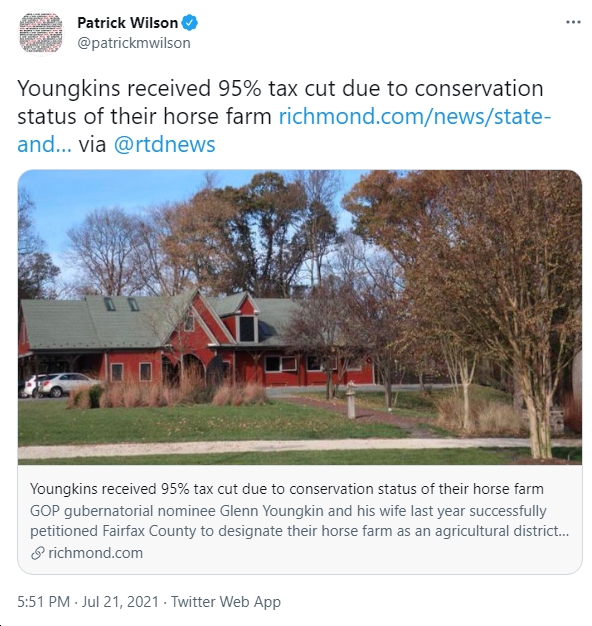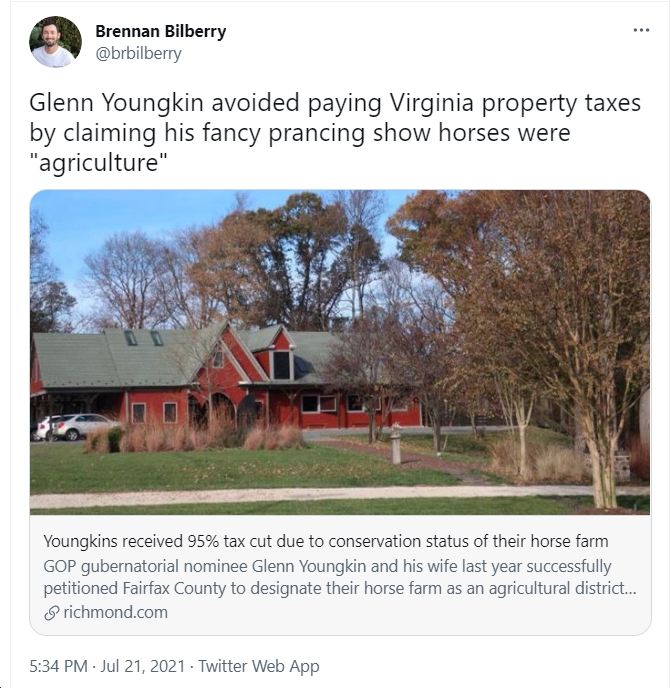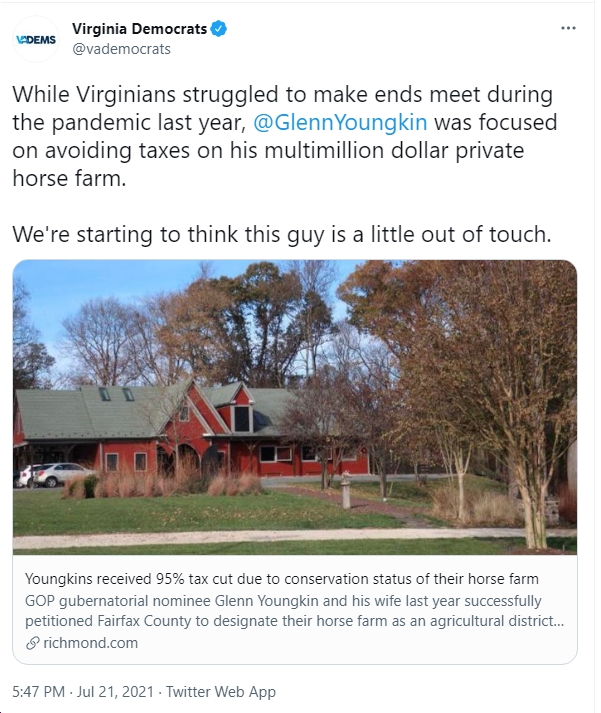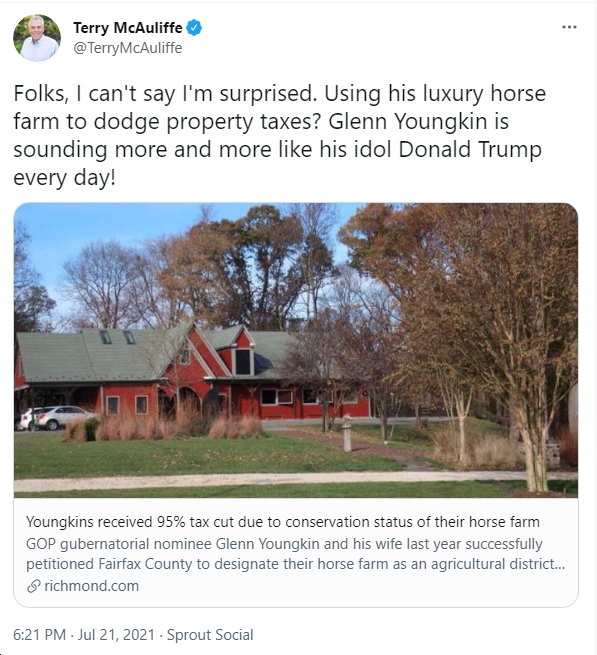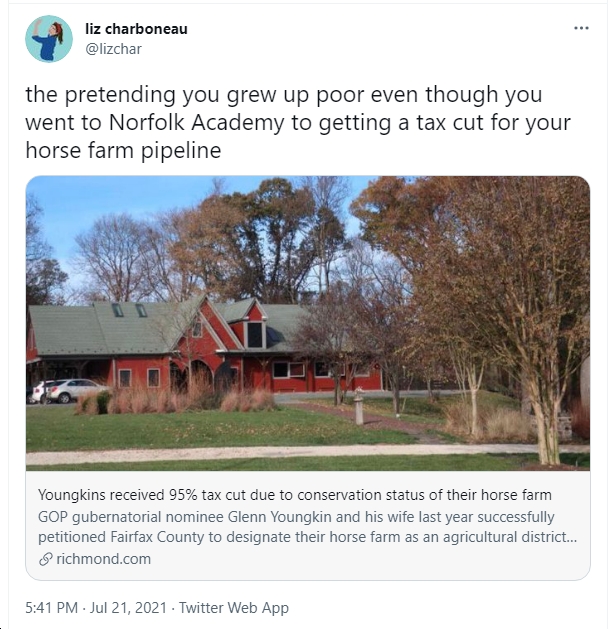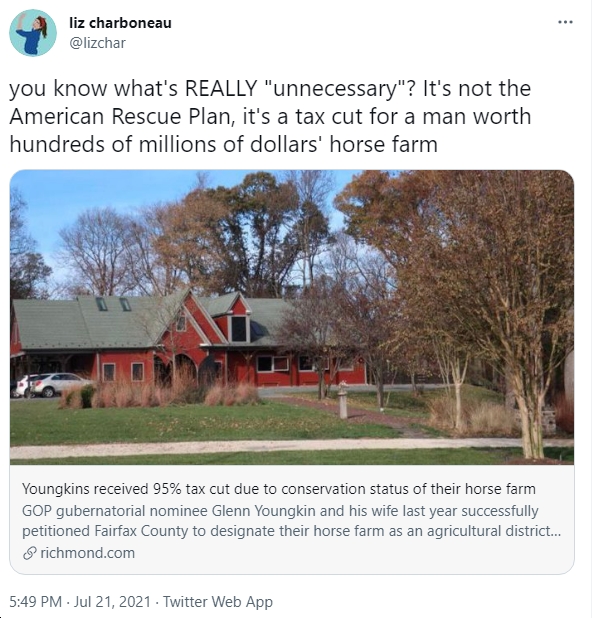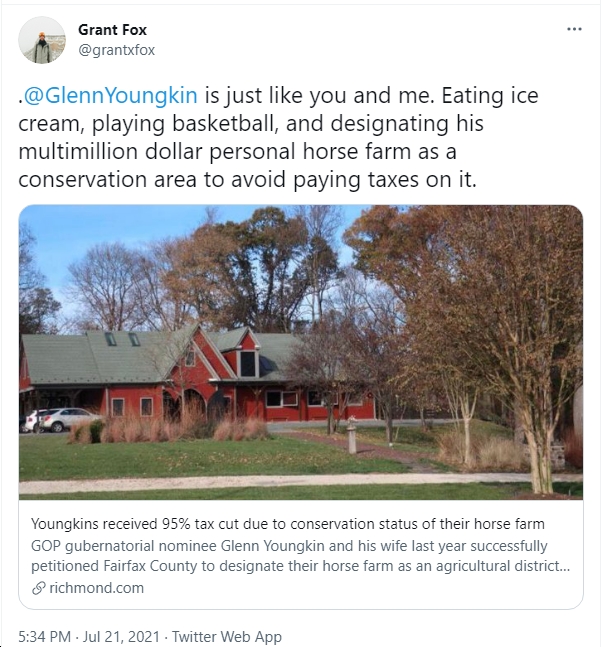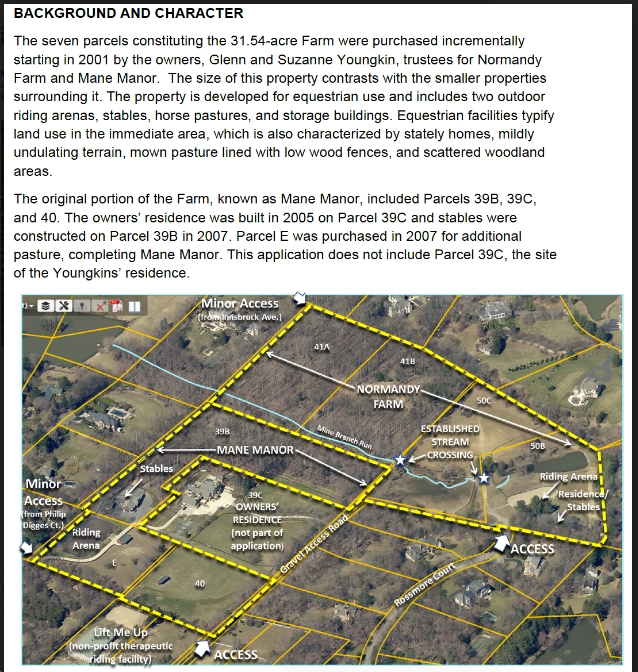 There's no paywall on Blue Virginia, and we definitely want to keep it that way! If you want to help support our work, you can donate here - thanks!
Also, you can
sign up for our weekly email list here
.