With just over six weeks to go until election day on 11/2, and with early voting having started on Friday, here are a few thoughts on where the Virginia governor's race stands right now and what I'm looking at.
POLLING
As you can see here and in the screenshots shown below,  Terry McAuliffe has held the lead – albeit a narrow one – since June. And PredictIt has consistently had McAuliffe with about an 80% chance of winning the election.
Will anything come along to change the status quo? It's hard to say, of course, but personally I'm keeping an eye on President Biden's approval ratings – if they stay where they are now, it should be ok; if they fall further, that's obviously not ideal; and if they bounce back from where they're at now, that's a plus for Virginia Democrats. I'm also keeping an eye on whether or not there will be a government shutdown caused by Republicans' refusal to raise the debt ceiling. Remember that in 2013, there was a government shutdown from October 1 through October 17, during which Terry McAuliffe seemed to hold a strong lead over Republican Ken Cuccinelli (about 7-9 points in Quinnipiac, NBC News/Marist and CNU polls during that period). In the end, though, McAuliffe only ended up winning that election by 2.6 points (47.8%-45.2%) over Cuccinelli, so either the polls were just wrong or something changed by election day. Anyway, we'll see what happens this time around regarding a possible government shutdown…and god knows what else, such as natural disasters (note that in 2005, Tim Kaine really took the lead over Republican Jerry Kilgore for governor after Hurricane Katrina hit New Orleans and turned into a complete disaster, with George W. Bush's approval ratings taking a hit.)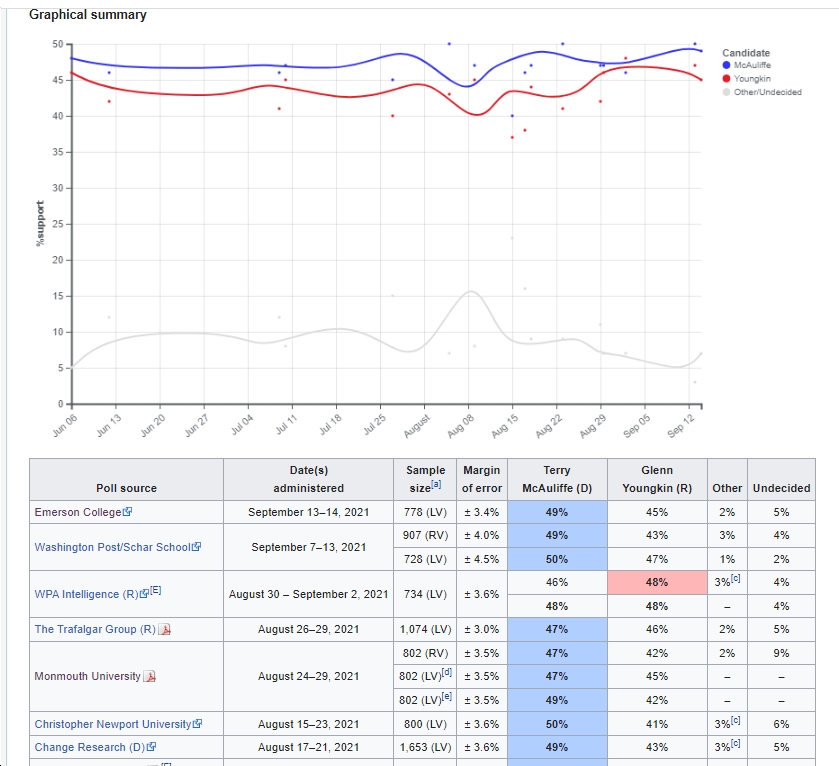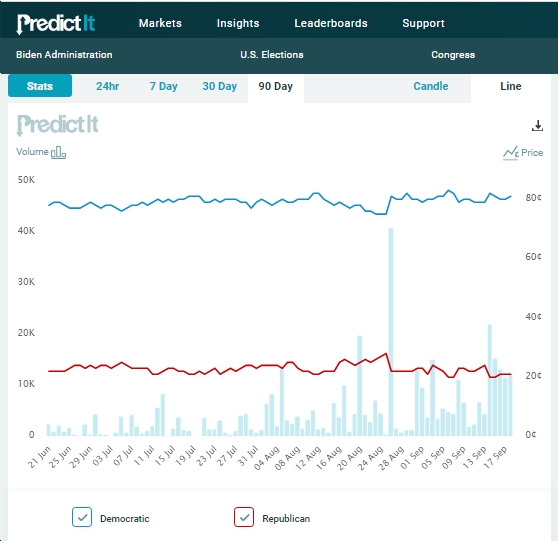 VOTER ENTHUSIASM/INTENSITY
According to the Washington Post/Schar School poll released on Friday evening, there's a definite gap between "likely" voters and registered voters, with McAuliffe holding a 6-point lead (49%-43%) among registered voters, but just a 3-point lead among "likely" voters. Why is that? Presumably, this is a result of greater intensity/enthusiasm among Republican voters this cycle, which is not surprising given that they are the party currently out of the White House, thus more fired up to vote perhaps. And indeed, according to the WaPo/Schar poll, 76% of Republicans say they're following the election closely, compared to just 61% of Democrats (and 77% of conservatives vs. just 56% of liberals).
The good news is, despite this apparent enthusiasm gap, there's basically no difference in how likely to vote Democrats and Republicans say they are: 74% of Dems who say they are "absolutely certain to vote," with another 13% who say they will "probably vote" vs. 72% of Republicans who say they are "absolutely certain to vote" with another 16% who say they will "probably vote."
There's also anecdotal evidence – social media activity levels, observations regarding the number of signs for McAuliffe and Youngkin, etc. – that Republican enthusiasm might be higher than Democratic enthusiasm right now. And see below for a graph of "Google Trends" over the past 90 days for McAuliffe and Youngkin, with Youngkin appearing to hold an edge. Who knows what this means exactly, but it seems like something to keep an eye on.
Last but not least, hopefully we'll start getting numbers this week for early voting, which began on Friday. This could really start to give us an idea of voter turnout this election, and what the relative "dropoff" in voter turnout from the 2020 presidential election will look like for Republicans and Democrats (note that 2017 Virginia gubernatorial election voter turnout was about 66% of 2016 Virginia presidential election turnout, with 2.6 million votes cast in the 2017 gubernatorial election, of which Ralph Northam got 1.4 million; can Democrats hit 1.4 million again this year, and what will Republican turnout look like? Stay tuned…).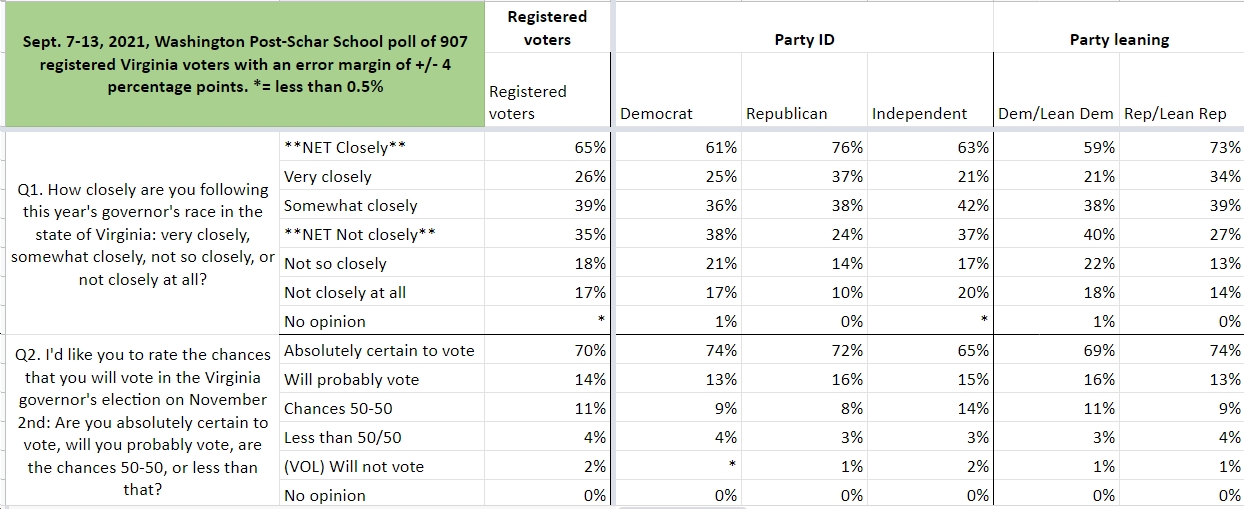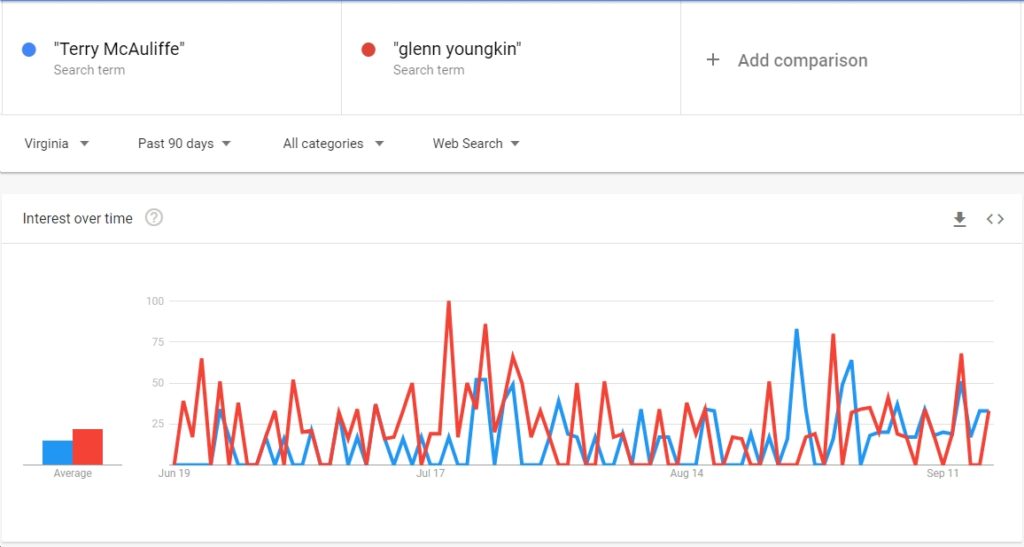 ISSUES
Will any issue or issues really come to dominate conversation and help drive voters to the polls in the closing weeks of this election? According to the WaPo/Schar poll (see below for a screenshot), 25% of Virginia registered voters say that the economy is the most important issue…more among Youngkin supporters (33%) than among McAuliffe supporters (19%). Ranking second among issues, at 17%, is the COVID-19 situation, with 27% of McAuliffe supporters ranking that number one vs. just 7% of Youngkin supporters. Then there's education at 14% (19% of McAuliffe supporters vs. 10% of Youngkin supporters); "crime and public safety" at 11% (only 4% for McAuliffe supporters vs. 19% for Youngkin supporters); abortion at 9% (surprising it's this low, given all the news over the draconian Texas abortion law, but yep…just 9% of McAuliffe supporters and 10% of Youngkin supporters rank this one as the "most important issue" in this election); and taxes at 7%.
Given this polling, it's not surprising that McAuliffe's been hitting Youngkin on COVID-19 vaccine mandates, which are highly popular (and which Youngkin says he strongly opposes), and that McAuliffe's also been stressing his record of job creation as governor and also his focus on Virginia being a leader on education.  Similarly, it's not surprising that Youngkin's focused on "crime and public safety," an issue which clearly fires up his base, and that he's trying NOT to have this election focus on COVID-19, particularly.
See below for a tweet by Dave Wasserman of the Cook Political Report, which argues that Youngkin has "blown it" on COVID-19, that "McAuliffe can hammer him on being anti-mandate all day long." Hence, McAuliffe's question to Youngkin during last week's debate, about whether nurses treating immunocompromised people should be mandated to get the COVID-19 vaccine (Youngkin tried to dodge, but ultimately said no, he didn't believe in mandates, while McAuliffe clearly DOES believe that a nurse treating an immunocompromised cancer patient should be mandated to get a COVID-19 vaccine). Expect a lot more of this in coming weeks…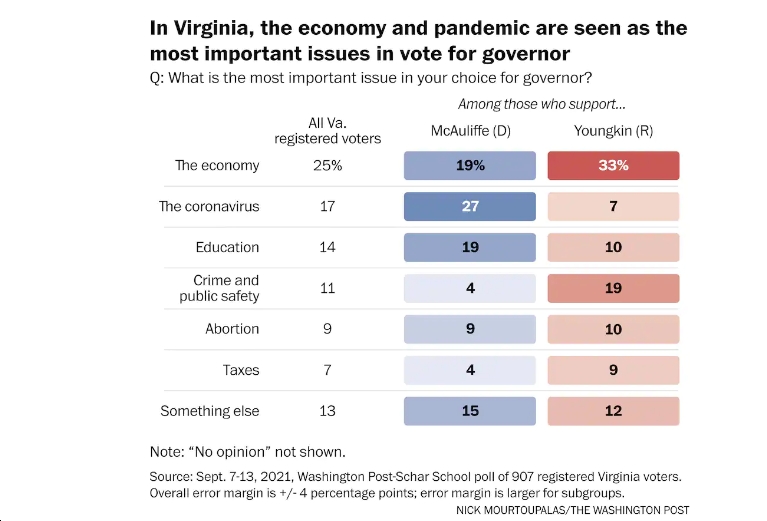 As he is on almost everything, Glenn Youngkin's wildly out of touch with public opinion AND wrong on the merits of vaccine mandates https://t.co/PAPMdJArYb h/t @Renzo_Olivari pic.twitter.com/xHtB8NMW7u

— Blue Virginia (@bluevirginia) September 19, 2021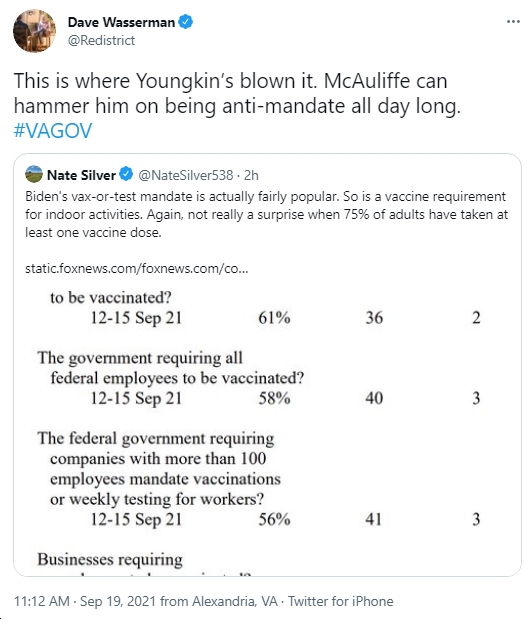 TRUMP
Finally, McAuliffe's clearly going to continue trying to yoke Youngkin as tightly as possible to Donald Trump. This is even more the case after the California recall election, which Gov. Gavin Newsom and his allies very effectively turned into a CHOICE between him on the one hand and VERY "Trumpy" Republican Larry Elder on the other hand. Given that choice, California Democrats turned out in droves – not quite at 2020 presidential levels, but VERY high – and Newsom ended up defeating the recall by a huge margin (63.5%-36.5% with 85% of votes reported). So clearly, Democrats don't need to have Trump's name on the ballot to get fired up to vote against Trump…as long as the Republican candidate is Trump-like enough, as clearly was the case with Elder. The question is whether Youngkin will appear Trump-like enough to Virginia Democrats to REALLY motivate them to turn out this election…or not.
Along those lines, check out this interesting Washington Monthly piece, which argues that Youngkin doesn't really appear as "Trumpy" as Elder, who spent much of his campaign "breathlessly screaming about freedom and socialism." In contrast, the Washington Monthly article argues, Youngkin seems to be attempting to be "Trump with a human face, a genial mien"...attempting to "sell a Trumpian agenda without alienating too many voters in an increasingly blue state." Of course, as the article notes, McAuliffe has been trying VERY hard to make Youngkin=Trump in voters' minds, with Youngkin's comment that "Trump represents so much of why I'm running" featuring heavily in McAuliffe's paid communications, as well in his comments at the debate the other night. Still, the article concludes, at least some Virginia Democrats are worried that, although "Virginians need to fear Youngkin," he somehow isn't coming across as "scary enough" to really rev up the Democratic base. That, of course, would be a HUGE mistake by Democratic voters, and let's hope like hell that they don't make it, but…it's certainly a possibility that it could happen, while Republican voters could turn out in droves on 11/2.
Of course, the Virginia gubernatorial election – in an odd year, the election just after the previous year's presidential election – is always about "base" turnout, but nowadays, given intense "negative partisanship" in this country, it might mean that there are very few "persuadable" voters, and that it really will come down to which base's "dropoff" from the 2020 presidential election is the greatest. For all of our sakes, we'd better all make sure that Democratic "dropoff" isn't too bad, or "blue" Virginia could turn "purple" or even "red" VERY quickly!