Check out the following press release from ProChoiceVA.org, which writes that Virginia Republicans "will stop at nothing to push abortion completely out of reach for Virginians."  And on a related note, there's also this news: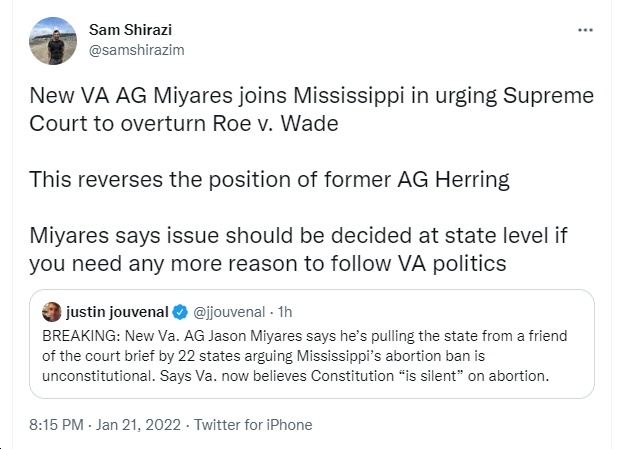 Virginia Republicans File Multiple Anti-Abortion Bills Leading Up to the 49th and Likely Final Anniversary of Roe v. Wade
Richmond, Virginia—Republicans have made their intentions around completely dismantling all of the progress Virginia has made in expanding access to abortion care abundantly clear. They will stop at nothing to push abortion completely out of reach for Virginians. On Roe v. Wade's 49th anniversary, we are reminded that abortion is still under attack despite the overwhelming majority of Virginians -79% – and Americans, who believe Roe should be upheld and they do not want politicians interfering in personal medical decisions. Despite this fact, anti-abortion politicians are going against Virginians' values by pushing for harmful and discriminatory anti-abortion legislation that strips them of their reproductive freedom.
A few of the bills are:
HB1274 would ban abortion after 20 weeks. We must take pregnant people's health seriously, and every pregnant person needs to access the care they need throughout their pregnancy. Decisions about health care need to be made in the exam room, not a hearing room.
HB983 would reinstate the targeted restrictions on abortion providers (TRAP), which have been proven to be medically unnecessary and designed to limit access and shut down health clinics as well as other onerous and medically unnecessary hurdles, including mandatory ultrasounds, biased counseling, and 24 hour delays. This bill also bans abortion for specific reasons such as genetic disorders and criminalizes medical professionals for not interrogating patients.
HB212 would require someone seeking an abortion to receive state-mandated, biased counseling 24-hours before having an abortion. Attempts like this are meant to burden a patient seeking care and stigmatizing their decision. It has nothing to do with health or safety.
HB304 and HB 776  duplicate existing law and medical ethics on the care required in the unlikely event an abortion results in a delivery. It is designed to push a false narrative about these procedures and the circumstances surrounding them and take decision making out of the hands of families.
 
Joint Statement from Reproductive Freedom Advocates and Providers:
The 49th and potentially final anniversary of Roe v. Wade serves to remind us that even though abortion is a right, it is not a reality for many. It can so easily be taken away. Never before has Roe been attacked so viciously. Members of the Virginia Reproductive Equity Alliance are here to say that the anti-abortion legislation being proposed in the 2022 Legislative Session is unacceptable, and we'll be fighting every step of the way to ensure that Senate Democrats protect our progress and ensure abortion is accessible for all of us.
The group includes:
Pro-Choice Virginia
Planned Parenthood Advocates of Virginia
Progress Virginia