See below for video of Rep. Don Beyer (D-VA08), who is Chair of Congress' Joint Economic Committee and a member of the House Committee on Ways and Means, yesterday as he "testified before the House Rules Committee in support of the Inflation Reduction Act." As Rep. Beyer tweeted:
"I got questions from Republican colleagues who had the mistaken impression that the U.S. economy is in a recession. This wasn't what they wanted to hear, but as Chair of Congress' Joint Economic Committee @JecDems. I was happy to explain to them that we are not in a recession:"
Rep. Beyer also pointed out, repeatedly, that the head of the IRS was appointed by…yep, Donald J. Trump!
I just testified before the @RulesDemocrats Committee on the Inflation Reduction Act.

Today's hearing starts the process of bringing this historic climate, energy, health care, drug pricing, and tax fairness legislation to the House Floor.

My opening remarks: pic.twitter.com/MDOkwBfxGW

— Rep. Don Beyer (@RepDonBeyer) August 10, 2022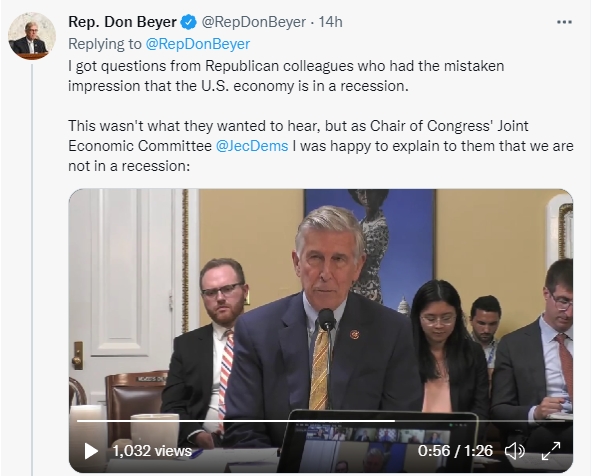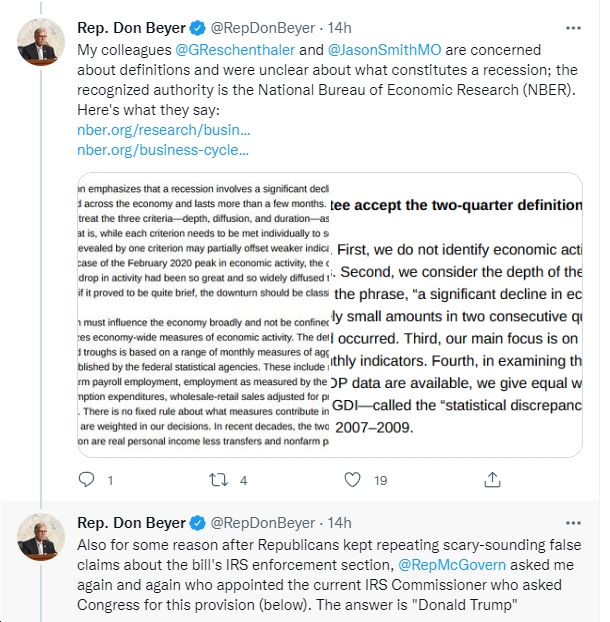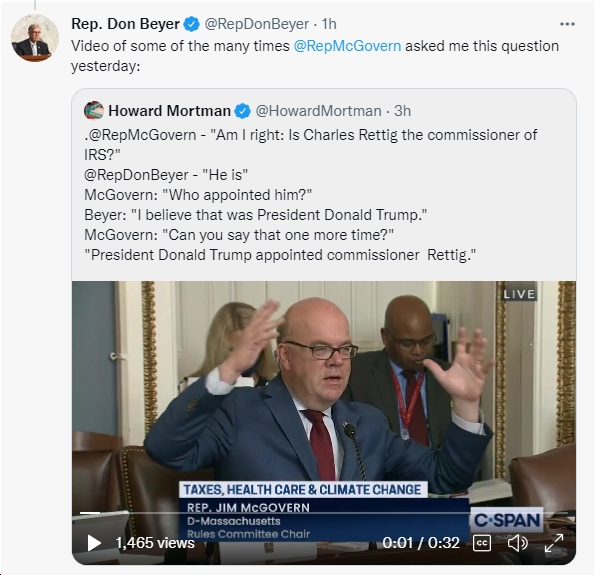 Chairman Beyer's Remarks At Rules Committee Hearing On Inflation Reduction Act
August 10, 2022 (Washington, D.C.) – Rep. Don Beyer (D-VA), Chair of Congress' Joint Economic Committee and a member of the House Committee on Ways and Means, today testified before the House Rules Committee in support of the Inflation Reduction Act.
The Rules Committee markup began the process of advancing the bill for consideration on the House floor, which is expected to happen Friday.
Beyer's remarks as prepared follow below.
***
Rep. Beyer Opening Statement on the Inflation Reduction Act of 2022
Rules Committee
August 10, 2022
Mr. Chairman and members of the Rules Committee, it is with enormous pride that I appear today to testify on the Inflation Reduction Act of 2022.
The Inflation Reduction Act represents the most substantial commitment to addressing the threat of climate change in our nation's history.
This bill invests $369 billion in creating incentives for clean energy, clean transportation, and energy efficiency. This historic investment will help achieve an estimated 40% reduction in carbon emissions from 2005 levels by the end of the decade.
At the same time, we are delivering real financial relief to American families: Moody's Analytics estimates that the Inflation Reduction Act will reduce household spending on energy by more than $300 each year on average.
This legislation also makes enormous strides for Americans struggling to pay for prescription medications.
Americans often pay two to three times more than residents of other developed countries for the exact same prescription drugs.
For the highest-priced prescription drugs without competition, the bill empowers Medicare to negotiate prices with drug companies, lowering the price for Medicare beneficiaries.
The bill also limits out-of-pocket prescription drug costs for people with Medicare Part D to no more than $2,000 per year.
And it protects against exorbitant hikes in prescription prices for Medicare beneficiaries by requiring manufacturers to pay a rebate if they raise prices higher than inflation.
These reforms are what seniors and people with disabilities deserve—and with an overwhelming majority of Americans supporting negotiation, it's what they desperately want.
There is also a $35 cap on monthly insulin copays for individuals on Medicare, but I am deeply disappointed that Senate Republicans blocked that $35 cap for the millions of insulin users with private insurance.
Rest assured, we will continue to fight to bring down the cost of insulin.
This bill also lowers health care costs for millions of low and middle-income Americans by extending the Affordable Care Act's premium tax credit enhancements through 2025.
In addition to these commitments to address health care costs and climate change, the Inflation Reduction Act is also a deficit-reduction vehicle.
With this bill, large, hugely profitable corporations will finally pay their fair share, just like American families do.
We accomplish this in part through a 15% corporate minimum tax applied to U.S. businesses with annual profits over $1 billion.
Claims pushed by corporations and the wealthy that this package will raise taxes on working families are patently false.
In fact, five former Treasury Secretaries, from both Democratic and Republican administrations, came together to issue a joint statement calling out this lie, stating, quote, "Taxes due or paid will not increase for any family making less than $400,000 per year. And the extra taxes levied on corporations do not reflect increases in the corporate tax rate, but rather the reclaiming of revenue lost to tax avoidance and provisions benefitting the most affluent." End quote.
This bill is also funded by a 1% tax on stock buybacks.
Today, stock buybacks are taxed more favorably than dividends.
With this tax, we limit tax avoidance that makes large shareholders and corporate executives wealthier, and use the proceeds to fund sensible investments in climate and access to lifesaving prescription drugs.
Finally, the legislation will invest in the IRS to improve services for all taxpayers and ensure that well-heeled taxpayers with armies of lawyers can no longer shirk their tax obligations with impunity.
This transformative legislation is a historic win for families' pocketbooks, for Americans' health, and for our future climate security.
I look forward to responding to your questions.