See below and in Axios Richmond (which had the "scoop!") for the latest reason – and a bunch of other reasons – why VA Sen. Joe Morrissey (D?) has to go.
"Myrna Morrissey alleges emotional, verbal and physical abuse, accusing her husband [Joe Morrissey] of calling her names like 'ghetto rat' and making 'unflattering remarks regarding her race.'
She alleges he deliberately elbowed her in the stomach while she was pregnant with their third child and, in another encounter, choked her and slammed her against a wall."
The filing also challenges Joe Morrissey's 2022 pardon by Northam, alleging her husband drafted an affidavit submitted in her name supporting the request and saying she 'has no recollection of ever actually signing' it."
Now, these are obviously allegations, not proven in a court of law, but they're very disturbing for sure. And even if they're not as bad as Myrna Morrissey makes out, the bottom line is that Joe Morrissey's behavior for many years has been outrageous/immoral/etc. at the bare minimum, illegal at the worst (e.g., "On June 30, 2014, Morrissey was indicted on felony charges of indecent liberties with a minor, possession and distribution of child pornography, and electronic solicitation of a minor, in addition to a misdemeanor charge of contributing to the delinquency of a minor, for which conviction he served three months of a 12-month sentence.") In sum – and this should go without saying – Joe Morrissey Is *NOT* the Type of Person Who Should Be in the Virginia State Senate.
Fortunately, on June 20, SD13 Democrats can and should vote for Lashrecse Aird in the primary over Joe Morrissey – the choice couldn't be any clearer. And, of course, no elected Democrat should be supporting Morrissey at this point; time to withdraw all endorsements or other forms of support from this embarrassment (and endorse Aird ASAP)!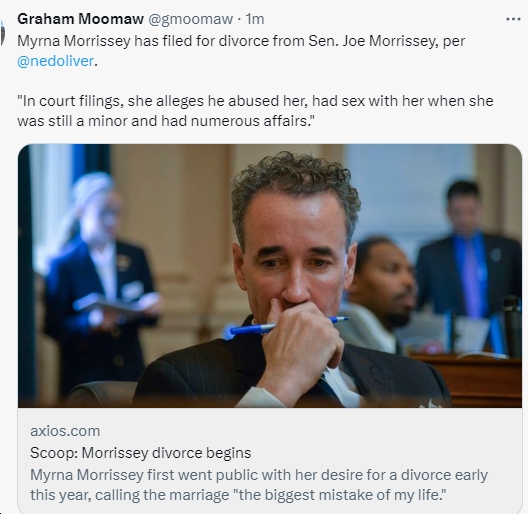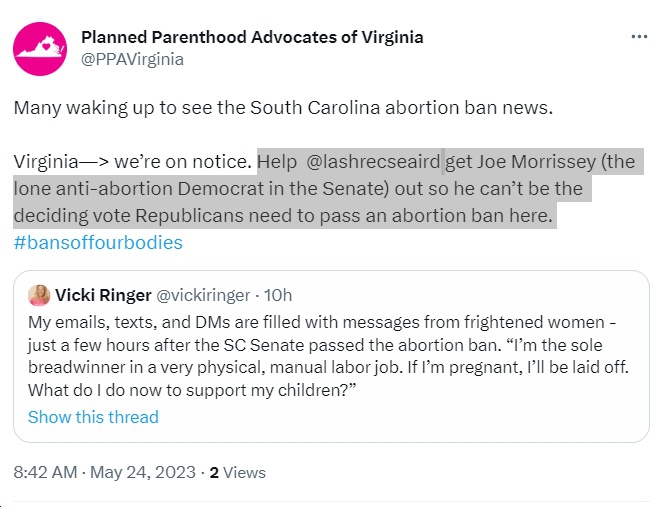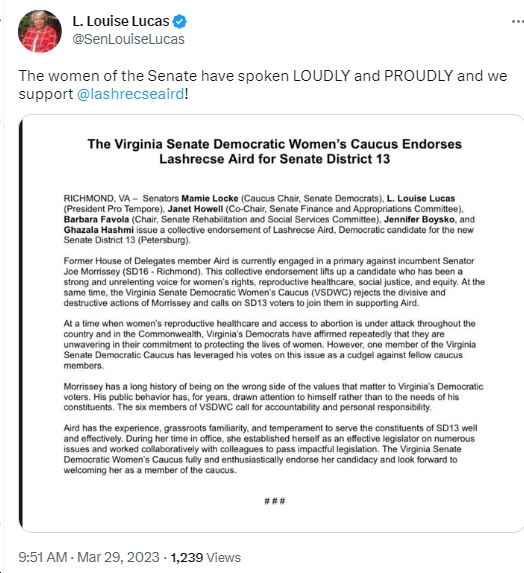 In a phone call today state Sen. Joe Morrissey reacted to losing to me in court on Thursday. He does not seem to like me or my work, but I don't know.
Listen to the full unedited phone call below. I saw his name show up, grabbed my recorder, and answered https://t.co/FxDzOlGGfs

— Brandon Jarvis (@Jaaavis) March 24, 2023