This morning, the Virginia Senate Democratic Caucus met to select new leadership, in the aftermath of last Tuesday's elections, in which they lost a seat but maintained a slim, 21-19 majority. The two contenders to replace Majority Leader Dick Saslaw, who is retiring after many years as Senate Democratic Leader, were Sen. Scott Surovell of Fairfax and Sen. Mamie Locke of Hampton. I'm told – and Richmond Times-Dispatch reporter Jeff Schapiro confirms, below – that Surovell has won the election for Majority Leader, with Locke to remain as Caucus Chair. Congrats to both, and let's keep that Democratic "brick wall" going for a bunch more years!
P.S. The two "Scotts" (Don Scott and Scott Surovell) will make an excellent team – both politically savvy, great on the floor, sharp as tacks, top-notch attorneys, etc.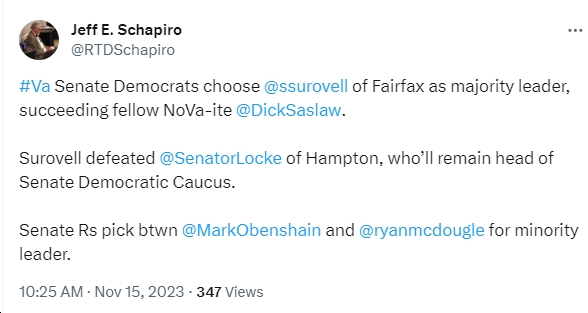 UPDATE: From Wikipedia, here's some information on new VA Senate Majority Leader Surovell.