eugene delgaudio

-

search results

If you're not happy with the results, please do another search It's hard to even guess what Loudoun County Supervisor Eugene Delgaudio's raving about now (see below and click to "embiggen"). It makes very little sense (maybe he's referring to
this?
), but then again, this is the same guy who...well, it's hard to even explain what this guy has said and done over the years (and why he's been elected and reelected to public office - shudddderrrr). For a few examples, see
here
,
here
,
here
,
here
,
here
,
here
, and
here
. Enjoy? For those of you not familiar with Loudoun County Supervisor and raving, far-right-wing, homophobic wacko Eugene Delgaudio (R-Of course), see
Delgaudio Rants About "The Homosexual Classrooms Act"
;
Eugene Delgaudio on "Thousands of men in bright neon bikinis"
;
Eugene Delgaudio: Radical Homosexual Pirates Invade Tampa; Loudoun County Next?
;
Eugene Delgaudio and His "Gay TSA Conspiracy" Theory
; and
Vote Delgaudio or We'll Get "Tyranny and Socialism," "rationed fuel" and "rationed butter!"
. That's just a VERY small sampling of this guy's craziness. For more, just Google it. Anyway, for this guy to be bragging that he opposes Steve Scalise because...I guess because he's not far-right-wing and/or bigoted enough (I know, seriously?) is just LMAO HI-larious, especially after it turns out Scalise spoke to anti-gay white supremacists! Anyway, hahahahahahappy New Year - or something! :) h/t: Towleroad
:
Delgaudio: "You'll see men hand-in-hand skipping down to adoption centers to "pick out" a little boy for themselves." Sure, part of this is about raising money for himself, but to the extent he believes any of this, he's also just plain certifiable. So how does he keep getting reelected to the Loudoun County Board of Supervisors (as a Republican, of course)? Do voters actually AGREE with him on this extremist bigotry? Or do most voters simply not show up to the polls on election day to toss this guy out on his a**? Either way, Delgaudio's a continuing disgrace to Loudoun County, and one you'd think they'd want to boot off their County Board.
The radical homosexuals claim you and other pro-Family Americans actually now support same-sex "marriage," special job preferences for homosexuals, and promotion of the homosexual lifestyle in schools.

Is it true? What do you say?

The American Morality Survey I'm sending you is specially coded and registered in your name.

I've included a link below so you can fill it out and return it to me right away.

You see, the radical homosexuals are storming through Washington demanding passage of their agenda.

And with the Democrats dominating the Senate and Barack Obama calling the shots in the White House, they say NOW is the time to push their perverse "lifestyle" on every man, woman and child in America.

And they insist YOU actually support them.

To make matters worse, more and more Republicans in Congress are coming out in favor of the Homosexual Agenda.

The Homosexual Lobby has already rammed through Thought Control and the repeal of Don't Ask, Don't Tell. I can only begin to imagine how much more damage the radical homosexuals will do now that they've broken the ranks of the opposition party.

As the President of Public Advocate of the United States, I've devoted thirty years to battling the radical homosexuals in Washington.

Backed by Hollywood celebrities, the media, and millions of your tax dollars, the radical homosexuals have many Congressmen, both Democrat AND Republican, quivering with fear -- and because of that they have a radical homosexual-friendly majority in control of Congress.

That's why pro-Family Senators and Congressmen are counting on me to find out if you really support the Gay Bill of Special Rights and homosexual "marriage" as the radical homosexuals claim.

Take the American Morality Survey
Frankly, if you really do support the radical Homosexual Agenda -- or if you just no longer care enough to stand up for the Family -- insiders in Congress say the entire Homosexual Agenda could pass in a matter of months.

Passage of the Homosexual Agenda will ignite a firestorm that will rip through families, communities and businesses:

* Special job rights for homosexuals. Businesses may have to adopt hiring quotas to protect themselves from lawsuits. Every homosexual fired or not hired becomes a potential federal civil rights lawsuit.

Radical homosexuals will terrorize daycare centers, hospitals, churches and private schools. Traditional moral values will be shattered by federal law.

* Same-sex marriages and adoptions. Wedding gown-clad men smooching before some left-wing clergyman or state official is just the beginning.

You'll see men hand-in-hand skipping down to adoption centers to "pick out" a little boy for themselves.

* The Homosexual Classrooms Act, which pushes their agenda into our schools. Your children or grandchildren will be taught homosexuality is moral, natural and good. High school children will learn perverted sex acts as part of "safe sex" education.

With condoms already handed out in many schools, radical homosexuals will have little trouble adopting today's "if it feels good do it" sex-ed curriculum to their agenda.

And to add insult to injury, lobbyists for the Homosexual Agenda are paid off with your tax dollars!

That's right, radical homosexual groups like the National Gay and Lesbian Task Force and ACT UP receive millions from the government.

Hundreds of millions of tax dollars flow to homosexual activists through funding for so-called AIDS awareness programs and research grants -- and I just read in the paper that cash even went to build a strip club!

One stormy night, I drove to a mailshop hidden deep in a nearly deserted stand of warehouses. I'd heard something was up and wanted to see for myself.

As I rounded the final turn, my eyes nearly popped. Tractor-trailers pulled up to loading docks, cars and vans everywhere and long-haired, earring-pierced men scurrying around running forklifts, inserters and huge printing presses.

Trembling with worry, I went inside. It was worse than I ever imagined.

Row after row of boxes bulging with pro-homosexual petitions lined the walls, stacked to the ceiling.

My mind reeled as I realized hundreds, maybe thousands, more boxes were already loaded on the tractor-trailers. And still more petitions were flying off the press.

Suddenly a dark-haired man screeched, "Delgaudio, what are you doing here?" Dozens of men began moving toward me. I'd been recognized.

As I retreated to my car, the man chortled, "This time, Delgaudio, we can't lose!"

Driving away, my eyes filled with tears as I realized he might be right. This time the radical homosexuals could win.

You see, even though homosexuals are just 1% of the population, if every one sent a petition to Congress, it would generate a tidal wave of two or three million petitions or more.

Hundreds of thousands of pro-homosexual petitions will soon flood Congress, and my friends in Congress tell me there's virtually nothing on Capitol Hill from the tens of millions of Americans like you who oppose the radical Homosexual Agenda and the Gay Bill of Special Rights.

I made up my mind that night to write to you and as many other patriotic Americans as possible. To stop the radical homosexuals and protect marriage, there must be an immediate outpouring of support from folks like you.

Will you help by clicking here to complete your American Morality Survey right away?

Take the American Morality Survey
Homosexual activists mock me in the halls of Congress. They say it's too late because Americans like you don't care enough to help, especially now with the Homosexual Lobby in control of Congress and the White House.

They say you support them. I tell them they are lying. They just laugh and tell me to give up.

Are they right? Should I just give up and let the radical homosexuals win?

Will you fight?

If, as I hope and pray, you still oppose the radical homosexuals and want to defend the Family and marriage, then please click here immediately to fill out your American Morality Survey and chip in $10 or $20 to Public Advocate right away.

I must tell you, your financial contribution is critical.
You see, while the radical homosexuals get tens of millions of tax dollars, Public Advocate gets no government funds.
Public Advocate relies on the generosity of Americans like you who give $10. A few special friends of Public Advocate give $20.

Take the American Morality Survey
For many Public Advocate supporters, a contribution of $5 is a sacrificial gift.

I only ask you to prayerfully consider what you can afford.

You see, I've stretched Public Advocate's resources to contact you and other select Americans who I believe are most likely to take a stand in these difficult times.

If you won't help, I'm afraid there is little more I can do.
But the fact is, even if every person responds, it won't be enough to counter all the radical homosexuals are doing.

And not everyone will respond. Some are cowed by how pro-Family Americans are portrayed on TV. Others will count on someone else to fight the fight and carry the load. I don't believe you are like that.

I've identified nearly 10 million families I believe would join our struggle for morality if only I can reach them. That's more than twice as many as all the homosexuals in America ... and most of these families represent two or three voters each. But without your financial help, I'll never be able to reach them.

My hope is you care enough to contribute sacrificially so I can reach these families.

A generous gift of $25 will let Public Advocate reach 45 more families. $50 will help us rally more than 97 homes. And a special gift of $100 will generate over 215 contacts.

Only you know whether chipping in $10, $20, or more is best suited to your budget.

I ask you to do what you can.

The radical homosexuals boast you support same-sex marriage, special job rights and the promotion of homosexuality in schools.

Please let Congress know the radical homosexuals are lying.

For the Family,

HON. EUGENE DELGAUDIO
President, Public Advocate of the United States

P.S. Radical homosexuals claim YOU support homosexual "marriage," special job rights and the promotion of homosexuality in schools -- and with Democrats controlling Congress and the White House, they think they cannot lose. Is it true? I pray it is not.

Please click here to fill out your American Morality Survey right away so I can prove to Congress and the media the radical homosexuals are lying about you.

And please chip in $10 or $20 to help Public Advocate defeat the Gay Bill of Special Rights and defend marriage and the Family.

Your contribution is critical to reaching the millions of families I know still care for the future.

Take the American Morality Survey
Contributions or gifts to Public Advocate of the U.S. are not tax deductible. Public Advocate is a nonprofit organization that fights the radical agenda of the Homosexual Lobby. Public Advocate receives no government funds. You may reach us at: Public Advocate, P.O. Box 1360, Merrifield, VA 22116; phone (703) 845-1808 http://publicadvocateusa.org/.

To help Public Advocate grow, please forward this to a friend.
Click this link to view online.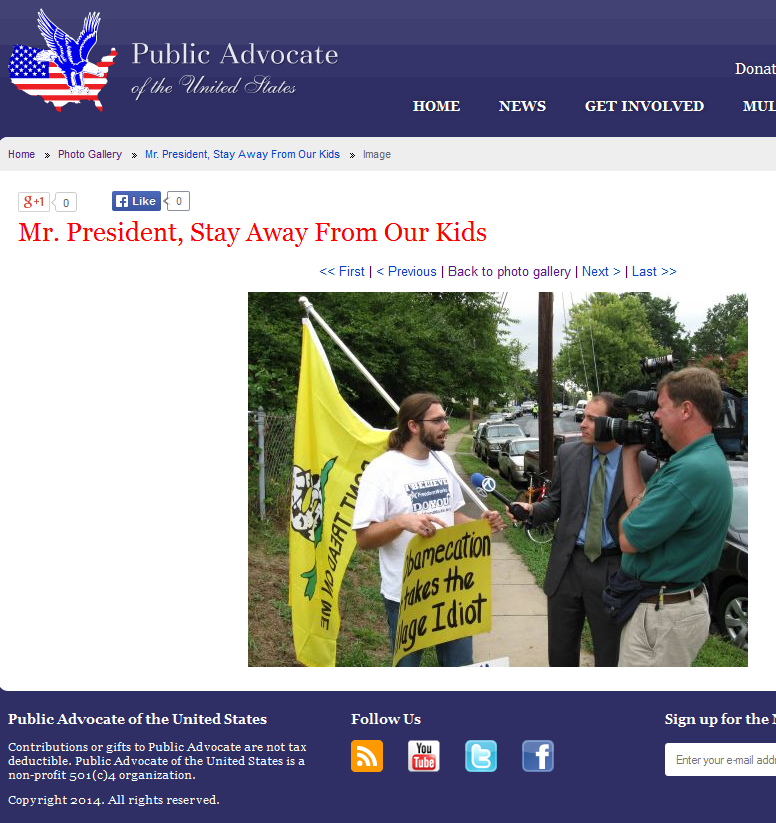 Crossposted at Loudoun Progress
Sometimes a picture really is worth a thousand words. We don't yet know how many words Sterling supervisor Eugene Delgaudio will emit claiming that he didn't know "much of anything" about Andrew Beacham, his nominee for Loudoun County's Library Board - but we do know that they will be arranged into falsehoods.
According to Chairman York, who apparently agreed to nominate Beacham "on behalf of" his Sterling colleague (how does he manage to get himself into these predicaments?), "the information provided on Beacham was not very detailed. Beacham's four-paragraph resume only said he had 'worked in the field of media production and broadcasting over the last 4 years.'"
In fact, Beacham's "work" includes publicly defacing the Koran "in support of Florida pastor Terry Jones" and other political theater acts with fringe anti-abortion extremist Randall Terry. He is active with nativist and anti-government groups in Loudoun, and calls himself a "full-time Pro-Life missionary and activist for Christian policies in government" while declaring that "the only good progressive is a dead progressive."
Beacham did not move to Sterling by coincidence. Republican Attorney General nominee Mark Obenshain, the right-wing extremist who
proposed legislation that would criminalize miscarriages
(when he's asked about it now, he lies about it and claim that's not what he meant - to paraphrase Willard Romney, he's running for office now, he can't be seen as favoring criminalization of miscarriages, for Pete's sake!) and
walked out of the State Senate
rather than vote on an openly gay judge nomination, this morning is yet again showing his true colors. Check out the photo (click to "embiggen") from Obenshain's Facebook page, and note who he's campaigning with. That's right, on Obenshain's far right (appropriately enough) is none other than the infamous Eugene Delgaudio.
Why do I say Delgaudio is infamous? How about this ("Citizens of Loudoun County Line Up To Lambaste Slimeball/Anti-LGBT Bigot Eugene Delgaudio")? Or this ("Loudoun County Democrats Support Move to Block Anti-Gay Bigot Eugene Delgaudio from Committees")? Or this ("Video: Raging Homophobe Eugene Delgaudio Sings Against Gays in Boy Scouts!")? Or this ("the nationally recognized Southern Poverty Law Center has designated Public Advocate of the United States, a right-wing advocacy group run by Loudoun Supervisor Eugene Delgaudio, as a Hate Group for its staunch anti-gay advocacy and activities.")? It goes on and on...this Delgaudio guy is as heinous as they come. And Mark "Criminalize Miscarriages" Obenshain is happy to campaign with him - with a big Ken Cuccinelli sign right behind them, just for good measure. Now we only need an appearance by raving lunatic EW Jackson to complete the picture. Heh. At the July 3 Loudoun County Board of Supervisors meeting (see
here
for more), county residents (including Valerie Suzdak and Al Nevarez, shown here) line up to lambaste Supervisor Eugene Delgaudio for the misdeeds outlined in a grand jury report (see
here
for more on that). Note that Delgaudio is also the leader of an anti-LGBT hate organization at the same time that he serves a supervisor in Loudoun County. In other words, he's an extremist AND corrupt...kinda like Ken Cuccinelli, come to think about it. Hmmmm...sensing a pattern here?
h/t: LoudounTimes.com From the
Loudoun County Democratic Committee
, the question is when this corrupt, homophobic hatemonger (why do those traits so often seem to go together?) will be ousted from office by the voters of his district. It can't happen too quickly.
The Loudoun County Democratic Committee issued the following statement in reaction to the report released today by the Special Grand Jury that spent the previous 5 months investigating Sterling Supervisor Eugene Delgaudio:

The lack of an indictment by the Special Prosecutor is by no means a vindication of Supervisor Eugene Delgaudio. The Special Grand Jury investigating Supervisor Delgaudio was so disturbed by what it learned that it took the unprecedented step of issuing a report. The Court and the Prosecutor both agreed to, and facilitated, the report. And the report is damning.

The Grand Jury made clear that, despite the lack of criminal indictments, it found repeated instances of wrongdoing by Delgaudio. They found that he created a hostile work environment, including repeated instances of verbal abuse. They found that he repeatedly violated the Board of Supervisors Code of Conduct.

They found that Delgaudio "specifically instructed his aides not to answer the phones or address constituent concerns" in favor of fundraising and other projects. On at least one occasion he reprimanded an aide for trying to resolve a constituent matter instead of fundraising. They found it was general knowledge throughout the Board of Supervisors staff that Delgaudio's office was unresponsive to the people of Sterling.

The Grand Jury found Delgaudio engaged in repeated instances of improper fundraising. They found Delgaudio failed to report significant campaign contributions. They implied that Delgaudio may have embezzled some campaign donations. They implied that Delgaudio changed his vote on a land use decision in response to receiving a large campaign donation, raising disturbing questions of possible influence peddling or potential bribery.

Lastly, the Grand Jury found an improper mixing of Delgaudio's County staff and that of his personal business, an anti-gay hate group that specializes in raising money. The following statement is from Loudoun County Democratic Committee Chair Evan Macbeth, "in response to the news that the Loudoun Board of Supervisors finally has taken action against Sterling Supervisor Eugene Delgaudio, shutting him out of Committees for 2013."
LCDC Supports BOS Move to Block Delgaudio from Committees

Last night, the Loudoun Board of Supervisors stripped Sterling Supervisor Eugene Delgaudio of his committee assignments. LCDC Chair Evan Macbeth made the following statement in response to this action:

"Serious allegations of wrongdoing were lodged against Sterling Supervisor Eugene Delgaudio last March, and revealed to Board Chairman Scott York within days. Chairman York sat on those allegations for six months, revealing them in public only after the Washington Post splashed them across the front page in September. At that time, the Loudoun County Democratic Committee called for Delgaudio's resignation and, failing that, called for York and the Board to strip Delgaudio of his Committee assignments. The Board ignored our calls and rallied around Delgaudio.

As the allegations against Delgaudio simmered and garnered continuing media attention -- investigations were started and stopped, York admitted he hid evidence -- the LCDC continually called for Delgaudio to be stripped of his Committee assignments. The Board stood silent.

In mid-November, one Supervisor -- Shawn Williams from Broad Run -- agreed with the LCDC, and proposed to take action. He was shut down by York's procedural move. No other Supervisor joined with Williams and stood against Delgaudio.

Now, four months after the serious allegations surfaced publicly -- 10 months after they landed on York's desk -- the Board finally has moved against Delgaudio, failing to assign him to any Committees for 2013.

While I applaud the Board's actions, the delays and excuses of the past four months have raised a cloud of suspicion that the members of the Loudoun Board of Supervisors care more about their personal power and political allegiances than they do about good government and the appearances of improprieties.

I want to believe this action against Delgaudio marks the beginning of new era for this Board, but experience warns me not to get my hopes up." Recently, we
heard the news
that Loudoun County's embarrassment, Eugene Delgaudio, isn't just the head of a
Southern Poverty Law Center-labeled anti-LGBT hate group
, he's also been "
using taxpayer-funded resources to raise money for political uses,
" something that's "a
violation of public trust and ethics, as well as of Loudoun County's policies
." Apparently, the FBI "has made inquiries" into Delgaudio's activities. Also, recently, the
SPLC sent a "cease and desist letter"
to Delgaudio and the hate group he heads, demanding that they "stop misusing [a] gay couple's engagement photo."
Sadly, none of this is new for Delgaudio. For more of this guy's insanity and bigotry, click here, here, here, here, here, and here - and that's just for starters. Given that background, you'd think that no sane politician would want to be seen anywhere near Delgaudio, let alone photographed endorsing the wacko. Yet, this morning on the Loudoun County Democratic Committee's Facebook page, what did I see but a photo showing George Allen standing right beside his apparent BFF, Eugene Delgaudio. I also noticed a link to right-wing blog Nova Townhall, which has Allen's "statement of endorsement for Sterling Supervisor Eugene Delgaudio." Among other things, Allen calls Delgaudio "a great guy and a great worker," "a person who is applying those common sense conservative principles" and "a firebrand for our principles." What ARE those "principles" exactly? In Delgaudio's case, it's being a wacked-out, homophobic hatemonger. And George Allen? Well, we know all about HIS history, and it's not a pretty one. In other words, Allen and Delgaudio are the perfect duo, espousing their "conservative principles" like...uh, the stuff listed above. Great...
Image source: Google Images The idiocy of this entire Chik Fil-A story knows no bounds, but
WUSA9's headline writers
are certainly making a strong bid to lower the IQ level even further, misidentifying rabidly homophobic Loudoun County Supervisor Eugene Delgaudio (for more on him, see
here
,
here
,
here
,
here
,
here
, and
here
, just for starters) as a Chik Fil-A supervisor. Not that Delgaudio wouldn't fit in extremely well at this
viciously gay-bashing company
, but still...
P.S. h/t to the eagle-eyed Josh Israel of ThinkProgress for alerting me to this one!