Home
Authors
Posts by Blue Virginia
Blue Virginia Blue Virginia's election predictions (click on image to "embiggen" or
click here
) are based on all the public polling we've seen, plus the "internal" polling and other information we've heard about both on and off the record. Of course, things could change in the next 60 days or so, but right now, this is how we see the Virginia races for Governor, Lt. Governor and Attorney General.
One important point we can't emphasize enough: in no way, shape, or form should a string of good poll results or a relatively optimistic forecast lull us into complacency. To the contrary, our goal right now should be to redouble our efforts for the final stretch, helping elect not just Terry McAuliffe, Ralph Northam and Mark Herring, but also as many Democratic House of Delegates candidates as possible. And, of course, it's up to YOU to turn out to vote Democratic on November 5, as well as to tell all your friends and neighbors and family to turn out to vote Democratic on November 5.
The flip side of this is we need to absolutely CRUSH the medieval-style extremist team of Ken "I hate contraception, sodomy, gays, voting rights and science" Cuccinelli, EW "Planned Parenthood=KKK" Jackson and Mark "Criminalize Miscarriages" Obenshain. These people would be an absolute disaster for Virginia, especially given that the Teapublicans overwhelmingly control the Virginia House of Delegates, and are neck and neck in the Virginia Senate. If we give the most extreme of extremist Republicans the keys to the Governor's Mansion, the Lt. Governor's ability to break ties in the Senate, and the Attorney General's office...well, you can look just to the south of Virginia, to North Carolina, for a preview of the disasters that await us.
In short, there's plenty of work for all of us, in whatever area we prefer (door knocking, phone banking, writing letters to the editor and/or social media posts, donating to our favorite candidates, etc.) through November 5. Thanks, and go Virginia Democrats! In the past, in our various iterations ("Raising Kaine," "RK," "Blue Commonwealth," "Blue Virginia"), we've made group blog endorsements of Democratic candidates in contested primaries. Sometimes those are unanimous. Sometimes it's been a big majority in favor of one candidate or the other. And sometimes, it's been more evenly split, or perhaps just a small majority, and/or a highly contentious/divisive process, in which cases we don't make an endorsement. That's just some context to today's Blue Virginia endorsement of Mark Herring, which was strong, unanimous, and completely without division or contention of any kind.
Bottom line: on this one, there wasn't even any back and forth, as there often is, but a crystal clear choice: Mark Herring for Attorney General of Virginia.
We will explain our decision in a minute, but first a note about the LG race. In discussions among the Blue Virginia front pagers, we found majority support for Aneesh Chopra, but we also found one person not comfortable making an endorsement in that race, and a couple (e.g., Teddy Goodson) supporting Ralph Northam. Given that, we've decided not to make a Blue Virginia group endorsement in the LG race. Individual members of the "front page" have endorsed Aneesh Chopra separately, including Elaine in Roanoke and Lowell Feld's (full disclosure: Lowell has been consulting to the Herring campaign on social media since January 2013; both Herring and his opponent have run paid ads on this site; nobody else on the Blue Virginia editorial board is consulting to Mark Herring).
Now, back to our unanimous endorsement of Mark Herring. First off, we refer you to the Blue Virginia interview with Herring, as well as to Lowell's endorsement of Herring back in January. The interview discusses Herring's background and experience, his reasons for running, his vision for the AG's office, as well as his positions on a number of issues (e.g., pro-choice, pro-LGBT equality, pro-environment, pro-science, pro-consumer protection). For its part, the endorsement lays out the positive argument for Herring in detail, and we recommend that you read it. Also, see below for why we believe every Virginia Democrat and progressive should enthusiastically, and proudly, cast their vote for Mark Herring on Tuesday. Dedicated to Trans-vaginal Bob McDonnell!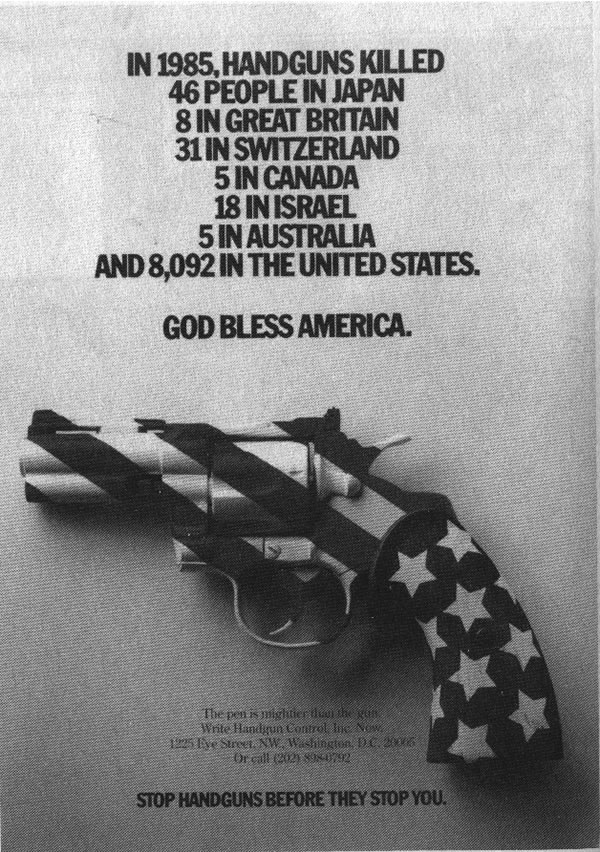 The following is a guest post by 2011 Democratic candidate for Chairman of the Prince William County Board of Supervisors, Babur Lateef.
The American Medical Student Association (AMSA) circulated this flier in 1993. I was in medical school at the time and I was the President of our AMSA chapter at my medical school. AMSA advocated for better gun control laws. It is obvious that physicians should stand up for gun control due to the high number of preventable deaths they cause. It is good public health policy to favor laws that make it tougher to obtain guns. In the countries listed above, it is difficult to get guns. Thus the reason for the low number of gun related deaths.
Now I understand the importance of the second amendment. As a society we regulate the kinds of arms people are allowed to have. I believe that buying weapons should be heavily regulated. Virginia passed a law that attempted to reduce gun trafficking (one gun a month safeguard). This law had an affect on reducing illegal gun trafficking. (Something that everyone should be against regardless of you party affiliation). This was concluded in a report done in 1996 by the Virginia State Crime Commission.
Recently, the Virginia General Assembly repealed this law. Two Democratic Senators were responsible for passing this repeal. Senators Creigh Deeds (Bath) and John Edwards (Roanoke) were the Democrats resposible for pushing this bill through. The governor signed it into law yesterday. This law would not have passed without their support.
I have spent the better part of my life fighting for our democratic values. I find their vote and Senator Deeds' explanation offensive. It makes no sense to repeal this bill. Their vote should force us to examine their records.
Normally I refrain from calling folks out by name. But the recent high school shooting in Ohio is another reminder of why gun laws need massive reform. In a democracy we have to make these changes in steps. We never get what we want the first time around. Gun proponents will say that this law is a first step in further restricting gun ownership. You bet your tail this was! Every American should oppose illegal and irresponsible gun ownership. This law had done this. Senator Deeds' explanation for why he voted for repealing this bill is posted on the official website for the NRA chapter in Virginia. I would say they wrote it for him but their stuff is usually better written than the nonsense posted here. So I must assume he wrote this and he believes this dribble. Note: This is a group effort, so is being posted under the Blue Virginia screen name. Thanks to everyone who contributed.
UPDATE by Lowell: Note that since this diary was posted, there have been a number of significant updates, per a long conversation with DPVA Executive Director Dave Mills.
Some of you may remember, others heard about, a popular 1980s TV commercial for a cough syrup, featuring the memorable line, "I'm not a doctor, but I play one on TV." The line arose from the commercial's solution to a problem challenging advertisers for a variety of products:
"[D]ress an actor up in a white lab coat, and give them a stethoscope. If possible put them in a set that looks like a waiting room, pharmacy, or hospital. As long as you don't say they're really a doctor you aren't going to get in trouble."
That commercial came to mind during the recently concluded JJ Dinner weekend in Richmond. In this case, the "doctor" turns out to be Brian Moran, and DPVA is in deep trouble because they seem to believe that Brian is really a Party Chair, not the ineffective, morally compromised, devoid-of-ideas figure that he is.
For those of us who attend JJ Dinners every year, this one offered a striking contrast to four years ago, near the height of the Democratic presidential primary contest between Barack Obama and Hillary Clinton, when well over 4,000 excited and energized Democrats gathered in Richmond for that year's JJ. [UPDATE by Lowell: Actually, Dave Mills tells me that they had 6,000 Democrats at the 2008 JJ, as the Obama campaign packed the rafters with low-dollar folks, and the Clinton campaign packed the floor with high-dollar donors. Needless to say, Dave notes, that JJ Dinner's "perfect storm" will probably never be repeated, and to compare 2008 to 2012 is absurd.]
Fast forward to this February: in what DPVA proudly advertised as a JJ dinner that was "sold out," only 1,300 Democrats attended the dinner. This 2012 attendance thus represented a 70% decline compared to the last presidential campaign year in Virginia. Even conceding the unique competitive circumstances of 2008, a well-organized and promoted 2012 JJ Dinner in a presidential election year, when polls increasingly are showing Democratic enthusiasm and President Obama's popularity rising, and when there's a hotly-contested race for U.S. Senate between the highly popular Tim Kaine and the highly unpopular George Allen, should have generated at least 2,000 guests. The following is a guest post from our friend, and former RK front pager, Dan.
Not to defend Haley Barbour, but you have to give a guy a break. Like most conservatives, he was imagining a wonderful period in history that never happened. I.E. a time during the civil rights era when a bunch of white southerners banded together to fight the evil Klu Klux Klan and fight for justice for all people. It didn't happen that way, true, but at least Barbour fantasizes that it did. It is not like he is bemoaning the civil rights movement or declaring it illegal. Only Rand Paul would do that.
However, acting like this was the straw that broke the camels back in his Presidential hopes? Just look at the guy. He makes Larry the Cable Guy look like the King of England. He has about as much chance of being President as Michelle Bachmann on a bad hair day.
That brings me to racial issues in general. The conversation in the media on these issues is about as enlightening as a profile on Paris Hilton. Do they really think they are getting anywhere by focusing on the drama of race, instead of investigating the cause of racial bias? It's like they want to see a fight break out. Oh wonderful
.
Law enforcement officials in Virginia can inquire into immigration status of those they stop or arrest--just as they can under a controversial new immigration law in Arizona--Virginia Attorney General Ken Cuccinelli has ruled in an official legal opinion.

Written in response to a request for legal advice from Del. Bob Marshall (R-Prince William), Cuccinelli ruled that police officers and other legal authorities can look into the immigration status of anyone stopped or arrested.
But, but, but, wait! The
Washington Post Sunday Magazine profile
on Cooch portrayed him as a hero, a strong family man, a principled, authentic defender of sexual assault victims and fighter against "liberal universities," etc., etc. Which makes this latest action so out of character, and so confusing. Please explain, oh great Washington Post!
UPDATE: Arlington to Cooch, "Citizens living or traveling through Arlington should not be worried that our actions will be changing." How on earth does a judge find that Virginia's Attorney General has standing to sue the federal government over a law passed by Congress? If it's
an activist conservative Bush-appointed judge
, it's not hard at all.
A federal judge Monday morning refused to dismiss a Virginia lawsuit challenging the constitutionality of the federal health-care law, handing the law's foes their first victory in a courtroom battle likely to last years.

U.S. District Court Judge Henry E. Hudson rejected arguments from Obama administration lawyers that Virginia has no standing to sue over the law and no chance of ultimately prevailing in its constitutional claim.
But it's ok if a
conservative
judge legislates from the bench, right?
UPDATE: State Senator and Attorney Chap Petersen weighs in:

My take on this whole episode is that the purchasing mandate (as I understand) does not take effect until 2014. There will be two elections for Congress BEFORE that time, and any future Congress has the ability to amend or even repeal the purchase mandate. Therefore, it is premature for any judge to rule on the constitutionality of the mandate, as the issue is not "ripe" for determination.
Exactly, although I'd also add that this isn't really a "mandate," but a series of incentives and disincentives for people to purchase health insurance. In other words, if you don't buy health insurance starting in 2014, you will NOT be going to jail or anything like that, but will have to pay a small "fine" or "tax" or whatever to compensate for your decision to go uninsured. How is that a "mandate," exactly? This entire lawsuit - and this entire line of "reasoning" - is utterly ridiculous.
UPDATE #2: Cooch explains his "reasoning" after the flip.