Home
Authors
Posts by Epluribusunum
Epluribusunum The administrators at Loudoun County's Patrick Henry College have had a tough week.
Beginning on Sunday, PHC founder and chancellor Michael Farris posted a public statement about the recent disgrace of two important leaders within the religious homeschooling and "parental rights" movement, both of them because young women have come forward with testimony of sexual misconduct and abuse of power. Former Home School Legal Defense Association attorney Doug Phillips resigned last fall from the separatist group he had founded after it was revealed that he pursued a sexual relationship with a young woman, under 18, who was under his "authority." Bill Gothard, leader of an influential Christian Patriarchy instruction program, is slowly being exposed as a predator who has for decades sexually molested young women sent to him, often at his personal invitation, to be his interns.
Farris did not dispute the misconduct of these men, seeming to accept evidence of their "protracted patterns of sin." Instead, he tried to distance his own kind of "leadership" from theirs. But his statement is very strange. Attempting to avoid criticism of the authoritarianism that undergirds his own position, it ends up reading as if he thinks these "leaders," these powerful men, should rightly have such control over the women and children under their authority, and that maintaining this position of male authority is a "basic strength." The only problem with these men is that their strength was allowed to "get out of control." The statement then ends with a lighthearted punchline normalizing the idea that men naturally want to pursue young women, but are inhibited by the fear that their wives will shoot them.
What came the next day must have been a surprise, although one is at pains to imagine why. I continue to be reminded, sometimes several times in one day, of the comment in which anti-gay and anti-labor activist lawyer James Young
informed me that "Bob Marshall is not, and never has been, an attorney."
It explained a lot, and for that I thank him. The Richmond Times-Dispatch reports the following:
Del. Robert G. Marshall, R-Prince William, said today that he is working with lawyers to file a complaint with the Virginia State Bar against Attorney General Mark R. Herring over his refusal to defend Virginia's same-sex marriage ban in federal court this week.

Marshall sponsored the 2006 amendment to the state constitution.

"I want the same discipline meted out against him that would be meted out against any attorney similarly situated," Marshall said in an interview Monday afternoon.

"If after a pleading has been filed an attorney decided that his client is guilty, what would the bar do with that attorney? And they better not go soft because he is the attorney general," he said.
I suppose that never having been an attorney could explain Marshall being unaware that the legal obligations of a private attorney and a public one, such as an attorney general, are quite different (although that hasn't prevented me from being aware of it - and I don't sit on a legislative body). Surely Marshall has some attorney friends in the House of Delegates who could have explained this to him: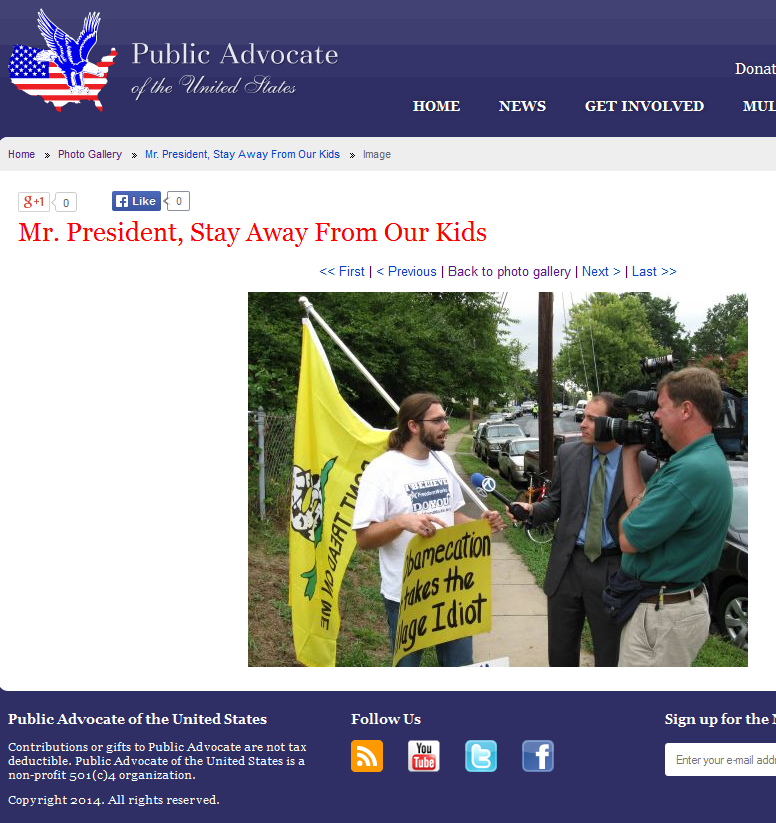 Crossposted at Loudoun Progress
Sometimes a picture really is worth a thousand words. We don't yet know how many words Sterling supervisor Eugene Delgaudio will emit claiming that he didn't know "much of anything" about Andrew Beacham, his nominee for Loudoun County's Library Board - but we do know that they will be arranged into falsehoods.
According to Chairman York, who apparently agreed to nominate Beacham "on behalf of" his Sterling colleague (how does he manage to get himself into these predicaments?), "the information provided on Beacham was not very detailed. Beacham's four-paragraph resume only said he had 'worked in the field of media production and broadcasting over the last 4 years.'"
In fact, Beacham's "work" includes publicly defacing the Koran "in support of Florida pastor Terry Jones" and other political theater acts with fringe anti-abortion extremist Randall Terry. He is active with nativist and anti-government groups in Loudoun, and calls himself a "full-time Pro-Life missionary and activist for Christian policies in government" while declaring that "the only good progressive is a dead progressive."
Beacham did not move to Sterling by coincidence. Have you all noticed that there is very little complaining on the anti-gay fringe about the ongoing avalanche of changes to public policy in the wake of the Supreme Court ruling on DOMA? The Department of Defense now extends full military benefits to same sex spouses, the Department of State is issuing immigrant visas to same sex spouses, and a multitude of other federal benefits of marriage will now be enjoyed by LGBT families previously denied them. But the anti-gay fringe is largely silent about these events that are actually happening, preferring to talk instead about a hypothetical event that is not only not happening, but is impossible due to our First Amendment protections. What they are
talking about
- and talking about incessantly in that hysterical, strident tone they favor - is the impending loss of religious liberty for churches "forced to perform homosexual weddings." Really. It's bound to happen any day now.
Fear not, fearful mongers of fear: Churches can (still!) refuse to marry any couple, for any reason. The First Baptist Church of Crystal Springs in Mississippi, for instance, just told an African American couple that they would have to be married in a different church, because, according to the pastor, "This was, had not, had never been done here before so it was setting a new (precedent) and there were those who reacted to that." With all the focus on images lately - from
witlessly offensive
to
intentionally menacing
to so
hilariously unexamined
that the possibility of
sabotage
has been raised - it's no wonder that Governor McDonnell didn't stay longer for a photo op with Loudoun Republicans.
There's another image for voters to keep in mind. It's an image that a man had cause to upload to his phone one day in the course of doing his job - and he paid dearly for it, due to an inexplicable series of actions taken by Commonwealth's Attorney Jim Plowman.
TOLD THAT a judge was dismissing all charges against him, Virginia educator Ting-Yi Oei had just one thought: "Hallelujah." Given his nightmarish prosecution on child pornography charges, it was an understandable, even restrained, reaction. What's not understandable is why criminal charges were ever brought against an unassuming assistant high school principal who was just trying to do his job. Loudoun County residents are right to wonder about the unsettling circumstances of this case and to demand better answers.

-A Nightmare in Loudoun; Why was a respected educator subjected to baseless child pornography charges? Washington Post, April 30, 2009. I could never, had I been asked to imagine the most ridiculous and easily verifiable lie that Eugene Delgaudio might invent, have imagined something as ridiculous and easily verifiable as this:
When contacted by the Loudoun Times-Mirror for comment about the exposure of his "Blood Door" email, Mr. Delgaudio told the reporter that the Photoshopped image he had sent to his mailing list was the original and that his image had actually been Photoshopped, by the very people who caught him in this behavior, to make it "look like blood."
When the reporter told me this, I said I thought that was interesting, and suggested that she search on Google images for "blood door." She did. Crossposted at Equality Loudoun.
Where are you, Frank Wolf?
Sometimes, when I suggest that you share the opinion of my humanity held by the likes of Dick Black, Sideshow Bob, and our professional bigot in Sterling, I'm told that no, you are a champion of human rights.
I think that a champion of human rights would have been more concerned about the developing situation in Uganda, one in which extremists with media access have defamed gay people by name and called repeatedly for their murder, calls which have now produced a result. Human rights activist David Kato (photo above from facebook) was found beaten to death in his home Wednesday, after having received several death threats. Kato was an out gay man who was one of those named in a hate tabloid, along with his photo, under the headline "HANG THEM; THEY ARE AFTER OUR KIDS!!"
Pepe Julian Onziema, a spokesperson for Sexual Minorities Uganda said of David Kato, "he had told me that he was not feeling safe; he was being harassed in bars and when we went to court people would be waiting for him outside, taunting him."
The current pogrom against the GLBT community in Uganda has been forming since about 2007, but it really got a boost in 2009 from some exported American activism: Crossposted from
Loudoun Progress
. The rest of Virginia should be aware of what can only be called a racket - the creation of Watergate felon Chuck Colson that has attached itself to Loudoun County.
Rosalind Helderman of the Washington Post Virginia Politics blog tells us that Governor McDonnell is creating a new prisoner reentry initiative:
McDonnell signed an executive order establishing a Prisoner Reentry Council, headed by [Marla] Decker and the state's first prisoner reentry coordinator Banci Tewolde. Membership will also include representatives of 16 government agencies. The group has been asked to come up with a blueprint for its work on July 1 and a new strategy by Dec. 31.
The initiative is "designed to help Virginia attack a recividism rate that now stands at 29 percent." According to a Catholic Eye article on evaluating reentry programs from just last month, the national recidivism rate is 60-70 percent - so that rate seems remarkably low to begin with. It will be important to carefully evaluate the Virginia plan. The article cites the criteria for such an evaluation, noting that there are many claims of successful programs but very little rigorous evaluation or data that supports those claims.