Home
Authors
Posts by Iechyd Da
Iechyd Da Governor McAuliffe: If you sign
this bill, SB1349
, Dominion Virginia Power and Appalachian Power will be exempt from public scrutiny of their rates. This is occuring just at the time that the utilities will be making decisions about generation planning in response to the EPA Clean Power Plant rule -- when public oversight is critical.
Instead, please veto this bill and show your independence from Dominion Power and their vast campaign treasure chest. Do this because it's the right thing to do, because it will save Virginians money on their electric bills, and because it will stand up against public corruption. I'd point out that the solar provisions added to the bill are initiatives that Dominion was taking anyway, and that the energy efficiency provisions are limited and have no required minimum implementation standards, so these are not arguments in favor of signing this bill.
OR
I hope you will amend this bill to include MANDATORY renewable energy portfolio standards for Virginia-only solar energy generation as you promised during your campaign, and provisions authorizing community solar projects and power purchase agreements through third-party financing of rooftop solar, then send the bill back with those provisions. That would be best of all.
Last week, Virginia's two largest electric power companies demonstrated absolute power over the Virginia General Assembly. Dominion Virginia Power wrote the bill, which later included Appalachian Power. SB1349 removes these supposed "public service" utilities from rate regulation by the State Corporation Commission for up to five years. Yet, these utilities maintain their state-sanctioned monopolies, forbidding competition. As an added "bonus," Dominion has worked to kill all meaningful legislation this session that would promote rooftop solar in Virginia. Dear Attorney General Mark Herring:

I was so very pleased to see one politician stand up to the ridiculous proposal by a "public service" utility, Dominion Va. Power, to remove itself from public scrutiny and to pretend to place a ceiling on rates for years, that is really more a floor. It should be unbelievable that such a bill could pass the General Assembly, but Dominion pays generously to every politician's campaigns, including yours, Attny. Gen. Herring! But you are that one politician--you're not letting Dominion's contribution transform you into a servant of Dominion instead of serving the people of Virginia. Thank you for that.

Imagine, a utility that enjoys a state-sanctioned monopoly hiding it's books from it's customers, the SCC, and you, the people's attorney. The company is using the General Assembly to guarantee excess profits that it knows the SCC would require be refunded to customers. We don't have to imagine; it's happening right here, right now!

I was pleased to see that Henry Howell III is taking Dominion on, too, just like his father did and just as you must continue to do and can do far more effectively as AG. Henry Howell taught us all the importance of "Keeping the big boys honest." The citizens of Virginia desperately need you to stand up to Dominion which also is the largest contributor to political campaigns of some of our delegates here in Southwest Virginia, hundreds of miles from the nearest Dominion customer.

Virginia needs you to stand tall against Dominion's domination of our politics, and it's selfishly successful efforts to control state energy and environmental policy. It's a travesty and a shame that Virginia politics have become so corrupted by this powerful corporation.

I ask that you take every opportunity as Attorney General to frustrate Dominion's dominance of the SCC, solar energy and energy efficiency incentives, control of off-shore wind, opposition to reasonable climate action by the EPA, and more.
Now it's your turn, reader. You can
write Attorney General Herring here
. Also, please copy and paste your letter in the comments section. Tonight, the Washington Co. supervisors "listened" to people from 7:00-11:00 pm and then voted 6-1 to change the zoning ordinance to allow fracking. The one vote was against the breadth of the ordinance, not against well drilling and fracking.
These supervisors have destroyed 10 years of work by people like me, in just two. This ordinance is just the latest defeat. It just feels so overwhelmingly sad. WOW! Washington Co. Planning Commission voted 5-2 tonight in favor of a motion to stick with the current county zoning, which
PROHIBITS gas wells as an unacceptable land use
. A magnificent rebuke of the BOS, which, earlier this month, trashed a draft protective drilling ordinance the Commission had worked on for years!
The BOS sent a new ordinance back down to the Planning Commission to permit fracking as an accepted use with a simple exception permit. The Commission stuck to their principles that county citizens would not benefit from unregulated NG drilling and fracking. Washington Co. citizen speakers out-numbered industry spokespeople 3 to 1!!
We desperately need a new Attorney General's opinion on county powers to prevent NG fracking through zoning. The standing Cuccinelli opinion--with NO case citations--says counties do NOT have the power to prohibit NG drilling. That cannot stand. The Southern Environmental Council issued a counter opinion with citations, but we need Mark Herring to weigh in. In Abingdon, Virginia, last week, 75 people picketed their Bd. of Supervisors for throwing out two years of Washington County Planning Commission work crafting an ordinance to protect landowners and citizens from damages from gas drilling and hydrologic fracturing.
http://www.wjhl.com/story/2626...
http://www.wcyb.com/news/prote...
http://www.tricities.com/news/...
And there's these stories about a two-hour anti-fracking protest at the main intersection in Abingdon (pop. 8000) last weekend. http://www.wcyb.com/news/hydro... http://www.wjhl.com/story/2629...
At a recent hearing by the state regulatory body, Div. of Mines Minerals and Energy--a promotional outfit for energy companies--a regulatory panel member said "There are no aquifers in Appalachian Virginia!" Damn, where does the water come from when we drill a well?
Now, Governor Terry McAuliffe, has requested differential state regulation (less regulation) for Appalachian aquifers from those in Tidewater Virginia. OUCH! Once again, Appalachian communities are left without state protection from extractive industry. https://governor.virginia.gov/... In Abingdon, 75 protesters tell their supervisors to "
Get the FRACK out of Washington Co.
"
Their words fall on deaf ears as tea party-led BOS votes unrestricted gas fracking virtually county wide.
Meanwhile DMME is considering treating water testing differently in SWVA than in Tidewater. Strong regulation to protect the coastal aquifer, but not so strong regulation in SWVA, where one Regulatory Advisory Panel said, "There are not aquifers in SWVA." Well buddy, where does all the ground water come from. Governor McAuliffe issued an order to begin differential treatment. OUCH!! It's after Labor Day and McAuliff only has campaign offices in Blacksburg and Roanoke.
Cuccinelli's Attorney General's office employee remains undisciplined for secretly advising a CONSOL gas subsidiary in a suit against the energy company brought by thousands (if a "class action" is granted, and it looks likely) of Virginia landowners. This nefarious action to undermine the citizens' case "shocked" the Federal judge hearing the case.
The Bristol Herald Courier has pounded on the point that energy companies are not paying landowners for the gas sucked from underneath them. A BHC reporter received a Pulitzer prize for breaking the story several years ago. The paper has run columns of ink on this case.
This legal battle is a defining fairness issue that virtually all Southwest Virginians with a political pulse have heard about. We see it as a classical example of the "big guys screwing the little guys." Knowledge of this issue in pervasive not only in the coalfields but also the nearby agricultural valleys.
No, McAuliffe and the other statewide Democratic candidates are not going to win in Southwest Virginia, but this issue is potent, soils the whole Republican ticket, and could effectively cut into Republican majorities on Nov. 5th. Taking the issue to Southwest Virginians in a retail political campaign would also help Mark Herring who is unknown in these parts.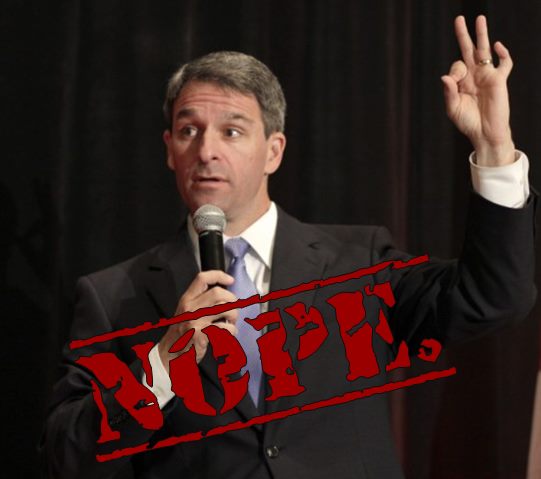 Actual text [with a little reading between the lines
[that is, brackets]
from yours truly -
[Publius]
:
* Reduce excessive regulation [by that job-killing EPA] so that more [fossilized] energy resources can be explored [fracked!] and developed [mountaintops are for the birds!] and more high-paying jobs can be created [in coal & gas executive offices];
* Prevent excessive energy taxes [like those highway maintenance taxes at the gas pump and those silly county coal severance taxes for education] that could destroy [black lung-generating] jobs, cost consumers, and restrict [plundering] development of the Commonwealth's natural resources;
* Fight for Virginia's [Gawd-given] right to [employ the 2nd Amendment to] responsibly explore our abundant offshore [oil & gas] energy resources, and streamline [the elimination of] related regulations so quality jobs [stripping the top off of mountains] can be created in the immediate term; [but it's always too early and too costly to develop off-shore wind, which won't work anyway;]
* Reform or eliminate failed [good for nothing] clean energy programs, such as the Renewable Portfolio Standard bonuses, in order to harness [fossilized] private-sector innovation and prevent [someone other than ME...uh, I mean] the government from picking winners and losers;
* Protect the environment, [(don't worry Alpha - just kidding, lol)] while [actually eliminating uh...I mean] balancing this protection with the critical need to increase energy [and sagging coal] production, improve and modernize energy technology, and bolster job creation; [we really need more fossil fuel jobs since jobs in renewable energy far-outstrip fossilized energy job growth;]
* Remove barriers to the timely installation and modernization of critical [new highway lane] infrastructure [but no public money for rail or transit--no, No, NO!]