Home
Authors
Posts by NARAL Pro-Choice Virginia
NARAL Pro-Choice Virginia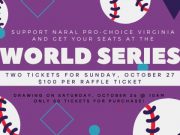 It's a pretty exciting time to be a Nats fan! The first two games have been fantastic, and our team is heading home soon!... Hey Virginia, remember Sen. Dick Black? You know, our favorite state Senator who as former Delegate became infamous for handing out
plastic fetuses on the floor
,
dismissing the concept of marital rape
and referring to contraception as "
baby pesticides
"? Well, he's back. And after his most recent comments, I doubt you'll forget him again.
This Tuesday, as hundreds of pro-choice Virginians rallied at the Capitol to celebrate the 40th Anniversary of Roe v. Wade, Sen. Dick Black took to the floor and actually compared Virginia's abortion clinics to "Auschwitz". Let me repeat that. Forty years after abortion became legal in the United States, Sen. Black likened what is a constitutional, safe, and common medical procedure to NAZI GERMANY. Watch the video.
This is nothing short of appalling. Not only are Senator Black's comments extremely offensive to my family and the families of the millions of people (yes - living, breathing, thinking, loving people) who were senselessly killed in the tragedy of the Holocaust, this sort of attack is part of a troubling and ever-expanding strategy to demonize the women of Virginia and the doctors who serve them.
In honor of 40 years of Roe v. Wade, please donate $40 to NARAL Pro-Choice Virginia in Sen. Black's name. We will send him a personal letter from you demanding an apology, and of course, thank him for the generous contribution made on his behalf.
Sen. Dick Black is not an outlier - not some sort of "bad apple" who happened to put his foot in his mouth. As is obvious after watching the Virginia General Assembly launch attack after attack on women's health, plenty of others in the Statehouse hold a similar disdain for a woman's right to choose when and whether to have children. In fact, there are undoubtedly those in Virginia's government who wouldn't hesitate to join the Senator in comparing reproductive health to mass genocide and trained physicians to murderers. Gov. McDonnell denounces Rep. Todd Akin's stance on rape victims and abortion while pushing for outright abortion ban without exceptions as GOP party platform chair.
Statement from NARAL Pro-Choice Virginia:
Just a day after Missouri Republican Senatorial Candidate Rep. Todd Akin's outlandish comments about rape victims and abortion, and despite prominent Republicans' around the nation calling for him to step down, published reports indicate that the 2012 Republican party platform will call for a constitutional ban on abortion without exceptions. Virginia Governor Bob McDonnell, the head of this year's platform committee, denounced Rep. Akin's comments yesterday but has relentlessly pursued policies to restrict access to abortion regardless of circumstances for more than two decades in Virginia - and is now continuing on the national stage.
Gov. McDonnell told Bloomberg News that the Republican platform will "affirm our view and support for the right to life." It is expected to be in line with the policies Gov. McDonnell, Rep. Akin and other anti-choice Republicans have been advocating for decades - attacking a woman's right to choose abortion without regard for individual circumstances or the personal and private nature of the decision.
"Actions speak louder than words. Governor McDonnell is trying to distance himself from Congressman Akin's comments while simultaneously agreeing with him on the policy at hand. The governor can mince words all he likes, but the fact is he is working just like Congressman Akin to push the Republican Party to the fringe in its attacks on women's rights and health," said NARAL Pro-Choice Virginia's Executive Director Tarina Keene. "We know that the majority of Virginians and Americans at large oppose outright bans on abortion in all circumstances that ignore the realities of women's lives."