Home
Authors
Posts by ivymain
ivymain No, you can't always get what you want.
You can't always get what you want.
You can't always get what you want.
But if you try sometime you find,
You get what Dominion Power wants.
--With apologies to the Rolling Stones
I guess there's a reason I never made it as a songwriter. That last line is a disaster. But that, in a nutshell, is what happened to SB 1349, known as the rate-freeze bill, the ratepayer rip-off, or the Dominion bill, depending on whether you were pro, con, or still trying to figure it out.
The bill began and ended as a way for Dominion Virginia Power to shield excess profits from the possibility of regulators ordering refunds to customers. Along the way, Appalachian Power jumped on board, even though its president had already admitted the company had been earning more than it should.
When we last looked, SB 1349 was undergoing radical rewriting on the floor of the Senate, in real time. Conflicting amendments were being passed around. Outside the chamber, lawmakers from both parties were huddled in hallways with Dominion lobbyists. The coal caucus had already tacked on language making it harder to close coal-fired power plants. Now the Governor, progressive leaders and clean energy supporters were pushing amendments guaranteeing more solar and energy efficiency programs.
To get a sense of how impossible it was for the rank and file to follow, check out the bill history with its amendments offered and rejected, and the readings of the amendments waived.
With cameras rolling and the clock ticking, senators made speeches about provisions other people told them were now in the bill, but without anyone having the time to read the language they were expected to vote on. That being normal, they voted on the strength of promises made and assurances given. More than a hundred representatives of energy efficiency and renewable energy businesses descended on Richmond Tuesday for Clean Energy Lobby Day. After meetings with legislators, many of them stayed to attend a critical subcommittee meeting where most of this year's clean energy bills came up for votes. And they came away with one overpowering impression: the only bills that can make it out of committee are the ones supported by the state's utilities, especially Dominion Power.
But that wasn't quite the end of the story. Because by the end of the week, they also found that the groundwork they had laid with their lobbing, and their tenaciousness before the subcommittee, created an opening they would not otherwise have had.
First, the bad news, and plenty of it
Things started bleakly. The House Commerce and Labor Subcommittee on Energy turned back multiple proposals that would have benefited Virginia's small renewable energy and energy efficiency businesses, as well as their customers. Going down to defeat were bills to improve the renewable portfolio standard (HB 1913), create an energy efficiency resource standard (HB 1730), require a more rigorous study before utilities can impose standby charges (HB 1911), make third-party PPAs legal across the state (HB 1925), and enable an innovative vehicle-to-grid (V2G) project (HB 2073).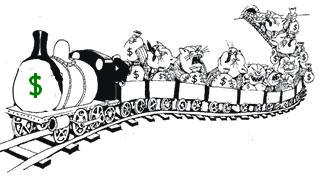 This should have been the year to end more than two decades of corporate welfare for companies whose business model involves the destruction of Virginia's mountains. All the facts line up against the coal subsidies: the unremitting decline of coal employment since the 1990s, the waste of half a billion dollars that could have gone towards diversifying the southwest Virginia economy, the unfair advantage it gives coal over 21st century clean energy technologies that promise real job growth, and even all that anti-subsidy rhetoric from Republicans that ought to make them uncomfortable with crony capitalism and a blatant giveaway to a mature industry.
Delegate Toscano led a spirited charge against them that included a hard-hitting op-ed in the Richmond Times-Dispatch. But the coal companies whined in committee hearings, and Dominion's Bill Murray explained that the utility supports making coal cheaper, saying ratepayers would benefit. (Since the money comes out of taxpayers' pockets, and taxpayers are also presumably ratepayers, it's a little hard to follow this logic. If you want to get your money's worth, use more energy?)
No one but a few lonely environmentalists (like me) spoke up against the subsidies. Where are the clean energy businesses? Where is the Tea Party? Where are the people who actually care about the dire need for new industries and new jobs in southwest Virginia?
They certainly weren't being heard in the General Assembly. By mid-week it was clear the giveaway will continue, though perhaps with one welcome change. HB 1879, reported from House Finance on Wednesday on a party-line vote, for the first time limits the credit for companies that mine coal, restricting how much any given coal company can claim. However, the credit for those who burn coal is not limited and will actually be extended out to 2019, keeping coal's unfair advantage over other fuels. (Like, say, solar energy.) My last post covered clean energy bills introduced into the 2015 legislative session, which began last week and ends at the end of February. Time to hustle on to the oil, gas, and coal bills.
Coal subsidies
Coal companies claim to be victims of a "war on coal," but for nearly two decades they've been conducting a war on Virginia taxpayers. Virginia's tax code offers so many preferences that a 2012 study concluded the coal industry costs Virginia more than it gives back. Among other preferences, two different subsidies in the Code have allowed coal companies to siphon off tens of millions of dollars annually from the General Fund since 1996.
The subsidies come with nominal sunset dates, currently January 1, 2017. Over nearly twenty years, no matter how fat or lean the state's financial condition, the legislature has repeatedly passed extensions, and they are being asked to do so again this year. HB 1879 (Kilgore) and SB 741 (Carrico) would extend the giveaway out to 2022.
(According to VPAP.org, Delegate Kilgore, chairman of the Commerce and Labor Committee, gets a check for $10,000 every year from coal giant Alpha Natural Resources. Alpha also gives ten grand a year to Senator Carrico, who just happens to sit on Senate Finance, which will hear the bill. I mention these facts only in passing. It would be cynical to suggest a connection.)
Supporters of the subsidies seem to believe coal companies need the inducement to blow up our mountains and dump waste into stream valleys. And they maintain this is a good thing for the people of Southwest Virginia, who can enjoy gainful employment by participating in the destruction of their communities.
The coal companies certainly do benefit from this arrangement, but coal jobs have declined to less than 5,000 total in Virginia today, and it's clear to everyone that Southwest Virginia needs to diversify its economy or face a future of poverty and high unemployment. The coal subsidies suck up money that could be spent on new jobs and a better-educated workforce. I'm starting my review of 2015 energy legislation with a look at bills dealing with renewable energy and energy efficiency. Most of these bills will be heard in the committees on Commerce and Labor, though bills that cost money (tax credits and grants) usually go to Finance.
Bills referred to Senate Commerce and Labor are heard by the full committee, which meets on Monday afternoons. It consists of 14 members: 11 Republicans and 3 Democrats. They form a tough lineup; none of these senators received better than a "C" on the Sierra Club's Climate and Energy Scorecard.
The House bills are typically assigned to the 13-member Special Subcommittee on Energy (10 Republicans and 3 Democrats, no fixed schedule, but we've heard February 3d is the likely date). Bills that do not meet the approval of Dominion Power can expect a quick death here on an unrecorded voice vote, never to be heard from again. But on the plus side, the meetings are often quite lively, like old-fashioned hangings.
Net metering bills
Net metering is the policy that allows owners of solar (or other renewable) energy systems to be credited for the excess power they feed back into the grid when the systems produce a surplus; the owners use the credits when their systems aren't supplying power and they need to draw electricity from the grid. Virginia law restricts who can use net metering, and how much. Expanding net metering is a major goal of renewable energy advocates, who argue it offers a free market approach to growth-give customers the freedom to build solar projects, get the utility out of the way, and solar will thrive.
This year's initiatives include: A solar array that would have more than doubled Virginia's solar power will not be built after all, with the developer blaming Dominion Virginia Power and other utilities for their lack of interest in buying the output.
The Winchester Star reports that the 20-megawatt array-100,000 solar panels, capable of powering 20,000 homes-had been planned for 145 acres of agricultural land in Clarke County. A spokesman for the developer, OCI Solar Power, said the company allowed its land option to lapse "due to the lack of long-term solar procurement efforts by Dominion and other VA utilities."
This shouldn't surprise anyone. Virginia has done little to encourage our utilities to buy solar power, and so for the most part they haven't. The state's voluntary renewable energy goal is a sorry dishrag of a law. It can be-and is-met with old, out-of-state hydro plants, trash burning, and wood. And because our utilities have a state-sanctioned monopoly on power sales, customers who want solar power can't go buy it from someone else.
But if it isn't surprising for Virginia to lose a big solar opportunity due to utility intransigence, it is stupid. Virginia consumers would love to buy solar energy, local governments would love to have solar farms generating tax revenue, and local businesses would love to create solar jobs. A win-win-win opportunity is being wasted, at a time when lawmakers complain about how hard it is to reduce our carbon emissions.
Even Dominion says it wants utility-scale solar (eventually), but it wants to build its own so it can earn the fat return on equity guaranteed to it by Virginia law. (If the utility buys power from someone else, it can pass along the cost to customers, but it doesn't earn a profit.)
Last year the General Assembly overwhelmingly passed a bill to support solar development, and then failed to fund it. Governor McAuliffe's energy plan talks a good game on solar, but it's toothless. We will continue to miss out on opportunities like this one until we have a law that requires Virginia utilities to buy solar, or lets consumers contract for it directly from any willing seller.
Or better yet, both. Nobody laughed a few years ago when former governor Bob McDonnell dubbed Virginia the "Energy Capital of the East Coast"; we were all too astounded. And today, even "Energy Suburb" still seems like a stretch. Yet, if you measure achievement by the sheer level of activity, Virginia is making a play for importance. The year's top energy stories show us fully engaged in the worldwide battle between fossil fuels and renewable energy. Of course, while the smart money says renewables will dominate by mid-century, Virginia seems determined to drown rather than give up its fossil fuel addiction.
Coal falls hard; observers disagree on whether it bounces or goes splat. Nationwide, 2014 was a bad year for the coal industry. Coal stocks fell precipitously; mining jobs continued to decline; and the one thing electric utilities and the public found to agree on is that no one likes coal. Even in Virginia, with its long history of mining, coal had to play defense for what may have been the first time ever. So when Governor McAuliffe released the state's latest energy plan in October, what was otherwise a paean to "All of the Above" omitted the stanza on coal. And this month, the governor proposed a rollback of the subsidies coal companies pocket by mining Virginia coal.
Of course, coal is not going quietly; Senator Charles Carrico (himself heavily subsidized by Alpha Natural Resources) has already responded with a bill to extend the subsidies to 2022.
EPA opens a door to a cleaner future, and Republicans try to brick it up. Speaking of hard times for coal, in June the EPA unveiled its proposal to lower carbon emissions from existing power plants 30% nationwide by 2030. Instead of targeting plants one-by-one, EPA proposed a systemic approach, offering a suite of options for states to reach their individualized targets.
The proposal drew widespread support from the public, but Virginia's 38% reduction target set off howls of protest from defenders of the status quo. The staff of the State Corporation Commission claimed the rule was illegal and would cost ratepayers $6 billion. Republicans convened a special meeting of the House and Senate Energy and Commerce Committees, where they tried out a number of arguments, not all of which proved ready for prime time. The rule, they said, threatens Virginia with a loss of business to more favored states like-and I am not making this up-West Virginia. Also, Virginia should have received more credit for lowering its carbon emissions by building nuclear plants back in the 1970s when no one was thinking about carbon emissions. Thanks to the state's budget deficit, Virginia may finally scale way back a notorious fossil fuel subsidy that currently transfers tens of millions of dollars annually from taxpayers to the pockets of corporations that mine Virginia coal. The Richmond Times Dispatch reports that if Governor McAuliffe has his way, the Virginia Coal Employment and Production Incentive Tax Credit and the Coalfield Employment Enhancement Tax Credit will be limited to $500,000 per year, saving the government $20 million per year.
The refundable tax credits were intended to make Virginia coal cheaper for utilities to buy, and thus more competitive with coal mined in other states. In theory, that was supposed to mean more coal mining jobs in southwest Virginia. In practice, the subsidies meant some coal companies paid no state taxes, and actually received significant cash handouts, even as coal jobs declined. And because the subsidies are based on tons of coal mined and not on the number of people employed, mining companies suffered no penalty from capital investments that maximized production while cutting jobs.
Critics of the subsidies thought they had won their point three years ago when the Joint Legislative Audit and Review Committee (JLARC) issued a critique of the various Virginia tax credits that was especially critical of the handouts to coal companies. As it describes beginning on page 67, the subsidies did not stop coal employment from falling 54% since 1990, or slow the steady decline in production: The EPA's proposed Clean Power Plan could reshape Virginia's energy future for the next fifteen years, and possibly permanently. If the state takes advantage of this opportunity, it will reduce carbon pollution, improve human health, save money for consumers, drive job creation in the fast-growing technology sector, and make our grid stronger and more secure.
If the state doesn't act, EPA will design its own plan for Virginia, ensuring reduced carbon emissions but without the flexibility the state would have by doing it for itself.
This presents a conundrum for Virginia's General Assembly, which is not known for embracing federal environmental regulations. The usual skepticism was on display on November 19, when the Senate and House Commerce and Labor Committees met in a joint session to take up the Clean Power Plan-or more precisely, to give utilities and the State Corporation Commission staff the chance to attack it.
At the conclusion of that meeting, the two Republican committee chairs, Senator John Watkins and Delegate Terry Kilgore, named three members of each committee-two Republicans and one Democrat from each chamber-to a special subcommittee tasked with deciding what kind of legislative action the General Assembly should take in response to the Clean Power Plan. Kilgore also named himself to the subcommittee, which now will take up any bills that Virginia legislators introduce related to the Plan.
This subcommittee has now scheduled its first meeting for December 17 at 1:00 p.m. in Senate Room A of the General Assembly building in Richmond. By law, all committee meetings are open to the public.
According to General Assembly procedure, before anyone else in the entire legislature can consider a bill, it will have to pass muster with these men. So who are these hugely important people, and what is the likelihood that they will seize this historic opportunity to make Virginia a leader in clean energy? The State Corporation Commission has granted Appalachian Power Company's request to be allowed to impose "standby" charges on residential customers with solar systems over 10 kilowatts. The charges can range up to more than $100 per month, regardless of how much electricity the homeowner actually draws from the grid.
In its Final Order in case number PUE-2014-00026, dated November 26, the SCC ruled that APCo's standby charge complies with § 56-594 F of the Virginia Code, which provides for standby charges for net-metered residential systems between 10 and 20 kW. (The law does not allow for net metering of residential systems over 20 kW.)
Environmental groups intervened in the case and ran a grassroots campaign that generated over 1500 comments to the SCC, opposing what has been dubbed a "tax on the sun." The result, however, was never in much doubt. The SCC has repeatedly demonstrated a willingness to accept without scrutiny utility assertions that solar customers impose costs on other customers.
Attorneys at the Southern Environmental Law Center, who argued against the standby charges on behalf of the Sierra Club and other groups, say the SCC's reasoning is flawed. According to Cale Jaffe, Director of the SELC's Virginia office, "Appalachian Power actually conceded during the hearing that it was 'not in a position' to determine whether solar customers had 'a positive or negative impact to the distribution cost of service.' In other words, Appalachian Power said that solar customers might be having a positive impact in helping to reduce APCo's distribution costs, but that the power company didn't have the data and didn't know one way or the other."