Home
Authors
Posts by ivymain
ivymain Rooftop solar energy makes up a tiny fraction of the total electricity produced in America, but already utilities worry about a day when large numbers of their customers won't need them any more. As renewable energy costs continue to tumble and the technology of battery storage improves, many residents and businesses may abandon their power utility to go it alone or form microgrids within their communities to control their own power.
Some utilities understand that this is the future and are looking for ways to turn these trends to their advantage. Others are doing everything they can to protect their turf, and progress (and the environment) be damned. They figure they can't wind up on the wrong side of history if they stop history from happening.
Hence the attempt to throttle solar while it's still little. Caps on system sizes, caps on total amounts of distributed generation, prohibitions against third-party power purchase agreements, restrictions on net metering: all of these are efforts to keep solar too small to matter, and too small to achieve the economies of scale that could lead to an upending of the central utility model.
The latest effort to squelch solar is through standby charges: fees imposed on net metering customers that compensate the utility for "standing by," ready to sell grid-produced energy at night and on cloudy days. In 2012 in Virginia, Dominion Virginia Power won the right to charge customers with large residential systems (10-20 kilowatts) up to $60 per month-a charge that destroyed this market segment. This summer Dominion pressed its advantage, indicating in a submission to regulators that it will likely seek more standby charges on a broader class of solar customers. Renewable energy advocates in Virginia were astonished to learn a few weeks ago that the U.S. Environmental Protection Agency has given Dominion Virginia Power an award for its Green Power Program.
Dominion's program is not, to put it mildly, a good one. Half of the money its customers contribute is siphoned off for overhead and "education." The rest goes to buy renewable energy certificates from out of state. Over the years Dominion has collected millions of dollars in these voluntary contributions without building a single wind or solar facility to supply the program. Surely, the only green award this merits is one for greenwashing.
So I called the EPA to find out what criteria they use in determining who gets an award. It turns out the agency only measures the growth of a green power program, and Dominion has signed up more customers than other utility programs have.
I had to laugh. Customers of utilities in most other states have real options to buy wind and solar. If you can buy wind energy from an alternative supplier or participate in a community solar project, or if your utility is aggressively incorporating renewables into its power supply, you don't need a green power program.
But Dominion has never built more than token amounts of renewable energy, and it continues to use its monopoly position to erect barriers to competition from others. The utility has signed up 19,000 Green Power participants only because it has effectively denied its Virginia customers any meaningful way of participating in the renewable energy market. Everyone agrees that cutting energy waste is the most cost-effective way to meet our energy needs while reducing reliance on fossil fuels. And making new buildings efficient from the start is the surest way to achieve energy savings. Energy efficiency is the Mom-and-apple-pie part of our energy policy. Who could oppose it?
The Home Builders Association of Virginia, for one. They would rather build cheap housing than efficient housing, even when high utility bills turn cheap housing into expensive housing.
Bowing to aggressive lobbying from the home builders, the Board of Housing and Community Development (BHCD) has backed away from the national model building code provisions that would have improved the efficiency of Virginia residences by as much as 27.4%, according to a U.S. Department of Energy analysis. And, the McDonnell administration has signed off on the weak regulations. Virginia's Department of Housing and Community Development has proposed a watered-down code that is currently open to public comment until September 29.
The McDonnell administration prides itself on fiscal prudence and its love for the business community. Here is a case where fiscal prudence demands tough love. A watered-down code means money wasted.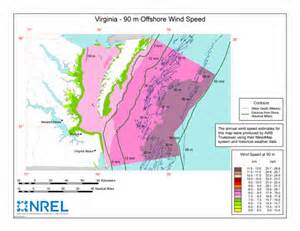 And the winner is . . . Dominion Power!
Okay, you knew that. Dominion had the deck so stacked in its favor for Wednesday's Virginia offshore wind lease auction that the question everyone was asking at the end wasn't "who won?" but "who bid against Dominion, and why did they bother?"
The answer to the first question proved to be Charlottesville-based Apex Energy, a far more experienced player in the wind industry-but one without Dominion's lock on the Virginia power market.
There was much to criticize about the auction format and the process that led inevitably to Dominion's win, but this historic step is still hugely exciting for offshore wind advocates. If Dominion follows through on the commitment it just made to develop offshore wind, Virginia will be a winner, too.
That "if" has a lot of people worried, given that Dominion is both a participant in the offshore wind industry and one of its loudest detractors. Company executives talk about their desire to develop the lease area, and also their opinion that offshore wind energy is way too expensive to succeed. Often they make both points in the same conversation.
Observers can't help wondering why a company would pour money into a venture if it doesn't believe it can sell its own product. Two possible reasons come to mind: one, because it is willing to gamble on political and market changes that will make its venture successful after all; or two, because by spending the money to win the lease, the company prevents any competitor from occupying the space. One is gutsy, the other is evil. It is possible for both to be true. The State Corporation Commission has approved Dominion Virginia Power's proposal for a new gas-fired power plant in Brunswick County, rejecting arguments from the Sierra Club and others that ratepayers would be better served by a combination of low-cost energy efficiency and price-stable renewable energy.
The decision in the case (PUE-2012-00128) reflects the same discouraging themes we have seen from our regulators before: a tendency to believe everything Dominion tells them, coupled with an absolute refusal to acknowledge the climate crisis bearing down upon us and the changes in the energy market that make fossil fuels increasingly risky.
As the SCC put it in its order, "The relevant statutes... do not require the Commission to find any particular level of environmental benefit, or an absence of environmental harm, as a precondition to approval." (Note to legislators: How about fixing that?)
The SCC's state of denial is not just about the future. Since at least the 1980s, Dominion has consistently overestimated future demand growth.
A little skepticism might be in order when Dominion projects the same level of demand growth that keeps not materializing. But the SCC is not skeptical. Its order declares Dominion's load forecasts "reasonable."
Evidently one can be both reasonable and wrong. Demonstrating this in real time, only a few days after the SCC issued its order this month, Dominion CEO Tom Farrell had to explain to shareholders why electricity demand has not grown this year in line with company predictions.
Amnesia was also in evidence at the public hearing on the case, where proponents of the gas plant - everyone from Dominion employees to the SCC staff - kept insisting on the environmental advantages of natural gas. D
ominion Virginia Power said Monday that it intends to move forward with plans for a third reactor at its North Anna Power Station as the international nuclear energy industry reels from the disaster at the Dai-ichi nuclear plant in Japan.-WSLS10, March 15, 2011
The operator of Japan's tsunami-hit nuclear power plant sounded the alarm on the gravity of the deepening crisis of containment at the coastal site on Friday, saying that there are more than 200,000 tons of radioactive water in makeshift tanks vulnerable to leaks, with no reliable way to check on them or anywhere to transfer the water. -The New York Times, August 23, 2013
A friend asked me recently whether I thought the ongoing disaster at the Fukishima nuclear plant in Japan would have repercussions here in Virginia, where Dominion Power operates four nuclear reactors at two plants and wants to build another. I feel pretty sure the answer is no. Economics will kill Dominion's nuclear dream, but not risk. We just don't think that way.
We think like this: Fukishima was taken out by a tsunami. There are no tsunamis in central Virginia. Ergo, there is no risk to Virginia's nuclear plants from a tsunami, so Japan's sudden revulsion against nuclear power shouldn't put us off our feed half a world away.
So why did countries like Germany, which also has no tsunamis, freak out and swear off nuclear for good?
They drew an entirely different lesson: Japan is a smart, technologically-advanced nation. Japan did not anticipate the disaster that destroyed Fukishima. Ergo, unanticipated disasters happen even in smart, technologically-advanced nations.
Or put another way: Murphy's Law also applies to nuclear plants. We ignore Murphy at our peril.
But ignore him we do. We had our own brush with nuclear disaster two years ago, when a rare, magnitude 5.8 earthquake shook central Virginia and led to a months-long shutdown of the two North Anna nuclear reactors. No one expected an earthquake of this strength there, least of all the plants' designers. Fortunately, the reactors survived intact, but I don't know of anyone who wants to repeat the experiment. Presumably Dominion intends the "next" North Anna reactor to be designed to withstand stronger earthquakes. Do you feel better about nuclear now, or worse?
Murphy's Law operates with ferocity across the energy sector. An industry expert told me the BP oil spill in the Gulf happened in spite of four different safeguards in place on the drilling rig, each of which should have stopped the blowout from happening. And that spill was not an isolated incident; only the year before, a similar blowout off the coast of Australia created a 2,300 square mile oil slick-about the size of Delaware. U.S. papers largely ignored it. Spills are so common in oil drilling that they rarely warrant a headline. Yet somehow those who support offshore oil drilling off the coast of Virginia feel sure it won't happen here.
Or take mountaintop removal coal mining (please). Right now powerful explosives are blasting away the tops of mountains in southwest Virginia and across Appalachia. The rubble is being dumped into stream valleys, while huge machines scrape off the thin seams of coal. Federal law provides that no streams should be harmed, and the mountains should afterwards be restored-requirements so fanciful that neither mining companies nor state officials take them seriously. So it's not surprising that streams and rivers are polluted, species disappear, building foundations crack, and residents die young. That's not the plan going wrong, it's the plan.
In the past most Americans participated in an unspoken agreement to ignore the risks involved in producing energy, because we had no intention of stopping what we were doing. If it's a choice between risky energy and no energy, we will go with risky every time. Denying the risks is a coping mechanism that lets us sleep at night. Not incidentally, this is also the strategy used by fossil fuel interests to keep the public from demanding action on climate change.
But the widespread availability of cleaner alternatives gives us energy options we didn't feel we had before. Increases in energy efficiency and tumbling prices for wind and solar mean we can afford to look more honestly at the damage we do and the risks we run by powering our 21st century economy with 20th century fuels.
I like to think the Virginia legislature's decision to maintain the ban on uranium mining-for now-shows that our ability to ignore risks has its limits. Mining anything hazardous is inherently risky in a climate like Virginia's, where rainfall continually recharges the water table. Put nasty stuff between the rain and the water table, and you will find contamination downstream. The idea that water can be kept out of millions of tons of radioactive mine tailings for thousands of years strains credulity. The idea that this might be accomplished by a mining company whose sole purpose is to make money strains credulity altogether.
The fact that a good many of Virginia's politicians lined up on the side of the mining company anyway is not necessarily evidence of their capacity for ignoring risk. More likely, it simply demonstrates how extreme is the corrupting power of money in Virginia politics. Unfortunately, that shows no signs of changing. Faith communities, colleges, schools, local governments and non-profits will find it easier to "go solar" under a law that takes effect in Virginia on July 1. Eligible customers will be able to install solar panels or wind turbines with little or no upfront cost, paying only for the electricity the systems provide. This arrangement, known as a third-party power purchase agreement (PPA), has been the driver for most of the solar projects in the U.S. in recent years, but prior to this year utilities had blocked its use in most of Virginia.
The new law creates a two-year pilot program allowing customers of Dominion Virginia Power to install projects as large as 1 megawatt (1,000 kilowatts) using PPAs financed by private companies. Projects must have a minimum size of 50 kilowatts, so the program can be used by many commercial customers but excludes homeowners, whose solar PV systems more typically fall in the 4-to-8 kilowatt size.
Importantly, however, the 50-kilowatt minimum does not apply to tax-exempt entities. PPAs are one of the only ways available for tax-exempt entities to benefit from the federal 30% tax credit for renewable energy systems; a tax-paying investor actually owns the system and uses the credits, passing along the savings to the customer. Thus the program could open up a new solar market in Virginia focused on what might be considered a natural vanguard for renewable energy: houses of worship, colleges, schools and nonprofits.
PPAs also offer an advantage over buying solar panels outright: even though the solar system is on the customer's roof, someone else actually installs, owns and maintains it. That means less hassle for the customer and no upfront capital cost. The customer only has to pay for the solar power that's produced. With prices for solar systems having fallen dramatically in recent years, customers will generally be able to buy solar energy under a PPA for no more than they now pay for power from non-renewable sources. On April 24, Virginia's State Corporation Commission (SCC) will consider a proposal from Dominion Virginia Power to build a new natural gas-fueled generating plant, the second of three it wants to add to its holdings. Its first plant, now under construction in Warren County, generated little opposition because it will replace old coal boilers that Dominion needs to retire.
But the latest proposal for a plant in Brunswick has come in for fierce criticism, and for good reason: we don't need another gas plant. Dominion has exaggerated the growth in demand that it says justifies the plant, and the company could more cheaply meet its actual needs with energy efficiency and renewable energy.
Moreover, the world is changing, and the energy model of big utilities running big baseload power plants is becoming outdated. If Dominion builds another of these, Virginia could end up stuck with a giant concrete paperweight. The SCC owes it to customers not to let this happen.
Every year Dominion tells regulators it expects demand to increase by 1.5% to 2% per year indefinitely, but its actual energy sales have been essentially flat since 2006. Sure, the recent recession threw everyone a curveball, but Dominion's tendency to overstate future demand goes back decades. The company seems not to have anticipated widespread changes like more efficient appliances and better building codes that let consumers use less electricity even while we're buying more gadgets.
With a little effort, we could save even more energy. Virginia ranks in the bottom half of states for energy efficiency, and Dominion is not on track to meet even the modest efficiency goals of the Virginia Energy Plan. NASA scientist James Hansen famously warned that if the Keystone XL pipeline gets built, it's "game over" for the climate. That dire warning lit a fire under the feet of activists, who rightly argue that Canada shouldn't be producing the dirty, carbon-intensive tar sands oil, and the U.S. shouldn't enable the climate destruction by building a pipeline to get the oil out of North America. But stopping Keystone won't stop global warming, and building it won't make environmentalists throw in the towel. If this is a game, we are pawns as well as players, so we can never walk away.
Frankly, it's hard to understand right-wing enthusiasm in the U.S. for a pipeline benefiting a Canadian company extracting Canadian oil intended for the world market. In spite of all the talk about jobs, it will employ only a few thousand workers temporarily, and not in the areas of the country where unemployed construction workers live. Moreover, building it requires the government to seize private property from unwilling landowners to benefit a private interest-usually the sort of thing that makes Republicans go ballistic.
I might add that the environmental damage being done to thousands of square miles of Canadian arboreal forests and lakes is staggering-but Republicans have long since made it clear that they do not consider despoiling nature a drawback when there is energy to be had and profit to be made. (If you are a Republican and you bristle at this, see if you can name a recent oil, gas, or coal mining project your party has opposed for environmental reasons. I can only name one, and that doesn't get beyond "sort of." See the Tennessee Conservative Union's ad opposing mountaintop removal coal mining, now that a Chinese company wants to do it. )
Some would argue that the climate case against Keystone is overstated. Tar sands oil is "only" 14-24% more carbon intensive than conventional oil, if you ignore a nasty byproduct called petroleum coke that adds to the total carbon footprint. Yet surely if the reverse were true, and the carbon footprint of tar sands oil were less than that of conventional oil, it would be hailed as some kind of a planet-saving fuel. Incremental changes are what got us into this mess in the first place.
If Keystone represents evil, though, it has plenty of company, and there is blame enough to go around. Canadians are developing tar sands oil because the worldwide demand for petroleum is high and growing, there is money to be made meeting the demand, and there is no one who will make them stop. The harm done exceeds the profit to be made, but most of the harm is borne by people in other countries. Tom Farrell doesn't get it. Dominion Power, the utility of which he is CEO, has been all about building natural gas plants for the past couple of years, as it rushes to take advantage of cheap fracked gas. Out with the aging coal plants that had been its first love, in with the next cheap thing, and never mind the pollution! Then suddenly two weeks ago, faced with a question about climate change, Farrell
told reporters the answer is more nuclear plants
.
Mother Earth to Tom Farrell: The correct answer is "renewable energy."
Most of the rest of the country gets this. Wind supplied more new electric generation than natural gas did in 2012. More people work in solar energy than in coal mining. Renewable energy has overtaken nuclear worldwide. Almost no one is building nuclear plants, partly because-here's an inconvenient truth for you, Tom-they cost too much. Almost three years ago a Duke University study found that power from new nuclear plants is more expensive than solar energy, and the cost of solar has only gone down since then.
But Farrell is convinced wind and solar can't provide reliable electricity to power the whole grid. You'd think he'd been reading propaganda from the Koch Brothers and had come to believe that if there are solar panels somewhere and a cloud crosses the sun, the whole grid crashes.
Can I just point out here that Dominion's own North Anna nuclear reactors shut down suddenly in 2011 following an earthquake in Virginia, and the grid did not crash? Even though nuclear is one-third of Dominion's Virginia portfolio, and North Anna represents more than half of that? And even though, while weather forecasters are pretty good at predicting regional cloud cover, no one can yet predict an earthquake?
The reason the grid didn't crash is that grid operators make sure there is enough surplus generation available to keep supplying power even at times of catastrophic failure. And note that the nuclear plants didn't come back online when the clouds cleared off, either. They were down for four months.
If nuclear power is more expensive than renewables, and it has to be backed up 100% with other forms of energy, for much longer time periods, where is the place for new nuclear?