Home
Authors
Posts by lowkell
lowkell
Earlier this afternoon, I attended an
immigration reform rally
at Lafayette Park next to the White House. Hundreds of people, if not more, were on hand to peacefully protest Arizona's anti-immigrant law and to demand that Congress pass comprehensive immigration reform - including the
DREAM Act
- now. I was extremely impressed with the speakers, as well as the friendly, peaceful, racially diverse, and passionate crowd of protesters. Among others, I heard several
"Trail of Dreams" students
talk about their 1,500-mile walk from Miami, FL to bring their immigration message to Washington. Along the way, "they documented their journey on Facebook and Twitter, gathered 30,000 signatures to bring to the president and marshaled support and shelter."
In addition to the photos after the "flip," check out the video (below) of Margie (spelling?), a junior from T.C. Williams High School in Alexandria, VA. I think you'll agree that she's very impressive - in Spanish and in English!
UPDATE: Another video for your viewing and listening pleasure - "El Pueblo Unido".
Although he's almost certain to lose to Pat Herrity in the 11th CD Republican primary on June 8, Keith Fimian
isn't going down without a fight
.
On April 27, 2009, Pat Herrity voted to raise the real property tax rate from $.92 to 1.04 per $100 assessed. A whopping 13% tax increase in just one year! This amounted to an increase of about $550 on the average Fairfax County home.

Pat Herrity and other politicians say that because Fairfax County homes went down in value, the tax rate increase was not a tax increase at all. More political double speak. Fairfax homeowners are now paying as much or more in taxes on homes worth far less.
From sane peoples' perspectives, of course, raising the property tax rate to compensate for a decline in home values is simply prudent fiscal management of a county budget (which must, of course, be balanced). With Republicans, however, it might as well be "communist" or "socialism" or "unAmerican" or something heinous like that. Over at the aptly named
Too Conservative blog
, head honcho Vince Harris seems to think that Herrity might fall into one of those infamous categories, but the Too Conservative commenters strongly disagree (sample comment: "How ugly. Shame on Keith. Day by day, he's losing all respect that we had for him. No matter how low he goes, he'll never be our Congressman. How sad.").
Meanwhile, Democrats are enjoying sitting back, popping some popcorn, and watching these two Republican'ts savage each other. :)
Superb editorial by the Virginian-Pilot
, here's an excerpt but definitely read it all!
Since the beginning of the debate about offshore drilling, it has been clear that the promises are as concrete as petroleum fumes across the Gulf of Mexico. Inland lawmakers are lining up to prevent coastal states from getting any royalty money from offshore drilling. They outnumber Virginia's advocates.

[...]

But the most important assurance to residents of Virginia's coast was the one about the environment. Oil drilling, we were assured repeatedly by its advocates, is really safe these days. It won't damage the beaches, or the air, or our marshes. It certainly won't affect the wildlife.

Tell that to the people who live along the coast in Mississippi and Louisiana.
Ken Cuccinelli,
what a boob
, covering up Virtus' bosom with an armored breastplate. As UVA political science professor Larry Sabato
notes
, "
When you ask to be ridiculed, it usually happens. And it will happen here, nationally...This is classical art, for goodness' sake.
"



h/t: Not Larry Sabato
Click on the image to "embiggen,"
see here
for more.
Don't let anyone say
you weren't warned about this
, Mrs. Johnson!
...after McDonnell was sworn in, she watched in horror as the new governor enunciated a variety of socially conservative policies, especially regarding a constitutional ban on gay marriage and other civil rights issues, and then declared a celebration of Virginia's "Confederate History Month" without any mention of slavery.

"Politics, oh gosh!" Johnson says with a groan. "I feel like I was thrown under the bus on that one... The lesson that I've learned in all of this is I will never get involved in politics again."
What amazes me is that anyone, including a worldly woman like Sheila Johnson, would have believed Bob McDonnell's lies about being a "moderate" focused on jobs and not Pat Robertson's extremist social agenda. Unfortunately, many Virginians, including Sheila Johnson,
did
believe Bob McDonnell's b.s., and now we're stuck with him - plus his ticketmates, including Crazy Cooch - for four years. Sadly for Virginia, Sheila Johnson isn't the only one who's watching this situation in "horror."
UPDATE: I almost forgot why Sheila Johnson was so impressed with Bob McDonnell - his supposed ability to "communicate." Obviously, McDonnell "communicated" something to Johnson, like...oh, a bunch of outright lies that she bought, hook line and sinker. Duhhhh.
UPDATE #2: More reason to be horrified at Bob McDonnell.

While some Virginia leaders are urging the federal government to slow down or even reconsider drilling offshore after a fatal accident off the Gulf coast, Gov. Bob McDonnell will fly to Houston Monday to speak at a conference promoting offshore oil and natural gas drilling.

McDonnell will speak about "Jobs and the Economy: How the Energy Industry is Creating Jobs, Leading the Economy and Impacting Consumers" at the 2010 Offshore Technology Conference
At the absolute minimum, this shows a tin ear for politics. This guy seriously has national ambitions? Sorry, but he's not even close to being ready for prime time.
NLS provides
the full letter from Cooch, which among other things, promises that "[t]ogether, we can and will defeat the socialist legislation and prove that it is an unconstitutional overreach of Federal power." If that doesn't get your blood racing, not to mention your hand reaching for your credit card to donate to Cuccinelli for Attorney General, I don't know what will! :)
h/t: The Richmonder and Not Larry Sabato
I think
Bill Maher speaks for most of us
today when he says,
"Every asshole who ever chanted 'Drill Baby Drill' should have to report to the Gulf Coast today for cleanup duty."
Oh, and let me just add: f*** you Sarah Palin!
Finally, just remember, if "drill baby drill" (or should we call it "spill baby spill?") afficionados like Bob McDonnell gets his way, the following photos could be coming to the Virginia coastline sometime in coming years. Let's all tell him, "no thank you!"
UPDATE: According to Reuters, "White House says no offshore drilling will be allowed in new areas until review of oil spill off La. coast." Great, but how about offshore drilling in current areas using similar types of drilling equipment and techniques, such as failing to use acoustic valves as part of blowout preventers, as is done in other parts of the world? Oh, and how about we make getting off of oil our #1 priority? Until we do, disasters like this will happen again and again. Needless to say, that is completely unacceptable.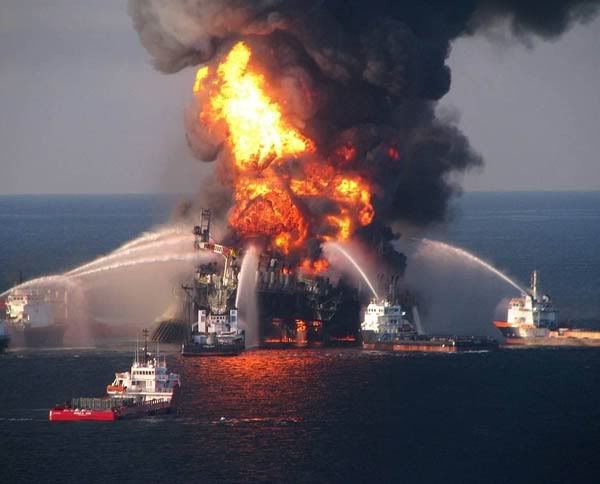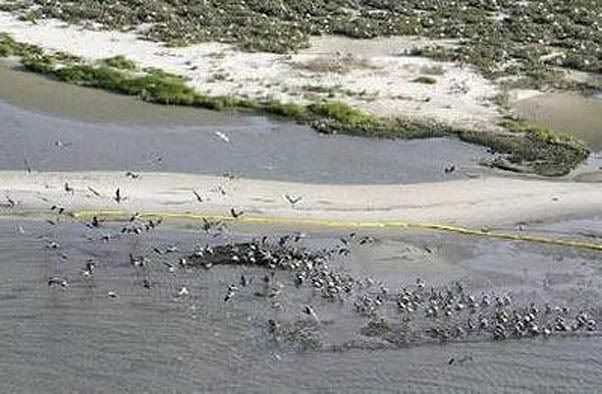 Click on the image for the full letter from the Jewish Federation communities of the Commonwealth. The key paragraph, blasting Bob McDonnell's reversal of nondenominational requirements for State Police chaplains.
"It leads us toward unnecessary religious clashes, demeans our Commonwealth's Jeffersonian principles and creates an unwelcoming environment for the Commonwealth's Jewish citizens and other religious minorities,'' six representatives of the groups wrote. "A final concern is the likelihood that revisiting this guidance would ultimately lead to litigation costly to our Commonwealth."
Once again, Bob McDonnell proves that he is at least as interested in pushing his divisive, Pat Robertson-inspired social agenda on Virginia, rather than focusing laser-like on jobs, jobs, jobs. And that's not even taking his "bad cop," Attorney General Ken Kookinelli, into account. As always, elections have consequences. Unfortunately, in this case, those consequences are largely bad ones.