Home
Authors
Posts by lowkell
lowkell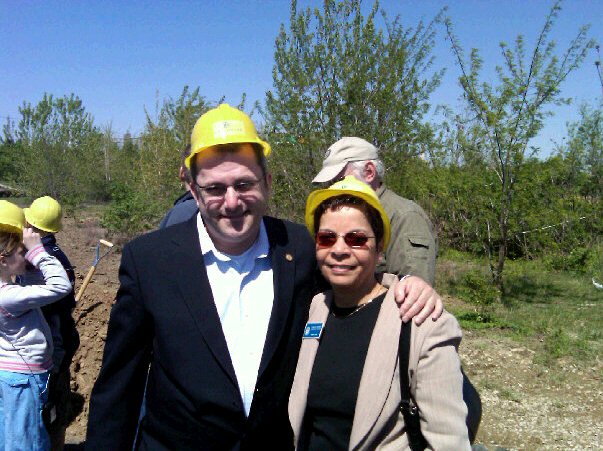 For more on Arlington's new Long Bridge Park,
click here
. Here's a brief synopsis.
Planning for Long Bridge Park began in 2001 with the goal of transforming a light industrial area into a green space. The park will be a showplace of environmentally sound development, with public green spaces, high-quality outdoor recreation facilities and environmentally responsible structures.

[...]

All facilities on the site will be designed to achieve the U.S. Green Building Council's LEED program Silver rating. Outdoor facilities such as parking areas, picnic areas, plazas and roads will be designed to make this park a model of environmentally responsible design. Read more about Visions & Goals for Long Bridge Park.
Great work by Arlington County on this one, demonstrating how an industrial area - containg a brickyard, a scrapyard and other businesses - can be transformed into a 28-acre aquatics, health and fitness facility and park. This is the kind of project that should be replicated across Virginia.
P.S. This photo is of Del. Adam Ebbin and Arlington Commissioner of Revenue Ingrid Morroy, earlier today, at the construction kickoff for the park. Another day, another controversy
for Bob McDonnell.
For the second time in a week, Virginia Gov. Robert F. McDonnell has angered black leaders and civil rights groups, this time when they learned of his plans to add another step for nonviolent felons to have their voting rights restored.

McDonnell (R) will require the offenders to submit an essay outlining their contributions to society since their release, turning a nearly automatic process into a subjective one that some say may prevent the poor and less-educated from being allowed to vote.

"It's another roadblock,'' Sen. Yvonne B. Miller (D-Norfolk), a member of the Virginia Legislative Black Caucus, said when she was told of the change.

Miller has repeatedly introduced unsuccessful bills to allow nonviolent offenders to have their rights restored automatically. "This is designed to suppress the rights of poor people," she said.
Can McDonnell, Cooch et al. go even one day without angering someone or stirring up yet
another
controversy? It's hard to believe these guys have only been in office since January; it seems like an eternity.
P.S. This is yet another example of why Tim Kaine should have restored all non-violent, ex-felons' voting rights before he left office. Big mistake.
UPDATE: Check out my recommended diary at Daily Kos. So far, Americans who have filed their taxes have discovered that the average refund is up nearly ten percent this year - to an all-time high of about $3,000. This is due in large part to the Recovery Act. In fact, one-third of the Recovery Act was made up of tax cuts - tax cuts that have already provided more than $160 billion in relief for families and businesses, and nearly $100 billion of that directly into the pockets of working Americans.

No one I've met is looking for a handout. And that's not what these tax cuts are. Instead, they're targeted relief to help middle class families weather the storm, to jumpstart our economy, and to bring the fundamentals of the American Dream - making an honest living, earning an education, owning a home, and raising a family - back within reach for millions of Americans.
The
full transcript is here
. "The President discusses the retirement of Supreme Court Justice John Paul Stevens and coming appointment of his successor before offering condolences to the families of the those who died in the recent mine tragedy in West Virginia."
UPDATE: More proof that Massey Energy CEO Don Blankenship is a sociopath.

To some extent the fact that there were more survivors than those that are lost suggests that the mine was in pretty good shape relative to what mines would have been in the past and hopefully by today's standards.
This @#$@#$ should be in jail, his company's charter revoked. The following is a statement just issued by the Republican Third Congressional District Committee. it will be fun watching Rep. Bobby Scott (D) defeat Chuck Smith by 70,000 votes or so this November. Actually, if
this is any indication
, it could be even a worse drubbing than that. Given that Rep. Bobby Scott is one of the best people in Congress, that's something to look forward to!
Sean Devlin, Chair of the Third District GOP Candidate Committee, today announced that Chuck Smith has accepted a call to run as the Republican candidate for the House of Representatives. This announcement concludes a lengthy effort by grassroots Republican leaders from throughout the Third District to draft Smith and persuade him to take on this important challenge.

"The incumbent may call the Third District home, but he represents only Washington special interests," said Mike Wade, Chairman of the Third District Republican Committee. "There were many fine individuals who considered running this year. I want to thank them for their decision to help draft Chuck Smith. Their decision to bring a united front to our effort means we have a chance to elect a Congressman who will actually represent us, the people of the Third District West Virginia Governor Joe Manchin has
information on his website
about how to help the families of miners killed in the accident earlier this week.
Governor Manchin said, "The outpouring of support from fellow West Virginians, as well as citizens across the country, has been truly gratifying. The mining families continue to endure in this very tough time and will need as much support in the future as possible."

"I appreciate the West Virginia Council of Churches and their efforts to assist these grieving families," said Manchin.

Anyone who wishes to make a monetary contribution should contact the West Virginia Council of Churches at 304-344-3141 or visit http://www.wvcc.org/ for details.

In addition, gifts and other items are being accepted for the families of the deceased miners at Appalachian Bible College. For details about non-monetary donations please visit http://www.abc.edu/.
As the consumers of the coal that these people risk their lives every day to extract from the earth, I think our support at this time of tragedy is highly appropriate. Thanks.
h/t: Not Larry Sabato Rep. Jim Moran (D-8th) says:
Of course it was intentional. The last two predecessors, who were Democrats, didn't issue such a proclamation. The previous governor did, but he offered slavery as something that we should not be proud of. This guy doesn't mention slavery because he doesn't want to imply that he's not proud of it.
UPDATE
: More from Jim Moran (and Doug Wilder) on Confederate History Month after the "flip." A bit earlier this morning, Supreme Court Justice John Paul Stevens
announced that he will retirement
, effective in June 2010. First off, I just want to say "thank you" to Justice Stevens for 35 years of service on the Court, plus of course his service to our country in World War II. As
Adam B at Daily Kos points out
, Stevens' service began the day before Pearl Harbor, at the age of 21, when "he enlisted in the Navy and joined its intelligence service, earning a Bronze Star for his cryptography work which helped break the Japanese codes"). Now, at age 90 (in less than 2 weeks), I thank Justice Stevens and wish him a happy retirement!
With Stevens' retirement, President Obama gets his second opportunity (after Sonia Sotamoyor) to replace a Supreme Court justice. A couple of points on that.
First this is more than enough reason for all of us to be happy that we elected Obama, not John McCain, in November 2008. If McCain had won, he would have had the chance to tip the balance of the Supreme Court in a conservative direction for a generation or more to come, and that would have been a disaster.
Second, this is a chance for President Obama to appoint a strong advocate for progressive values - environmental protection, human rights, valuing people over corporations, promoting the "general welfare," defending our freedoms and our responsibilities under the Constitution, etc.
Although appointed by Republican Gerald Ford, Stevens has generally been considered the most liberal justice on the Court. Now, President Obama has a chance to replace him with a young version of...John Paul Stevens! I urge President Obama to make an inspired choice that we can all be proud of for decades to come!
P.S. Names of potential nominees I've seen bandied about so far include solicitor general Elena Kagan, Judge Diane Wood (7th Circuit Court) and Judge Merrick Garland (D.C. Circuit Court). Both Kagan and Wood reportedly were interviewed by President Obama last spring before he decided to nominate Sonia Sotomayor to the Supreme Court.
UPDATE: On Facebook, Sen. Donald McEachin raise an interesting possibility.
It's too bad that Gov. Kaine took the job as DNC chair. He would be an awsome Supreme Court Justice...Before anyone gets that twisted, I think Gov Kaine is an excellent DNC chair. His legacy as a Supreme Court Justice would be enduring.
Kaine is 52, so certainly not too old to be nominated to the Supreme Court. He's also very close with Barack Obama. I wonder if this is a serious possibility.