Home
Tags
Americans for Prosperity
Tag: Americans for Prosperity
Thanks to our pals at the Koch brothers' oxymoronic "Americans for Prosperity" and at The Bull Elephant for giving us a good shortlist (see...
Hat tip to Alan Suderman of the AP on this one: "Bizarro revolving door: Terry McAuliffe's former COS, Paul Reagan, is lobbying in Va....
This is appalling but not at all surprising. Americans for Prosperity today announced a seven-figure ad buy to support its multi-million-dollar effort urging Virginians to...
Yesterday, just about every Democrat in the commonwealth likely received the following email from the Democratic House Caucus: "We just got some breaking news out...
Overwhelmingly Americans have spoken: No cuts to Social Security and Medicare. But the so-called "Americans for Prosperity" and the politicians they own, persist in their mantra that Social Security and Medicare "must" be sacrificed. What to do? Enter the so-called MSM to pull the propagandize strings. Last week, MSNBC, ABC, and other news outlets were all over a supposed indicator in growing inequality. Among the
gems
pitched:

While the rich get richer and poor get poorer, the widening income gap may also be boosting wealth advisory businesses. The age-based wealth gap skyrocketed 47:1 in 2009 compared to 10:1 in 1984, Pew Research Center announced on Monday. Households led by an adult ages 65 or older had median net worth of $170,494 in 2009, compared to $120,457 in 1984, adjusted to 2010 dollars, for a gain of 42 percent. Households headed by an adult under the age of 35 had median net worth of $3,662 in 2009, compared with $11,521 in 1984: a decline of 68 percent.

The point here is to wedge the generations, to make young people angry and resentful at those supposedly horrible, "greedy geezers." Instead of supporting a country which cares about both the young and the old, AFP uses the circular firing squad approach to getting everyone to want to destroy each other. It's sick.
There are numerous reasons for our economic woes (and you know what they are), but that concoction is, well, bull. There is growing inequality, all right, but seniors are not the reason for it. Indeed older Americans have been devastated by the economy and are the least likely to ever find work again.
So what explains this supposed "wealth"? (Please follow below the fold.)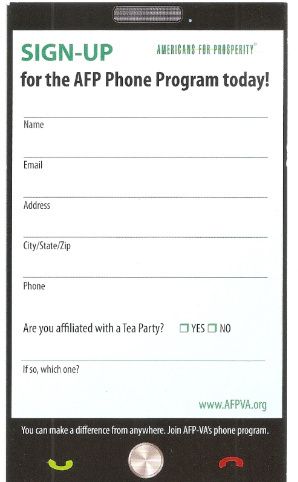 Interesting initiative from the
Americans for Prosperity
: phone bank from home. This morning at the Virginia Beach Republican Committee breakfast, these cards were handed out, to be collected from volunteers. The question about the Tea Party Affiliation is odd for a section 501(c)(4) organization. Just what is the objective here?
The opposite side of the card is blank. No mailing in; direct solicitation and collection. Since they say themselves that they "can advocate for and against specific legislation at the state and federal levels", you have to wonder how they intend to use their status to promote political candidates; that was the inference. Sounds like push polling to me. Here is a grey area that is clearly being used to benefit Republicans in Virginia.
The program does not seem to be referenced anywhere on the AFP website. Maybe they know it is iffy. But the beauty is that when you let loose of phone bankers at home, what they say is hard to hang on the organization. And by the time it is, the elections will be past. A corporate front group, Americans for Prosperity, is running ads attacking Rep.
Tom Perriello
(D-VA) & dozens of other Democrats for supporting the economic recovery package that kept the recession from becoming Great Depression II. So what's AFP's idea of great economic policy?
Shipping jobs to China & lining their own pockets with the salaries of those out of work Americans
. Via
TPM
, here's some pushback from the campaign of Rep. Zack Space (D-OH):
Koch Industries is one of the biggest funders of corporate front groups -- particularly anti-consumer, anti-science, pro-polluter astroturfing -- in American history. It's also a proud funder of the Tea Parties. And it's funny how Republicans keep attacking the economic recovery package while simultaneously trying to take credit for its effects, isn't it?