For once, I agree with former RNC chair Michael Steele
on something
!
Those Republicans who read the census data say the current paradigm of tough talk and no outreach is troubling.

"I find it curious that no one decided to go visit or have a conversation today with 25,000 Hispanic activists and leaders gathered from around the country. We can't afford to miss those opportunities. I get the whole thing with La Raza but people are people and we can find common ground," Michael Steele, the former head of the Republican National Committee, told HuffPost, alluding to the organization's presumed affiliation with Democrats.

"If I listened to people tell me, 'Oh, you shouldn't go talk to the NAACP people,' that is just crazy," he continued. "That's not what politics is about. Politics is about the art of engagement."
Michael Steele is correct, politics IS "about the art of engagement." Except for Teapublicans, that is. So much for increasing their share of the Latino vote in 2012; such a shame!!! LOL
You gotta love the Republican presidential candidates' lame excuses for why they didn't attend this important gathering of Latinos from all over America, though. Thus, Romney characteristically (pathologically?) lies and flip flops (first his campaign says he was never invited, then when confronted with proof that they declined the invitation, "the spokesperson clarified that there had been a scheduling conflict"); "Bachmann, Gingrich and Huntsman did not respond to requests for comment;" and Pawlenty blames a "scheduling conflict" (true, he's very busy -- getting his butt kicked in Iowa!). Meanwhile, President Obama does the right thing, and also the smart thing politically, by showing up and speaking to the convention. For video of that, see above. Oh, and I'm looking forward to seeing states like New Mexico, Colorado, Nevada, and others with large Latino populations, back in the "blue" column in 2012, 2016, and beyond! I just have one thing to say to this.
Hahahahahahahahahahahahahahahahaha
hahahahahahahahahahahahahahahahaha
hahahahahahahahahahahahahahahahaha
hahahahahahahahahahahahahahahahaha
hahahahahahahahahahahahahahahahaha
hahahahahahahahahahahahahahahahaha
hahahahahahahahahahahahahahahahaha
hahahahahahahahahahahahahahahahaha
hahahahahahahahahahahahahahahahaha
hahahahahahahahahahahahahahahahaha
hahahahahahahahahahahahahahahahaha
hahahahahahahahahahahahaha!
Now, back to your regularly scheduled blogging. :) According to Tim Kaine, the only thing the "party of Abraham Lincoln" stands for these days is "how do we make President Obama fail." In Kaine's words, President Lincoln would be turning over in his grave if he saw what his party had become. My guess is that Dwight Eisenhower, Richard Nixon, Gerald Ford, and a long list of internationalist, pro-environment, reasonable, sane, moderate Republicans in U.S. history would be doing the same thing. Sad to say - and I say that because Michael Steele has been great to have around, from a Democratic perspective - this
could be the end for the RNC chairman
, after he "was caught on camera saying that the war in Afghanistan is a doomed effort launched by President Obama." According to
TPM
, "high profile Republicans -- operatives and electeds -- will come forward shortly with condemnations, and even demands of resignation, later today."
We'll miss you, Mr. Steele, stay in touch. Oh, and please -- keep talking! RNC Chairman Michael Steele
tells us
something we've known for several years now. Better late than never, I guess.
Why should an African-American vote Republican?

"You really don't have a reason to, to be honest - we haven't done a very good job of really giving you one. True? True," Republican National Chairman Michael Steele told 200 DePaul University students Tuesday night. [...]

"For the last 40-plus years we had a 'Southern Strategy' that alienated many minority voters by focusing on the white male vote in the South. Well, guess what happened in 1992, folks, 'Bubba' went back home to the Democratic Party and voted for Bill Clinton."
Thank you, Michael Steele, for stating the obvious and acting like it's a great revelation!
P.S. A few more groups of people who should never vote Republican: women, GLBT folks, Hispanics, religious minorities (including atheists and non-religious people), teachers, police officers, government employees and contractors, scientists, anyone who needs health care, anyone who cares about the planet (including hunters, anglers, etc.), anyone who's not in the top 1% in terms of wealth, anyone who lives in a city, etc., etc. I wonder if Michael Steele will admit it.
This is cross-posted at Leaving My Marc.
While many Republicans are calling for the resignation of Michael Steele, after revelations arouse about his profligate spending of party funds on a trip to a lesbian bondage-themed strip club,
Republican Party of Virginia Chairman Pat Mullins wants everyone to know that he fully supports him
.  
Mullins supports him
because "
he was very helpful in Virginia throughout our campaign [last year], and I don't think we need to get into a divisive intraparty thing like that in the middle of congressional elections
." Mullins would prefer to just sweep things under the rug, what a leader! This seems like a very compelling argument, I wonder what Virginia social conservatives think? 
I love White House Press Secretary Robert Gibbs' comeback to RNC Chair Michael Steele playing the race card.
According to Gibbs
,
"Michael Steele's problem isn't the race card, it's the credit card."
Especially in light of
this latest RNC scandal
, that is so true.
This is cross-posted at
Leaving My Marc
.
In a big announcement this morning, Starbucks has introduced two new beverage sizes to its U.S. stores: the Plenta and the Micra.
Hugh Mungis, Starbucks VP of Volume issued the following statement:

Whether customers are looking for a large or small size, the Plenta and the Micra satisfy all U.S. and Canada customers' needs for more and less coffee. Our size selection is now plentiful.
Republicans have responded by saying "
Hell No, You Can't
" and blasting this as a direct result of the recently signed health care reform (HCR) legislation. It's nice to see at least
somebody living it up
in the middle of this nasty recession we're in right now. I'm sure the Republican National Committee's donors will be overjoyed to see where their money's going. ;)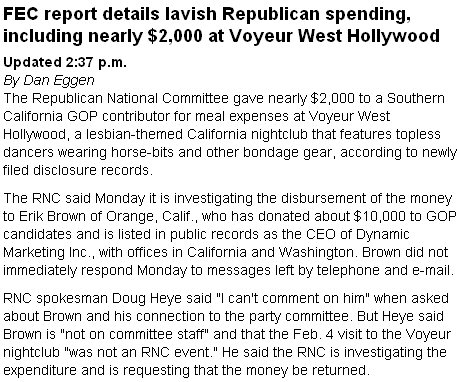 The Washington Post article goes on to talk about the RNC spending "more than $17,000 on private jet travel in February as well as nearly $13,000 for limousines and car services, and also ran up tabs at luxe hotels including the Beverly Hills Hotel ($9,000); the Beverly Wilshire Four Seasons ($6,600) and the W Hotel in Washington ($15,000)." Again, somebody remind me, why would we listen to these hypocrites on anything?