by Kellen Squire One Saturday morning not too long ago, our campaign team here in Central Virginia ventured out early to do some door knocking-...
Originally published in Daily Kos Eileen Bedell, Democratic candidate for the 7th District congressional seat, is a strong supporter of the Second Amendment to our...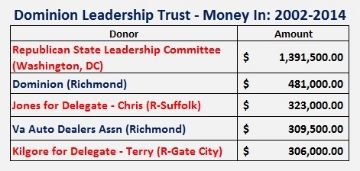 Yesterday I discussed the few members of our General Assembly who haven't been directly touched by Dominion. One such fellow is
Delegate Bloxom (R-Eastern Shore/Norfolk)
. However he has received funds from a PAC that Dominion has generously supported for years:
Dominion Leadership Trust
. Dominion is this PAC's second largest contributor.
Over the years, Dominion Leadership Trust, just one of many PACs Dominion Resources supports, has "invested" $10,973,016 influencing Virginia government. Though Dominion Resources' portion of that amount accounts for only about 4.4% of the total, that places the corporation second among those with clout in a PAC of like-minded members. And looking at the top donors, it is quite a gallery of influence. Dominion Resources leverages its direct donor influence by having a hand setting the agenda across the political spectrum in any number of PACs.
There is another gent on yesterday's list who has received funds from Dominion Leadership Trust: that would be Delegate Farrell (R-56th). Comparing the amounts the two received is a lesson in influence. Bloxom received $66,874 and Farrell $2,500. While Dominion Resources can only be attributed 4.4% of those amounts ($2980 and $111 respectively) when they respond (even if they did the math) to Dominion Leadership Trust, Dominion Resources's objectives get the attention corresponding to the greater amount.
The single contribution to Farrell did not occur until after he was elected to the House of Delegates and after his first two full sessions. Of the contributions to Bloxom, on the other hand, about $60,000 was reported during his campaign for a seat formerly held by Democrat Lynnwood Lewis and the remainder in the month after Bloxom's election. Dominion Leadership Trust accounted for over 43% of the funds "raised" by Bloxom. To whom is Delegate Bloxom beholden? It isn't the grassroots.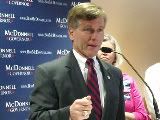 What we have here, is the failure of circumspection so common among neo-conservatives. The "here" are the personal attacks resulting from yesterday's
post about former Governor McDonnell's accumulating and compounding hypocrisy
. Somehow facts and evidence are irrelevant in the neo-conservative world unless they support your position.
It must be painful to have fallen for the original McDonnell shtick hook, line and sinker. Accepting this new fiction of a defense with all its twists, turns, and subplots as relief for the cognitive dissonance caused by recent revelations provides relief. Then someone points out the concurrent serial hypocrisy of McDonnell embracing a priest who casually violated his vow of celibacy with another man; behaviors McDonnell has blatantly condemned as antithetical to his core conservatism. This resonates and echoes hypocrisy. There is no argument that can refute the blatant self-serving behavior of their fallen hero, so resort to personal attacks.
Suddenly the raw truth of the McDonnell formula for defense being revealed is turned on its head and becomes an attack by the left on homosexuals. That is some desperation. This is just another brick in the wall McDonnell is building to defend himself. And we are cautioned that if we want to sway public opinion we need to make nice. Part of one rant is not only unintelligible but also contains utter nonsense:
"But it does show you an insight into the liberal extremist mind. Democrat (sic) bloggers, especially Lowly (sic), must not really like gay people. They need their votes, and the fact that they don't like religion makes gay people social "brothers in arms" with hatemongers like Lowly (sic), but in reality they only use gay people to shore up their own power."
Where to start?
The
news that there will be a budget shortfall
should be no surprise.
It was predictable
and may be the real reason Republicans are pitching such a hissy over Medicaid: they need a smokescreen for their complicity in the McDonnell subterfuge. But it may be worse than at first blush.
Just a couple of weeks ago, the Wall Street Journal provided pessimistic reports regarding state and local government projected revenues from personal income taxes. This was followed by a column by Richard Ravitch that outlined an indictment of fiscal malfeasance across the country. Almost every example he provided should send a chill down our spines. It was as though he was focused on the McDonnell years in our state but there are cases in our local jurisdictions where you find the trail toward insolvency too. Unfortunately, Democrats are not squeaky clean.
Sounding the alarm, Ravitch asks aloud whether the current woes are cyclical or structural. Are they tied to the financial collapse of 2008 or are they the result of legislation that fails to safeguard sound fiscal practice?
Ravitch outlines the common practice of making contributions to employee pension funds that are insufficient to meet contractual and/or constitutional guarantees..."sometimes contributions are not made at all for years at a time." Everyone involved has an incentive to keep contributions low because the alternative is risk underfunding or face layoffs and/or benefit reductions.
The first and most apparent manifestation of trouble in Virginia is in the Virginia Retirement System. McDonnell and his comrades crafted a complicated fraud on Virginians and our employees. He even claimed that he had resolved the issue of unfunded obligations. That is a lie that will return to haunt.
"Some payments to pension funds are made with promissory notes rather than cash...borrowing to cover operating deficits." - Ravitch
If state employees had adequate representation, by that meaning a union, the issue might had been adequately addressed. Instead, McDonnell was able to write a ten year mortgage that will never be adequately repaid while continuing to pile up unfunded obligations for the system. Yes, eventually there was another lie perpetrated concerning employee contributions that established a basis for claiming resolution; this single malfeasance may be enough to eventually bankrupt the state, but it pales in comparison with inadequately funding Medicaid which is the largest obligation in almost every state.
Last month, passing through Memphis, I read Sunday morning's
The Commercial Appeal
. Striking was how well in a single issue it gave a sense of the city and its people, something uncommon in a Virginia newspaper. And one column caught my particular attention; it reminded me about Shad Planking.
I really don't care if anyone takes this personally. In fact, if they do, then maybe there is reason. In that Memphis paper, Wendi Thomas wrote of a coming storm: the Ku Klux Klan's Easter weekend appearance in Shelby County. Like a lot of single issue voting blocs, this group had seized upon an insult to a founding father, Nathan Bedford Forrest, whose name had been removed by the city council from a Memphis park (where he rests today).
"Because nothing says Valentine's like venom toward people of color, gays, Jews, immigrants and Catholics, on February 14, the Loyal White Knights of the KKK applied for a permit to rally outside the county courthouse." - Wendi Thomas in The Commercial Appeal
The position that I found relevant to the Shad Planking was Thomas's common sense appeal to ignore the fools; enjoy the weekend with friends and family instead. And it is pleasing to see that the same spirit has caused
Democrats to blow off this year's version
of the once relevant event that has completely lost its gravitas, becoming a carnival side show appealing only the gullible. Its effects are contained by its isolation and I don't mean geographical. Turns out that like the rally in Memphis this event is a tempest in a teapot.
Shad Planking tickets are on sale
. Last year the event was snubbed by Senator Kaine, leaving George Allen the featured speaker. Bill Bolling's campaign poured a lot of beer. Four years ago, T-Mac made a splash, but like Allen and Bolling, it mattered not. The event is a sideshow.
Granted, it is not as disappointing as most carnival attractions. If nothing else, you get a bony lunch. And there is something else. If you have any interest at all in the anthropology of Virginia political thought, this is an enlightening event. It bears all the authenticity of a historical re-enactment. The only way George Allen could have been more at home would have been if he'd come dolled up in the confederate uniform he wore in his movie cameo role. You find vestiges of antiquated culture here you might never observe out of the closet in more accessible public venues.
That is the evolutionary branch of this event: a program to appease a demographic yearning for the comfort of a time that they dream could exist. Their future is some choreographed replay of an imaginary past. Here, the attendees who represent diversity are most often caricatures that appease that yearning. You know...they know their place, they toe the line. Radtke and Bishop offered many who would never vote for them the opportunity to feel better about themselves. All is right with the world where diversity is only skin deep.
When Democrats crash the party, you can almost sense time folding. They really can't step through that barrier between the two perceptions of past, present, and future. So while it is an engrossing play, that is all it is. And this play is not the thing. It is long past the time when this was an event where relevant political trends could be measured or influenced.
There is every reason to attend as an observer, but no reason to take the role of respectful and acquiescing participant; particularly this year, when the program will be a Cuccinelliphant love-fest.
Last year candidate Kaine couldn't attend due to scheduling. This year, Democratic candidates should schedule not to attend.
Rejoice among Democrats that Kenny C will be the Republican nominee is premature. So, no such right wingnut could become Governor of our Commonwealth? This would be the same reactionary who won the statewide contest for Attorney General in 2009. And this would be the same DPVA that was swept.
There is nothing substantive the DPVA can show as a response to the 2009 debacle. Republicans have a completely new wardrobe on order for 2013. OFA blew in, blew up, and blew out. Republicans still hold everything but the teetering state Senate (one special election away) and have an amazingly slick snake oil salesman in the Governor.
Note to all Democratic hopefuls: the OFA field organizers did nothing without guidance and were held on a short leash. Not a one was required or allowed to demonstrate initiative or individual competence. They followed a well designed call-center playbook; they might as well have been selling time shares. Political acumen was not in their terms of reference. They consistently alienated their local Democratic contacts. Check beyond their references before bringing them on.
Meanwhile, the Republicans are reining in the vitriolic. It will fade as we proceed through the 2013 General Assembly session. Delegate Rob Bell (R-58th), candidate for Attorney General, is already stepping up as a defender of the elderly. This despite his party's burial of a bill last session he now claims to champion. Republicans are moving back toward dog whistle politics. Remember, crazy is not an impediment to political success (See Hitler, Adolph). You just need someone to blame.
Assessing the gains from the OFA effort locally is difficult. At least in my locality, we know who volunteered. But the OFA walk list has not been fully harvested. The use of social media is not a DPVA strong suit despite Frank Leone's (who is now more focused on hockey than Virginia politics) promises, but OFA has been redirected to use that medium to sell policy rather than promote candidates and that may mitigate effectiveness of any DPVA mimic. Mimicry is not what we need. We really need professionals to determine the way ahead. Unfortunately, those professionals are persona non grata at DPVA.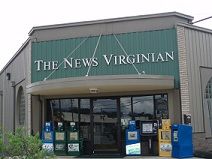 Everything I know about small town newspapers I learned reading
The Last Juror
and earning extra credit in 9th grade history finding errors in the
El Dorado Daily News
. But over the last few days, a lesson about what really dictates news content has been brought home. It's the audience, stupid.
The News Virginian, a Media General property that is included in the sale to Warren Buffet's group has demonstrated not only that news isn't always "man bites dog," but that the news that sells papers isn't always about the most important issues facing a community. While the ongoing budget struggle between the Waynesboro City Council and the School Board continued to steep, these were four of the front page above the fold headlines: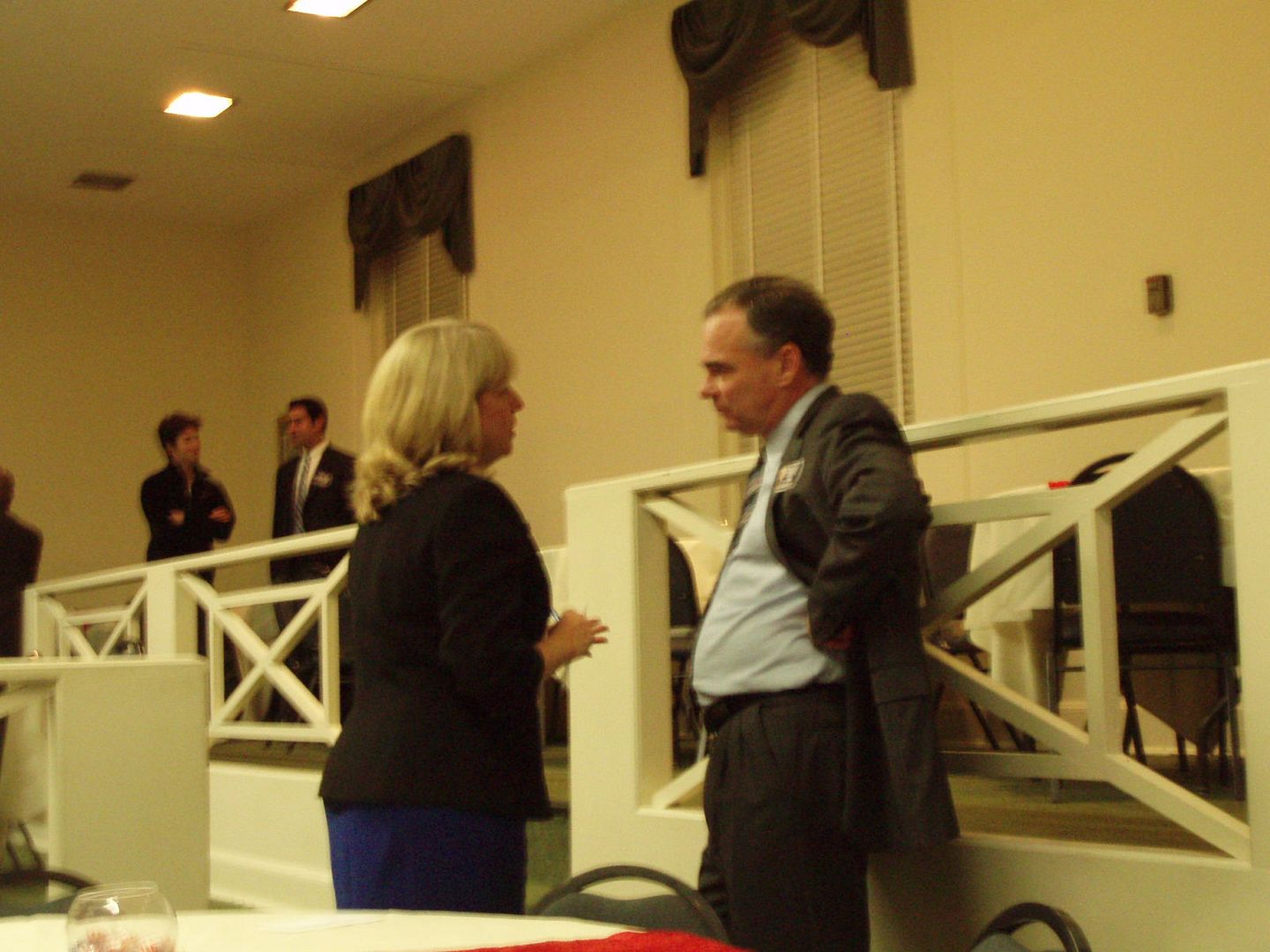 What a Democratic majority means to Governor Kaine is balance. Not to give short shrift to the House and local races, he believes that races like Ralph Northam's are essential to maintain sane government in Virginia. That's why he has made some 50 appearances on behalf of Virginia Democrats recently.
"Holding on to the Senate majority is the thing we've got to go after, hook, line, and sinker, tooth and nail, every minute, every hour , blood sweat and tears between now and next Tuesday." - Governor Tim Kaine
The former Governor offered some thoughts last evening at an event for Senator Northam (D-6th) about what we can do that will really matter and why what we do matters maybe this year more than most. From his perspective, right now in Richmond, the Democratic Senate is the balance. With a Republican Governor, Lieutenant Governor, and an Attorney General who is fighting against science, arguing climate change does not exist, fighting to turn back the clock as far as protecting employees on the grounds of their sexual orientation, that balance is essential.