I'm planning on publishing this also sometime in the near future in newspapers in my rather red congressional district (VA-06). Aside from making a...
I'm reading a book titled ORIGINALS: How Non-Conformists Move the World (by Adam Grant). In it, I've come across this passage that seems to...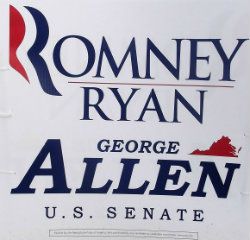 Lost in the news today is a small item that looms large for Tuesday. John E. Gordon has switched political parties. He is one guy. But in the GOTV effort, he is a guy that signals a slippery slope for Republicans who have thrown in with some pretty petty "populists."
"It's not that I'm leaving the Republican Party; it's that the Republican Party left me ... me and many other moderates," Gordon said in his announcement. "It aspired to be a big-tent party; but now it is dominated and exclusive to the tea party and folks with a very conservative social agenda." - Richmond Times Dispatch
So while the Republicans have been pandering to the know-nothing wing for two decades, they have driven those broader minded, more representative of the American electorate, to the curb. Concurrently they have touted a "big tent" welcome mat in an effort to attract a broader base of, well, non-whites. But is it sincere? After expressing frustration that more minorities have not joined the cause during a Virginia Beach appearance last spring, George Allen brushed off an African American member of the audience who commented that he might be able to explain how to help. Allen simply deflected the offer by telling him that he was interested; "see me afterwards..." Not interested or competent enough to share an unscripted conversation publicly. No, that's way too dangerous terrain for George. And there is nothing to demonstrate that Allen or many other Republicans are interested in anything but the votes. cross-posted from Daily Kos
Give Republicans credit for this: They don't chase the center, they try to move it. Democrats can play a loser's game of scrambling after a center being pushed ever rightward. Or they can stand their ground and show how far their opponents are from moderate, problem-solving governance. Why should Democrats take Republican advice that Republicans themselves would never be foolish enough to follow?
That is the final paragraph of E. J. Dionne's column in today's Washington Post, titled as is this diary, Democrats should hold their ground.
Of course, apparently some, including David Axelrod, are already prepared to cave on things like extending Bush tax cuts for the wealthiest Americans. That - Axelrod's position - is not only economically stupid, it is a political stupid and weak move.
I think Dionne is largely on topic in his column, which I will explore a bit more as well as offer some additional words of my own.