by Dan Sullivan For many, it is particularly tough being a veteran on Memorial Day. Some more than others. A cult of military reverence grown...
Ryan Blosser was raised in Waynesboro and a stand-out basketball player at
Fishburne Military School
who earned an athletic scholarship to play for a Division I college. That foray lasted a year, after which he began a circuitous journey to a farm in Churchville and
Project GROWS
in Verona.
People often ask me "What happened to you?" I don't look like the short-haired Fishburne basketball player that I was. - Ryan Blosser
Growing up, Blosser says, local food was Domino's pizza and a gallon of orange juice. He spent all his time at the YMCA indoors. He didn't know he was missing anything. When he went off to college he just did not like the experience. He quit. But basketball had been his entire identity. He met his future wife, Joy, and decided to move to Hawaii. It was on Oahu that his obsession with local food started.
Blosser sees his life as three woven tracks. First there is his need to engage his body somehow physically; an intellectual need, which being a college basketball player did not fulfill; and finally an emotional need. In Hawaii, the guy who had never been outside started to surf. Then he happened on a local farmer's market and he bought and fell in love with a basil plant. Finally while taking a college course on poetry he discovered the haptic poets. The basil plant became his fetishized object.
This is going to really sound really, really "woo woo," but I started to actually connect to the rhythm of the planet, not in that hippie kind of way, but in a real way where you are outside in the water and you actually feel it.
These experiences motivated him. He could grow his plant and eat it too. He could smell it, put it in his food and eat it, all without going to the store to buy it. To that point he had been living off of rice and beer; that was what the money they had bought. Then about 12 years ago, in a corner of his yard, he started an herb garden.
It isn't just Medicaid expansion that has been obstructed by "conservatives." As Staunton School Board member Joel Grogan points out, the new state budget sets funding for schools at pre-2009 levels. The economic impact of this epic legislative failure washes over the future of Virginia. This is McDonnell's leadership legacy.
Whether GOP legislators want to believe it or not, Virginia education is already in crisis. Grogan discussed the departure of Waynesboro High School Teacher of the Year Josh Waldron. After six years of teaching, this accomplished young man is taking home only $100 a month more than when he started.
"The job, though, is about much more. And I have very real concerns about the sustainability of public education in Waynesboro (and as a whole)." - Josh Waldron in his personal blog
Grogan wishes that the organization that represents school board issues hadn't shied away from the Medicaid expansion issue. He was told that they had to stay away from it because the organization is nonpartisan. But this, he says, is not a political issue; it's a moral issue and an economic issue. He argues it is a myth that this is a political issue, pointing out that there are about a dozen states with Republican Governors and legislatures that have either found a way to expand Medicaid or are on the way to it. Even in Virginia, a traditionally conservative organization, the State Chamber of Commerce, favors expansion, proving it isn't a left and right issue. This expansion will create 33,000 jobs.
At least Staunton's Republican state Senator, Emmett Hanger, has broken ranks to plow a path toward a special session that can consider expansion. That means that the battle is not over. Grogan calls for remaining positive and holding our delegates' feet to the fire on this issue.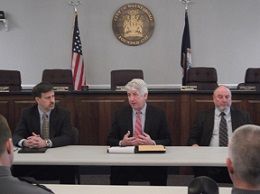 In Waynesboro yesterday Mark Herring concluded a series of productive meetings with regional officials aimed at helping the top prosecutor's office best serve the needs of communities. Unfortunately, many of the reports of these meetings have reduced the lessons to budget shortfalls. Problem? He isn't carrying a rabid social agenda.
Herring began this meeting explaining that his heart is truly with local government where he got his start in politics. Before elected office, he served as the town attorney for a small town in western Loudoun County.
As Attorney General, he has taken three major initiatives: first, is a review of systems and operations to see that the Office is operating as efficiently and effectively as possible; next is a top to bottom review of all the services and programs the Office is a part of as well as the human capital that is linked to those; and, the third piece, what he was doing yesterday, is meeting directly with local law enforcement, those on the front lines protecting the community, so he can hear first-hand about the challenges they face as well as ways they have worked with the Office in the past and ways the Office might be able to help meet the challenges they face.
The series of 22 meetings have been incredibly informative according to Herring. There have been some common themes. Funding, he said, is always a challenge. But another common theme has been mental health. There are some regional differences which you would expect in a state as large and diverse as Virginia. While overall, violent crime is down, there are some areas that are continuing to experience gang problems. In some areas the gang problem is not as visible but the gangs have become an offshoot of organized crime. Some other localities are seeing continuing problems with meth labs and prescription drugs. He also pointed out that there can be the tendency, when you take a short period of time to talk about crime, which can lead to a misimpression of an area; that he knows these communities are safe locations where a lot of people are doing a lot of good work. And it is those local successes he wants to hear about as well. The Virginia budget shell game is creating tensions in localities revealing the no tax pledge's fallacy of composition. In the black and white pledger world, there are no consequences to cutting budgets. But stark reality is inspiring grassroots action demanding remedies to the McDonnell budget:
LOCAL TAXES
.
"I have softened the blow on local governments to allow them to phase in a small differential in tax revenues that need to be paid by local employers. I've allowed them five years to phase that in. I've tried to accommodate them, but these are local employees. They pay for teachers; they're local employees. They have the obligation...We pay a third of all the retirement for teachers even though they're one hundred percent local employees. This differential that everybody's talking about is a very small slice of the whole retirement pie" - Governor McDonnell to WHSV, Staunton, VA. (use Search: McDonnell, then select "1 on 1: Va. Gov. Bob McDonnell)
In Augusta County, an informal citizens group (Support Our Schools) has overwhelmingly demonstrated displeasure, coming out in force to show that grassroots support for funding and necessary tax revenues far outweighs the astroturf pronouncements of the Tea Party. However, popular, oversimplified mantras continue to inform the debate.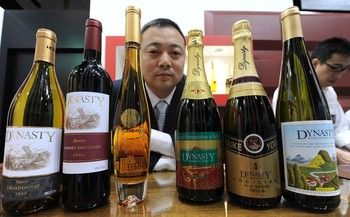 Even being
handed a smoking gun
, the McDonnell administration managed nothing more than to hedge a bet.
Jim Cheng
made a veiled effort to position the administration so it could claim participation and credit or maintain credible deniability for Waynesboro's overseas trade venture. Governor McDonnell's team just don't hunt.
"The secretary of trade [Jim Cheng] wants to hold a meeting after I get back to discuss future development of the foreign trade zone and what we're doing here." - Waynesboro councilman Mike Harris to The News Virginian
It isn't American economic development China is after, nor should it be. It's about business and national interests: concepts well beyond the scope of the Bob McDonnell team's skill set (see: ABC Privatization, VRS funding, and the soon to be nostalgic AAA bond rating). By the way, the hunt would have taken only a few keystrokes or a call to, heaven forbid, a scholar at the University of Virginia. Why didn't Cheng know that Hong Kong is positioned as a primary arbiter for wine imports to mainland China? That China is already a domestic wine producer and intends to become a major exporter (Great Wall Wine Company and others already export worldwide). That the Chinese domestic competition sells a mid-range wine for about $5.45 a bottle but export quality is fetching $30 to $45 per bottle in Hong Kong (all USD). That this may be an effort at import/export arbitrage; that we might leverage that margin to our advantage. We shouldn't give away the vineyard for a short term gain or potential near-term boom and the inevitable long-term disappointment. But Cheng was not so forthcoming.
"In terms of overall growth in demand for wine in China over the next 10 years, China will become both a massive producer and a massive importer of wine," says Don St Pierre, head of ASC, the Chinese wine importer and distributor acquired by Japanese drinks giant Suntory in 2009.
Wine has suffered the same trials as any number of other Chinese products. Excessive levels of ethanol and chemical additives have resulted in safety concerns and recalls. Virginia winery best practices may be the object of Chinese attention rather than the wines that are being produced in our region. Or it could be something entirely different. One thing is certain: China is not footing the bill for the Waynesboro councilman's journey without an anticipated return on investment. Another thing is certain: Governor McDonnell's team is out of its league. It can't even table the equivalent of a city councilman's initiative; nor, they have proven, should they. But they are happy to share anything Councilman Price may accomplish so long as there's credit to go around. They are proving how much they do love credit.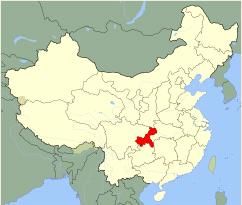 A local headline revised from "Official: City, Wanzhou near trade agreements" to
"Chinese delegation makes rounds."
A trade deal that cannot be made public until finalized. No participation by Bill Bolling. The benefit: an invitation to participate in a year-long garden exposition in Chongqing. Where's the ROI?
"I hope we can develop business relationships and promote better understanding of the Chinese culture and people. We're all human beings living on the same planet." - Waynesboro Mayor Frank Lucente
There are countless visits and relationships like the one in Waynesboro across the United States. Harmless on their face, possibly even beneficial. But you'd bet the Mayor of Waynesboro and his business delegation and their counterparts nationwide haven't read their Sun Tzu. And if the "executive deputy governor" of Wanzhou was present, where was someone representing the Commonwealth? How about the fellow appointed by the Governor as the chief jobs officer? While Wanzhou is not technically a state, it has a population if 1.6 million (a tad bit larger than Augusta county's) and the Chongquing exposition is a function of a direct-controlled municipality; translate: a Bejing economic functionary.
"We have a very good first impression of Waynesboro," said Bai Wennong, executive deputy governor of Wanzhou. "It's very beautiful."
Wennong said the delegates are especially interested in opportunities to import agricultural products from the Valley.
Agricultural products? A trade success? For the Chinese, maybe.