"The world stands on the brink of failure when it comes to holding global warming to moderate levels, and nations will have to take...
by Kellen Squire One Saturday morning not too long ago, our campaign team here in Central Virginia ventured out early to do some door knocking-...
Originally Published in DailyKos Before you vote, you might want to know how some groups rated Dave Brat's performance (2015, 2016) Defenders of Wildlife.....................................................0% Planned Parenthood......................................................0% American Civil...
by Dan Sullivan The sorry souls whose autos sport bumper stickers and who man the tables for Ben Carson are confessing. They sense the terrible sin of... There was a time when we could be confident that politics ends at the water's edge. There was a time Republicans would pretend to honor the founding fathers, emulate conservative icons like Goldwater and Reagan, and respect the Constitution. Instead they throw tantrums and stomp their feet hiding behind "patriotism."
Treasonous interference of the Executive might be the cherry on top of what is now a six year campaign to discredit each and every thing that President Obama accomplishes. There is even a whiff of that stench all the way down through the Virginia General Assembly. However, with two more years left to deny Obama a legacy, their desperation promises a continued effort to dismantle the Republic that may yet yield even greater absurdity.
Imagine in the run up to that great Bush Iraqi strategery debacle if Democrats had penned a letter to Saddam telling him "Hey, this guy is nuts and if he invades your country we have the option to tighten the purse strings on the military. Hang in there, he won't always be President." Or if upon election as Speaker of the House, Nancy Pelosi had invited the President of France to appear before a joint session of Congress to "advise" our President on how to proceed with our foreign entanglements.
Tom Cotton is the new poster child for patronizing veterans. Being a veteran doesn't confer competence in foreign affairs or the Constitution. And now we are reminded that not all veterans are patriots. The damage to America's stature is difficult to measure. What he has done is quite simple: he has put the world on notice that our foreign policy is at the mercy of waves of "populist" fervor and political expediency.
Both Goldwater and Reagan called for enforcement of the Logan Act. It was a founding father's administration that initiated enactment. But it would be inconvenient for Republicans to remember those facts.
The end result is this: if Iran needed a rationale for building a nuclear arsenal, it now has it.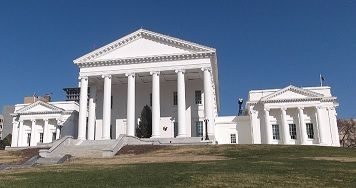 Turns out they were right. There is a self-anointed death panel and it meets in this building. Recall they said that healthcare would be rationed? Now that they've managed it, they are quite proud of their accomplishment. What Republicans really relish is the surreptitious method: don't decide, just deny.
Millions and millions and millions of your federal tax dollars have been flushed down the Potomac only to be harvested by wiser state legislatures. What could have been a catalyst for not only broad medical service sector growth but also the survival of rural medical clinics and hospitals was set aside for base political posturing. This should have been a simple financial decision. Instead it was a cynical sacrifice of their voiceless, powerless constituents for the protection of their own political hides.
Let's consider the costs because they are not limited to those dollars passed on to other states. Some number amounting to just under 5% of Virginians are without healthcare coverage because Medicaid expansion has been denied. That doesn't mean they go without healthcare. In many cases it means they go without healthcare until there is a crisis and then an emergency room visit and expensive procedure are required. Who pays for that? You can make up all kinds of voodoo financial and economic formulas but the costs get passed to those who are covered in increased insurance premiums and/or copays and/or deductibles. And maybe more importantly, in scarcer medical service resources. Visit an emergency room for the Republican version of healthcare delivery in the unregulated free market. They simply don't understand that the risk pool is the risk pool. No one in America is denied care in an emergency and those emergencies are exponentially more costly than preventive care. Republican denial of coverage poisons the well that feeds the pool. Welcome to the Teapublican Utopia.
On the other hand, some number amounting to just under 5% of Virginians now have healthcare insurance through the Federal Marketplace established by the Patient Protection and Affordable Care Act. That hasn't solved every problem but it goes a long way in that direction. While some are subsidized, these policies are not some government giveaway. They are a way Americans can take responsibility for their financial exposure. Republicans talk about individual responsibility in a vacuum. They like to preach about it but don't want to facilitate it. The fact is that 60% of bankruptcies in the United States involve medical indebtedness. Healthcare insurance builds a firewall between personal financial survival and insolvency leading to financial disaster.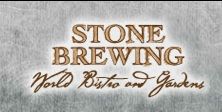 Governor McAuliffe, stung by legislative setbacks that he foresaw when he campaigned saying that he didn't want to be Governor if he faced a veto-proof General Assembly, is going to his advertised strong suit: jobs. It's a gamble. And he's playing a high profile hand with Stone Brewing.
"I've got to tell you, I'm excited. I have worked this like a dog." - Governor McAuliffe
Stone Brewing wants to expand East Coast sales. A brewery located on our side of the Mississippi expands presence and reduces shipping costs. The potential sites for the new brewery have been narrowed to Ohio and Virginia. Each state has its own transportation advantages with Ohio arguably better situated. But only Virginia allows sales of Stone Brewing's higher alcohol by volume (ABV) content brews.
There is something of an irony here. The competition is between Ohio and its Republican Governor, John Kasich and Virginia and our Democratic Governor. But it is Ohio's Republican legislature that stands in the way of Ohio's successful courtship of this employment plum.
"Stone Brewing expects to invest up to $60 million in its east coast brewery which will include a restaurant and retail area. The company anticipates 375 jobs would be created over 5 years." - WOSU Public Media
Last December, Ohio state Democratic Representative Dan Ramos introduced a bill that would adjust the allowed ABV content, removing that obstruction, if it really is one, from consideration. It had bipartisan support and an almost equal number of the 21 cosponsors from each party. But this will be familiar to Virginians: Ramos's House Bill (HB) 391 went to committee where it has since languished.
From what Stone Brewing has announced about the decision to locate, one can deduce that Ohio is the preferred location. The anticipated announcement allows time for Ohio legislative action on HB 391 but action has been slow coming. For once a Republican legislature may offer Governor McAuliffe an advantage. Sadly it isn't Virginia's. There was a moment during Charlottesville Chief of Police Longo's press conference on Friday that was telling. It wasn't about the Hannah Graham case. It was about commercial media. A reporter asked why two recent Charlottesville sexual assaults hadn't been in the news. Turns out, the press wasn't interested enough.
Chief Longo pulled out the morning briefings that detailed the cases. If a tree falls in the woods, does it make a sound? We finally have the answer: not if it requires any investment or effort by local reporters; even those who feign an interest in women's issues. "News"paper and electronic media staff have come to rely upon the kindness of plagiarism: press releases, internet bloggers, and wire services. They are more interested in the flavor of the day. Like beagles, they are easily distracted by any scent. Have you seen any follow-up reporting about the scheduled arraignment of Charlottesville Delegate Toscano's wife's assailant just last Wednesday? NBC 29 updated a story from 18 August for the second time. In case you missed it, well here it is: the case has been continued; again until 10 Oct.
By now you may be wondering of it is open season on women in Charlottesville. Republicans would undoubtedly deny any such characterization. But, what is it? Four women gone missing in five years? Not a single one of those cases solved? Some may argue that is statistically insignificant. Others might wonder if there is or are (a) serial offender(s) that have found sanctuary. In fact they may wonder why these cases have been so frustrating and if they are, in effect, actually closed.
There was something else about Chief Longo's press conference. Someone should ask if he was calling for vigilante action when he intimated someone else should reveal the identity of a person the police interviewed (acting seemingly out of frustration). So I may. I have the name of a person matching the description of the person who owned that orange car who resides at the address of the search. It was not difficult to determine. So what is it Longo wants from me or anyone else with the same information. And why hasn't the commercial "press" sniffed this person out? Frankly, that is Chief Longo's job...not that of a mob.
All of this is disconcerting.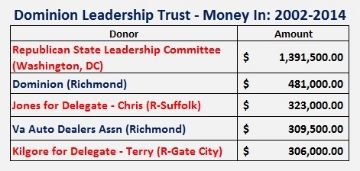 Yesterday I discussed the few members of our General Assembly who haven't been directly touched by Dominion. One such fellow is
Delegate Bloxom (R-Eastern Shore/Norfolk)
. However he has received funds from a PAC that Dominion has generously supported for years:
Dominion Leadership Trust
. Dominion is this PAC's second largest contributor.
Over the years, Dominion Leadership Trust, just one of many PACs Dominion Resources supports, has "invested" $10,973,016 influencing Virginia government. Though Dominion Resources' portion of that amount accounts for only about 4.4% of the total, that places the corporation second among those with clout in a PAC of like-minded members. And looking at the top donors, it is quite a gallery of influence. Dominion Resources leverages its direct donor influence by having a hand setting the agenda across the political spectrum in any number of PACs.
There is another gent on yesterday's list who has received funds from Dominion Leadership Trust: that would be Delegate Farrell (R-56th). Comparing the amounts the two received is a lesson in influence. Bloxom received $66,874 and Farrell $2,500. While Dominion Resources can only be attributed 4.4% of those amounts ($2980 and $111 respectively) when they respond (even if they did the math) to Dominion Leadership Trust, Dominion Resources's objectives get the attention corresponding to the greater amount.
The single contribution to Farrell did not occur until after he was elected to the House of Delegates and after his first two full sessions. Of the contributions to Bloxom, on the other hand, about $60,000 was reported during his campaign for a seat formerly held by Democrat Lynnwood Lewis and the remainder in the month after Bloxom's election. Dominion Leadership Trust accounted for over 43% of the funds "raised" by Bloxom. To whom is Delegate Bloxom beholden? It isn't the grassroots.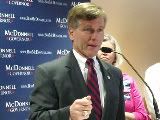 What we have here, is the failure of circumspection so common among neo-conservatives. The "here" are the personal attacks resulting from yesterday's
post about former Governor McDonnell's accumulating and compounding hypocrisy
. Somehow facts and evidence are irrelevant in the neo-conservative world unless they support your position.
It must be painful to have fallen for the original McDonnell shtick hook, line and sinker. Accepting this new fiction of a defense with all its twists, turns, and subplots as relief for the cognitive dissonance caused by recent revelations provides relief. Then someone points out the concurrent serial hypocrisy of McDonnell embracing a priest who casually violated his vow of celibacy with another man; behaviors McDonnell has blatantly condemned as antithetical to his core conservatism. This resonates and echoes hypocrisy. There is no argument that can refute the blatant self-serving behavior of their fallen hero, so resort to personal attacks.
Suddenly the raw truth of the McDonnell formula for defense being revealed is turned on its head and becomes an attack by the left on homosexuals. That is some desperation. This is just another brick in the wall McDonnell is building to defend himself. And we are cautioned that if we want to sway public opinion we need to make nice. Part of one rant is not only unintelligible but also contains utter nonsense:
"But it does show you an insight into the liberal extremist mind. Democrat (sic) bloggers, especially Lowly (sic), must not really like gay people. They need their votes, and the fact that they don't like religion makes gay people social "brothers in arms" with hatemongers like Lowly (sic), but in reality they only use gay people to shore up their own power."
Where to start?