by Lowell Here are a few national and Virginia news headlines, political and otherwise, for Friday, March 13. The Pitiful Oil Market the Saudis and...
by Lowell Here are a few national and Virginia news headlines, political and otherwise, for Sunday, March 31. How the UK lost the Brexit battle...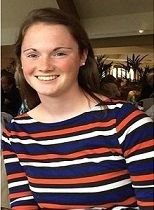 Possibly only because Hannah Graham disappeared did we learn she was a victim of foul play. Statistically, 1,137 other American undergraduates were raped that day. Why aren't they in the headlines? Bet you if four UVA football players had gone missing in five years, those cases would have been solved.
There is every disincentive for victims of rape to report their assaults. When they do, they invariably become victimized again. The deck is stacked in favor of assailants. You'd think that in the enlightened environs of college campuses this would not be so. When will the discussion about violence against women change from women avoiding potential danger to men behaving with respect?
There is nothing positive about this to learn from the leadership on Virginia's campuses. And there seems no accountability for leadership failures. The President of James Madison University (JMU), at a minimum, provided cover for the malfeasance in his administration's handling the Sarah Butters sexual assault, deflecting blame onto the victim. Governor McAuliffe plastered over the scandal of Title IX investigations across Virginia by appointing a task force to conduct a "top-to-bottom" review of procedures for investigating sexual assaults and resolving complaints at public colleges and universities. You can conduct the tightest investigations in the universe and it won't prevent the next broken life. Nice try Governor, but this won't change the climate on campuses. You want Presidents of Virginia's universities and colleges to be invested? Fire one; start with JMU President Alger who allowed Sarah Butters' dignity to be trampled upon.
The overuse of football as a metaphor for life can be irritating but sadly in the area of leadership, some college coaches are way ahead of their "bosses." Last July after Coach Charlie Strong started kicking players off of his team for their behavior toward women, ESPN commentator Rod Gilmore was asked about football players' violence against women. Gilmore, a former Stanford football player, accomplished attorney, and ESPN analyst praised Strong for doing the right thing.
"He's one of the few people who takes a strong stand against violence against women. I mean he comes out on day one and says that if you don't treat women with respect, you cannot play for him. And he's new at Texas and he backed that up today. But seriously, across the landscape of college football, we don't take it seriously enough." - Rod Gilmore on ESPN
Just as Terry McAulliffe and even the President dutifully and publicly filled out their NCAA March Madness brackets, there was
NPR
telling listeners yesterday that it is all for naught. After all, any individual's chances of getting the brackets right is 9 quintillion to one for the 64 teams, which is way, way worse odds than the chance of getting struck by lightening. Getting it right is just too random to waste your time on "bracketology." It is a useless enterprise. But (almost) everyone does it. The widespread perception that one can actually get the entire March Madness brackets right is based on a misunderstanding of statistics, probabilities, and (yes) reason. But then we all misperceive probabilities, even those who know better. Regardless, all manner of sportscasters, celebrities and just plain folks occupy their time dutifully filling out their brackets.
So, I have to ask, is this useless enterprise more important than, say, defending seniors, kids and more against Paul Ryan (don't look now but an even worse version of his budget just passed the House today)? And do not citizens everywhere make better use of their time writing to the President and telling him to not throw us all (seniors, kids, workers, the sick, the poor, and more) under the bus or on "the table"? Wouldn't it be a better use of time to call Nancy Pelosi and tell her to stop caving before the negotiations even take place? The odds would be vastly better than 9 quintillion to one if every single citizen who cares got on the phone and on the email system of Congress. You can even do it while you watch!!!!!! Why, if every Democrat told their representatives her or she will withhold support if they don't stop the caving to the 1%, imagine how things might change!
As college football bowl season gets into full swing,
New York Times
columnist Joe Nocera reminds us that the games will generate millions in revenue for the schools and coaches - and
almost nothing for the kids actually playing
:
The hypocrisy that permeates big-money college sports takes your breath away. College football and men's basketball have become such huge commercial enterprises that together they generate more than $6 billion in annual revenue, more than the National Basketball Association. A top college coach can make as much or more than a professional coach; Ohio State just agreed to pay Urban Meyer $24 million over six years. Powerful conferences like the S.E.C. and the Pac 12 have signed lucrative TV deals, while the Big 10 and the University of Texas have created their own sports networks. Companies like Coors and Chick-fil-A eagerly toss millions in marketing dollars at college sports. Last year, Turner Broadcasting and CBS signed a 14-year, $10.8 billion deal for the television rights to the N.C.A.A.'s men's basketball national championship tournament (a k a "March Madness"). And what does the labor force that makes it possible for coaches to earn millions, and causes marketers to spend billions, get? Nothing. The workers are supposed to be content with a scholarship that does not even cover the full cost of attending college. Any student athlete who accepts an unapproved, free hamburger from a coach, or even a fan, is in violation of N.C.A.A. rules.
Very cool!
The shot that sprung 11th-seeded Virginia Commonwealth to yet another unimaginable height was not meant to come off Bradford Burgess's hands, but he was open - wide open - and so the Rams collected perhaps their easiest basket of the night in the heart of the territory Florida State's imposing front court had protected so well.

Burgess's lay-in with 7.1 seconds remaining in overtime provided the final margin in VCU's 72-71 victory over the 10th-seeded Seminoles. on Friday night at the Alamodome. The Rams, who seemed destined to languish in the National Invitation Tournament after going 3-5 in February, will face top-seeded Kansas on Sunday with a spot in the Final Four on the line.
I love NFL football. But I'm completely disinterested in NCAA football. Why?
If you hate watching meaningful football games, you should love college football's Bowl Championship Series. Maryland played East Carolina this week at RFK Stadium. Announced attendance was 38,062, thousands below capacity - at a stadium just nine miles from the Maryland campus. Feel the bowl excitement!
If you hate Cinderella stories, you should love the BCS. Texas Christian University has gone undefeated this year, but cannot win the national title. Boise State has finished undefeated twice in recent years, both times winning the Fiesta Bowl, without being allowed a chance at the national title either time.
If you like preserving wealth & power in the hands of the privileged few over a true meritocracy, you should love the BCS. Only 14 teams have appeared in the 13 BCS Championship games, with 10 of the 26 slots going to just 3 teams (Oklahoma, Ohio State & Florida State).
College football's lack of a playoff system is one of the great enduring atrocities of modern sports. Look at it this way: Can you imagine any other sport dismantling their playoff system in exchange for a lone title game in which the participants are based in large part on subjective opinions? What if the NCAA proposed canceling the NCAA basketball tournament & just letting #1 & #2 play for the title? Or if the NFL skipped the playoffs and put the Patriots & Falcons in the Super Bowl right now?
Amazingly, the BCS still has some misguided defenders. Just listen to this convoluted defense of the system from Not Larry Sabato: