After watching President Obama's farewell address last night, I found myself thinking back on his presidency, and where I was in my life when...
Throughout the Democratic primary campaign for Arlington County Board, incumbent Libby Garvey -- who has spent the past few years allying herself with Republican...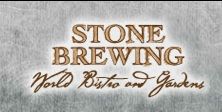 Governor McAuliffe, stung by legislative setbacks that he foresaw when he campaigned saying that he didn't want to be Governor if he faced a veto-proof General Assembly, is going to his advertised strong suit: jobs. It's a gamble. And he's playing a high profile hand with Stone Brewing.
"I've got to tell you, I'm excited. I have worked this like a dog." - Governor McAuliffe
Stone Brewing wants to expand East Coast sales. A brewery located on our side of the Mississippi expands presence and reduces shipping costs. The potential sites for the new brewery have been narrowed to Ohio and Virginia. Each state has its own transportation advantages with Ohio arguably better situated. But only Virginia allows sales of Stone Brewing's higher alcohol by volume (ABV) content brews.
There is something of an irony here. The competition is between Ohio and its Republican Governor, John Kasich and Virginia and our Democratic Governor. But it is Ohio's Republican legislature that stands in the way of Ohio's successful courtship of this employment plum.
"Stone Brewing expects to invest up to $60 million in its east coast brewery which will include a restaurant and retail area. The company anticipates 375 jobs would be created over 5 years." - WOSU Public Media
Last December, Ohio state Democratic Representative Dan Ramos introduced a bill that would adjust the allowed ABV content, removing that obstruction, if it really is one, from consideration. It had bipartisan support and an almost equal number of the 21 cosponsors from each party. But this will be familiar to Virginians: Ramos's House Bill (HB) 391 went to committee where it has since languished.
From what Stone Brewing has announced about the decision to locate, one can deduce that Ohio is the preferred location. The anticipated announcement allows time for Ohio legislative action on HB 391 but action has been slow coming. For once a Republican legislature may offer Governor McAuliffe an advantage. Sadly it isn't Virginia's.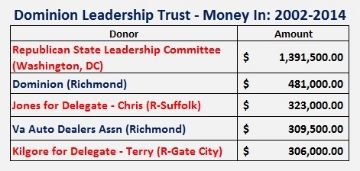 Yesterday I discussed the few members of our General Assembly who haven't been directly touched by Dominion. One such fellow is
Delegate Bloxom (R-Eastern Shore/Norfolk)
. However he has received funds from a PAC that Dominion has generously supported for years:
Dominion Leadership Trust
. Dominion is this PAC's second largest contributor.
Over the years, Dominion Leadership Trust, just one of many PACs Dominion Resources supports, has "invested" $10,973,016 influencing Virginia government. Though Dominion Resources' portion of that amount accounts for only about 4.4% of the total, that places the corporation second among those with clout in a PAC of like-minded members. And looking at the top donors, it is quite a gallery of influence. Dominion Resources leverages its direct donor influence by having a hand setting the agenda across the political spectrum in any number of PACs.
There is another gent on yesterday's list who has received funds from Dominion Leadership Trust: that would be Delegate Farrell (R-56th). Comparing the amounts the two received is a lesson in influence. Bloxom received $66,874 and Farrell $2,500. While Dominion Resources can only be attributed 4.4% of those amounts ($2980 and $111 respectively) when they respond (even if they did the math) to Dominion Leadership Trust, Dominion Resources's objectives get the attention corresponding to the greater amount.
The single contribution to Farrell did not occur until after he was elected to the House of Delegates and after his first two full sessions. Of the contributions to Bloxom, on the other hand, about $60,000 was reported during his campaign for a seat formerly held by Democrat Lynnwood Lewis and the remainder in the month after Bloxom's election. Dominion Leadership Trust accounted for over 43% of the funds "raised" by Bloxom. To whom is Delegate Bloxom beholden? It isn't the grassroots.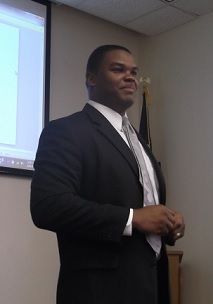 There is a refreshing candidate in Southwest Virginia ready to take on Ralph Smith for the 19th District state Senate seat.
Mike Hamlar
is a Roanoke native who excelled at athletics in high school, earning a football scholarship to Wake Forest. Returning home he's become an established high energy local entrepreneur.
Mike has three businesses. He is a third generation co-owner of Hamlar-Curtis Funeral Home which has been serving the community for 62 years. In 2009, Michael started Hamlar Enterprises, which is a business brokerage firm. The firm has engaged in multi-million dollar deals across the region, handling mergers, business acquisitions, business evaluations etc. In 2012, Michael and his wife, Katina, established Hamlar Properties, which is a property real estate firm that manages and oversees real estate transactions. Mike is also an adjunct professor at American National University in Salem, VA. He has been recognized by The Blue Ridge Journal as one of the "Top 20 leaders under 40."
At Wake Forest University Mike played football under Jim Caldwell and was on the Seattle Bowl championship team that defeated the University of Oregon. He is accustomed to winning and wants to take this race to the Republican incumbent, Ralph Smith.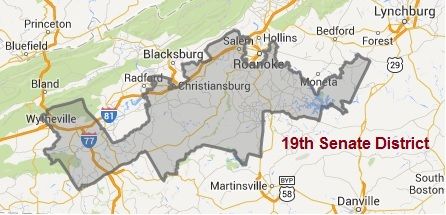 A family man with three young children, Mike is faith-driven and confident that he can win this race. That will be a task. Mike likes to say that if you look at the 19th district, it is as though his one-year-old drew it. It encompasses part of Roanoke County, all of Floyd County, all of Salem, part of Montgomery County, all of Wythe and Carroll Counties, and part of Bedford. From end to end it stretches about 120 miles from end to end, not the way the crow flies, but the way the SUV drives, and it takes at least three sweeps to hit every location in it. That is why he has started early. He plans kickoffs in every locality.
Recently appointed by Governor McAuliffe to the Secure Commonwealth Panel, Mike is involved in the community both in business and local civic organizations like the Kiwanis Club, so he is hardly starting from a standstill or without connections. And quite frankly it seems he is always in motion, with clear aims. Right now his goal is to become as well known throughout the district as he is in Roanoke. He is certainly well liked among local Democrats.
His priorities are education, Medicaid expansion (which he hopes is accomplished before he makes it to the Senate), and economic development. He points out that a program like Marketplace Virginia would create 30,000 jobs while providing necessary preventive healthcare. Not yet the official Democratic nominee, he is eager to gain that distinction so that he can focus solely on Republican Smith.

I have warned that
implementation of the new Virginia photo Voter ID requirement is mercurial
. If it is not in black and white in the statute, then Mark Obenshain's position is that only he, as the sponsor, can interpret the law's intent. This promises further obfuscation and confusion through November.
Meanwhile, the Democratic Party of Virginia (DPVA) is twiddling its thumbs and whistling Dixie as it walks down a treacherous path to voter suppression. That is NOT the way to deal with this. Nothing, absolutely nothing, is certain at the Virginia Department of Elections (VADE), nee State Board of Elections. There will be an opportunity through a comment period on the Virginia Regulatory Town Hall for the voter ID regulations beginning on or about the 14th of July. I don't see anything posted yet.
"The Code of Virginia requires that a voter shows a valid Virginia identification card. The state board, by regulation, now defines expired IDs - regardless of how much time has transpired since their expiration - as being expressly 'valid,' which, to my thinking, violates the plain meaning of the statute." - state Senator Mark Obenshain (R-Harrisonburg)
This is the tip of the iceberg. The Registrars, as best I can tell, all have the equipment and software required to issue the new, otherwise useless, photo IDs. No voter, as far as I can tell, has obtained a new voter ID. The DPVA plan to facilitate obtaining IDs is completely dependent upon the rules remaining in stasis. That is pure folly. There are so many assumptions about implementation and no branch plans to compensate for failures of those assumptions. I have the solution, but first a bit of discussion.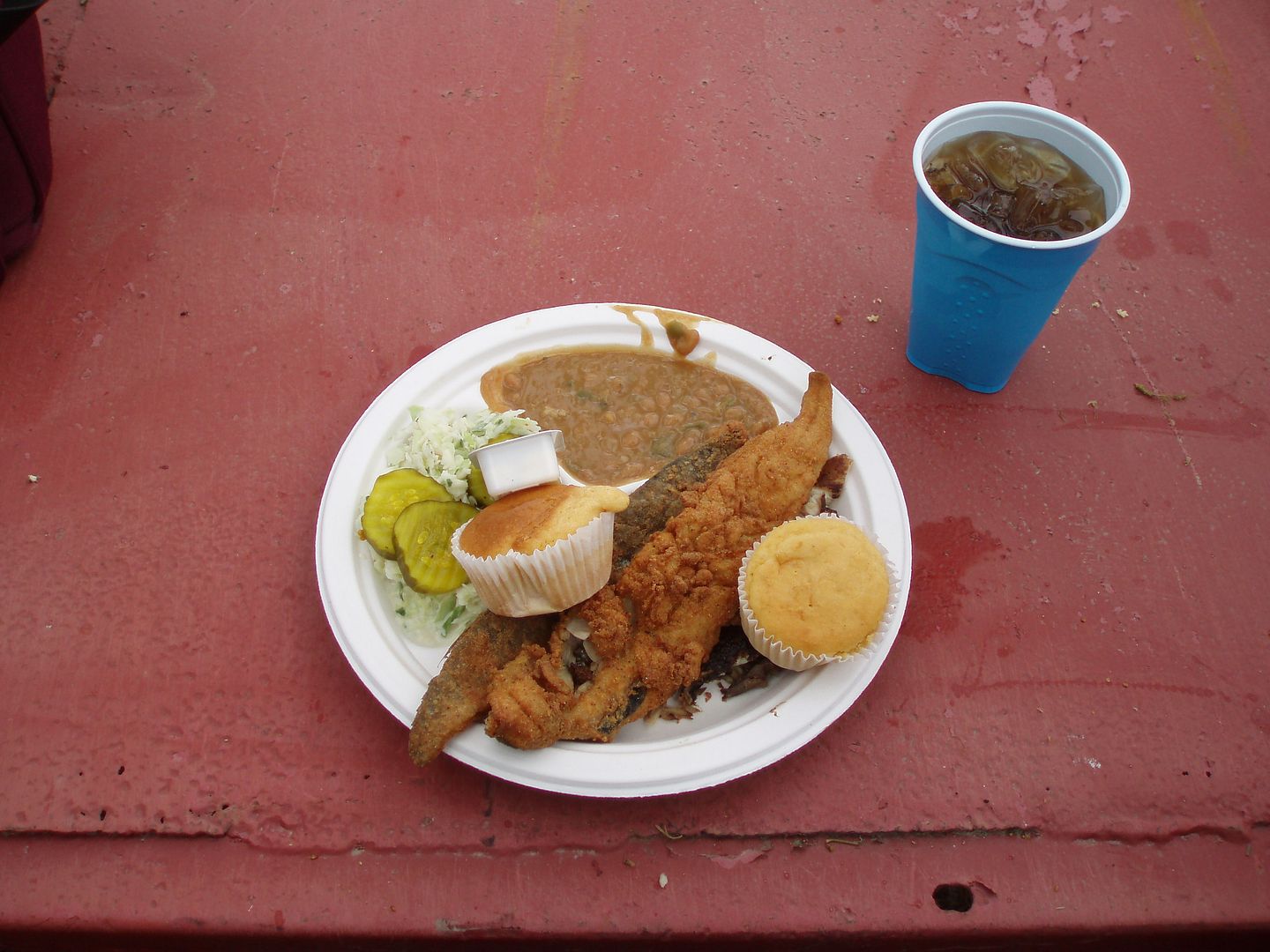 This year's version of the annual event just outside of Wakefield accomplished little. Though there was a hint of the lunacy usually present at Shad Planking; what there wasn't was much of a crowd nor interest. The biggest symbol of the times was the state-maintained road to the event.
There really wasn't much in the way of genuine politics going on. It was more of an alumni meeting than a political rally; more of a gathering of cronies practicing the Virginia Way interrupted a couple of times by a couple of hecklers. It seems that the last few seasons of rowdies have driven away the attendees who used to come show some civil revelry on behalf of their candidates. And now, with no one in any race to rally around, the most demonstrative types stayed home; and that would leave a big hole in what had become this Ruritan charity event attendance.
Additionally the candidates themselves, apparently led by the Republicans, declared a tacit truce on the sign war; they realized surrender was the better part of valor in that battle. There were a few signs along the road, but not the plastering to which we've become accustomed; maybe a dozen on 460 coming in from Richmond.
And then there was that road. We've discussed here the slow strangling that the McDonnell administration orchestrated during his four years in office in the name of balancing the budget. Well, now it is manifest here. What has been a well-maintained macadam rural route has deteriorated. In fact, the last half mile or more to the event parking area entrance and everything beyond is now feathered with gravel to cover the potholes. It really is symbolic of the treatment of Virginia's infrastructure, from schools and social programs to health care and public safety; not to mention the fraud perpetrated on the Virginia Retirement System when McDonnell announced that the unfunded obligations had been resolved.
There is more to discuss about what was less and that will come in a subsequent post. But if this level of enthusiasm is any indication of the turnout for this fall's election, the margin will come down to the grassroots get-out-the-vote effort. Problem is, for both sides, yesterday showed the grassroots really haven't been fertilized.
Last month, passing through Memphis, I read Sunday morning's
The Commercial Appeal
. Striking was how well in a single issue it gave a sense of the city and its people, something uncommon in a Virginia newspaper. And one column caught my particular attention; it reminded me about Shad Planking.
I really don't care if anyone takes this personally. In fact, if they do, then maybe there is reason. In that Memphis paper, Wendi Thomas wrote of a coming storm: the Ku Klux Klan's Easter weekend appearance in Shelby County. Like a lot of single issue voting blocs, this group had seized upon an insult to a founding father, Nathan Bedford Forrest, whose name had been removed by the city council from a Memphis park (where he rests today).
"Because nothing says Valentine's like venom toward people of color, gays, Jews, immigrants and Catholics, on February 14, the Loyal White Knights of the KKK applied for a permit to rally outside the county courthouse." - Wendi Thomas in The Commercial Appeal
The position that I found relevant to the Shad Planking was Thomas's common sense appeal to ignore the fools; enjoy the weekend with friends and family instead. And it is pleasing to see that the same spirit has caused
Democrats to blow off this year's version
of the once relevant event that has completely lost its gravitas, becoming a carnival side show appealing only the gullible. Its effects are contained by its isolation and I don't mean geographical. Turns out that like the rally in Memphis this event is a tempest in a teapot.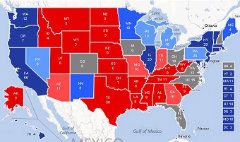 Barring any unforeseen event, there aren't enough undecideds to sway these uncertain elections. Persuasion is over now. The embers are being fanned with advertising dollars, but the electorate is now fairly immune to the heat from either side. The negative ads won't do the heavy work of GOTV.
The tea leaves from the polls give a very murky outlook. Republicans told us weeks ago that the polls are unreliable and biased. They were certainly not giving the news that they wanted to hear. For a while they were apoplectic; then curled up in the fetal position. When the polls swung their way, they suddenly became prophetic. But the truth is we (except maybe Nate Silver) won't know what they mean until midnight Tuesday.
The benefit of the ad deluge right now is nearly zero compared to ads run in June or July. Dr. Quentin Kidd (Christopher Newport University) suggests that was factored into the strategy of the Obama campaign. The campaign had ads up at that point in all the swing states because they wanted to set the stage early. Everyone knew that by fall the ads would be ubiquitous to the point of being indistinguishable. This strategy may prove the difference in this race.
In a conversation with Cathy Lewis on WHRV last week, Kidd concurred with the view that we have reached the point of political ad saturation. But, he said, we are in an arms race from which no campaign can pull back without demonstrating some sort of weakness; suggesting maybe the financial support has gone (see George Allen's contribution to himself). And just today a very expensive 20 page, glossy, Obama mailer arrived from OFA.
I got back about 1/2 hour ago from the Arlington County Board Democratic caucus at Washington-Lee High School. As far as I could tell, there was fairly heavy turnout, with long lines (see photos on the "flip") to get in and vote. Of course, that might be partly due to the fact that tonight's caucus was just 2 hours long, and perhaps most people decided to vote tonight instead of Saturday? We'll see. One other observation: the crowd for this caucus appeared to be overwhelmingly white and...let's just say "older" -- very few young people, very few Latinos, very few African Americans, etc. As I looked around, I kept thinking, "what is this, the
Republican
Party?" All I can say is, I sure hope that voters on Saturday more closely resemble the diverse community that Arlington is proud to be. (Note that the
racial/ethnic makeup of Arlington County
is: "
64.04% non-Hispanic White
,
8.23% Non-Hispanic Black or African American
, 0.20% Non-Hispanic Native American,
9.52% Non-Hispanic Asian
(2.0% Indian, 1.7% Chinese, 1.1% Filipino, 0.9% Korean, 0.7% Vietnamese, 2.7% Other Asian), 0.08% Pacific Islander, 0.29% Non-Hispanic other races, 2.55% Non-Hispanics reporting two or more race.
Hispanics or Latinos made up 15.11% of the county's population
.")
Now, on to the photos - candidates Libby Garvey (photo courtesy of Clifford's Photography) and Melissa Bondi "above the fold;" candidates Terron Sims, Kim Klingler, Peter Fallon, Clerk of the Circuit Court Paul Ferguson, Revenue Commissioner Ingrid Morroy, and County Board Member Mary Hynes "below the fold."