 By Paul Goldman
Let's talk about the "politics of personal destruction," as Bill Clinton called it. As many know, I was a target of it; as one famed Virginia reporter once said, I was an "easy target" for those who played that game. Her words, not mine: and in that regard, it got me to thinking about Patrick Moran.
In politics, it is easy to kick a guy when he is down. Surely that applies to Patrick Moran right now, as he had to resign from his dad's campaign with the Virginia political world laughing at him for being beyond dumb.
Do I actually think he would have ever actually participated in any way in the voter fraud scheme being faked by the "reporter?" No. Did he break any laws? No.
But was he monumentally brain dead during the video? Yes, you can't deny that. It was painful to watch, knowing the fanatics had successfully targeted him, posing as "undercover reporters" or whatever that group of fanatics claims to be.
That is why Patrick Moran had to resign. It was his own fault. No excuses.
BUT, AT THE SAME TIME, it is why I decided to write this post, since the new 24/7 hidden-camera ready world we now inhabit empowers the fanatics behind this targeting of Patrick Moran to target and ruin all of us for far lesser stuff.
Patrick has no one to blame but himself for not realizing the state of politics today. As Think Progress points out, polls show that Americans trust Obama more than Romney on international affairs. So along come the best two on foreign policy the GOP has left: Warmonger John McCain and his dazed and confused grasp on reality; AND Condi Rice, who so assertively deceived us on weapons of mass destruction. Yeh, they've got the cred (snark).
Who doesn't remember her trying to scare the hell out of everyone with worries about a "mushroom cloud." When she did that, she essentially proved they had no real evidence of mass destruction. They had to rely instead on fear, not evidence. McCain's supposed cred is permanently tarnished by his failing to find a potential war he could not support. And Condi's obsolete Cold War model of the world is every bit as bad.
I almost feel sorry for the poor, pathetic Republicans if this is what they've got. (Don't worry, I said almost. And were I to, I wouldn't feel very sorry for them.)
To make matters worse, as the video above shows, on CBS this morning, Condi could not say anything President Obama has done "wrong" in foreign policy. That's the best they've got. So, there you have it. They GOP has no real case, except made up stuff. They should shut down the convention and go home.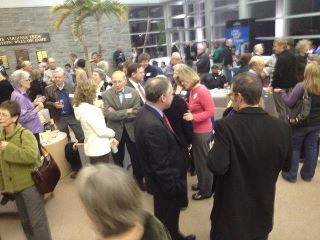 About 150 Montgomery County Democrats happily gave up their Friday evening to welcome former governor and US Senate candidate Tim Kaine to Blacksburg yesterday. The event featured a lengthy opportunity for local Dems to personally greet the former governor, share their thoughts, and hear his vision for the 2012 campaign. It was also a great opportunity for collecting signatures for the petitions to get Kaine on the ballot. (What is the matter with GOP presidential wannabes that they cannot meet the Virginia standard? What a bunch of whiners!) You won't hear Tim whining about petitions!
Kaine's visits are different from most other pols. There is a presence, confidence balanced by humility, knowledge, enthusiasm, optimism and earnestness unparalleled by other state-wide candidates. Each and every person is treated with unparallelled respect. He not only answers questions but shows his vast expertise in both Virginia and national issues. I mentioned some time ago,during the RaisingKaine days, that his willingness and ability to listen, really hear and discuss issues had no equal, much less superior. These skills will serve him well throughout his race to November, 2012.
As just one example... (please follow after the fold): Update 11/23: - DPVA 1st Vice Chair Gaylene Kanoyton has been contacting all of the petition signers this morning telling us we can expect to hear from Moran soon. So at least somebody's paying attention.
Today, DPVA circulated an update to the agenda for the Dec. 3rd Central Committee meeting. Many of you read and signed the petition, Monday, demanding change in DPVA's policies and structure. Lo and behold, a brand new agenda item appeared today! Dare we say it was a success?!

Strategic Forum & Work-Groups (Peninsula Room)
Begins 20 minutes after Central Committee adjourns and will end at 2 PM. This session provides an opportunity for Democrats to offer ideas, share their opinion and engage in productive discussion about the Democratic Party in both an open forum and in breakout groups. This session will also review the progress of the DPVA Strategic Plan adopted in 2010.

That sounds great! Oh, but wait. I'm sorry - you weren't invited. This very special "opportunity for Democrats to offer ideas" is only available to the members of Central Committee and local committee chairs. And I don't know about you, but even if I was invited, 10 days notice for a meeting in Hampton is a tough sell for a working, family person.
So once again, we see that DPVA's planning and strategy is "open" only to insiders and party elites. So much for grassroots input!
Are you as fed up as I am? Tell DPVA what you think. Demand a change by signing the petition! Ahead of the December 3rd DPVA Central Committee meeting, it's important that we voice our displeasure with the current state of the Party. We all know a change is needed. Some have blogged here that they think Brian Moran should resign. Some have argued for less radical, but still fundamental changes. Whatever you believe, we need to make sure that our voices get heard. Sign the petition and let them know you're unhappy.
Most of us can't be on the Central Committee. But that doesn't mean we can't help set the agenda at the upcoming yearly meeting. Don't let them coast. Don't let them off the hook. Don't let another year go by without the substantial shift in policies and conduct that we need from DPVA.
At the beginning of the legislative session, the Republicans will control every branch of Virginia's government for the first time since Reconstruction. This is unacceptable! No matter where you land on how drastically things should change, we can all agree that something substantial needs to be done.
Sign the petition and let DPVA know what you think. Let's give them constructive solutions and real ideas for change that they can discuss on December 3rd.
And for a refresher, be sure to review the flood of smart and biting commentary on the subject here at Blue Virginia.

There's a spirited debate going on at Tim Kaine's Facebook wall right now, with some commenters pushing back on his seemingly rose-colored
post
, "Congratulations to Democratic candidates across the Commonwealth. Voter turn-out made the difference in key races!" Here are a few winners and losers (note: this list is FAR from comprehensive, and was put together on little sleep, so take it for what it's worth - probably not much!) from last night that I think are worth highlighting. I'm starting with the "Losers" list this time, because frankly, everyone in Virginia today is a loser after the, uh, less-than-stellar results last night.
Losers
1. Brian Moran. Wow, where do we even start? How about Brian's run for DPVA Chair, when he promised to recruit a Democratic candidate in every district around the state. Utter fail, with just 27 House of Delegates districts having a contested race between a Republican and a Democrat, and Democrats almost completely on the defensive in the State Senate due in part to lousy recruiting. Great job. Second, Brian's messaging was essentially non-existent, with absolutely no reason articulated for why people should vote FOR Democrats, not just AGAINST Republicans. For instance, Brian sent out an email this past Saturday saying, "We are planning to leave it all on the field between now and November 8th to elect as many Democratic candidates [as???] we can." Other than the typo, who the he** is Brian to talk about "leaving it all on the field" when it was his ultimate responsibility to have enough players on the field in the first place, and he failed to put those players out there?!? Third, Moran's continued conflict of interest with his "day job" (ripping off minorities, veterans, and young people, all while suing the Obama Administration and running TV ads against it) sent out mixed messages (at best), took up a huge amount of his time, and further weakened (not to mention morally compromised) an already weak DPVA. Finally, Moran wasted precious time and resources that should have been put into candidate recruitment, GOTV, building a grassroots infrastructure, etc, instead playing the "inside DPVA" game where the same people basically talk to the same people, but doing precious little build up a serious farm system and a grassroots/netroots infrastructure. Utter fail. Uninspiring, incompetent, corrupt: Get this guy OUTTA HERE NOW!!! Feel free to use this as an open thread to discuss today's elections and the results as they come in. I'll start posting returns as soon as they are available. Also, you can follow the returns at the
Virginia State Board of Elections website
and at
VPAP
. If you hear anything interesting, please post it in the comments section. Thanks!
UPDATE 6:27 am: In Prince William County, Corey Stewart defeated Dr. Babur Lateef by 31 points (58%-27%). Supervisor Frank Principi also won easily (61%-39%), over Chris Royse in the Woodbridge District.
UPDATE 6:20 am: In Fairfax County, in contrast to Loudoun, Democrats did fine, with Sharon Bulova, John Foust, Penny Gross, and Linda Smyth cruising to reelection over Republican opponents. On the School Board, it looks like whatever revolt there was basically fizzled, as it appears that incumbents and Democratic-endorsed candidates overwhelmingly won yesterday. Also, Stan Barry won easily (54%-45%) for Sheriff over Bill Cooper.
UPDATE 6:17 am: The Loudoun County Board of Supervisors will be all Republican (York, Volpe, Buona, Clarke, Williams, Higgins, Letourneau, Reid, Delgaudio). Terrible news for the environment and everything else, including sanity.
UPDATE 6:07 am: In the House of Delegates, Ward Armstrong lost 53%-47% after spending a gazillion bucks. "Sideshow" Bob Marshall cruised to reelection (60%-40%) once again, while Mark Dudenhefer easily defeated (56%-44%) Esteban Garces. Adrianne Bennett didn't come close to Ron Villanueva (57%-43%), and Pam Danner didn't come particularly close (55%-45%) to Republican attack dog Barbara Comstock. David Bulova had not problem (58%-42%) dispatching Brian Schoeneman, and Dave Albo crushed (62%-38%) Jack Dobbyn. Scott Surovell cruised (58%-40%) to reelection, as did Luke Torian (61%-39%). Connie Brennan lost by 12 points to the execrable Matt Farriss, while William Barlow lost by 11 points to Rick Morris. Jim LeMunyon defeated Eric Clingan, touted by some as a potential threat to LeMunyon, by 19 points. Guess not. Robin Abbott lost by 3 points to Mike Watson, while Mike Kondratick came within 50 votes (5,431-5,381) of David Ramadan. Recount?
UPDATE 6:00 am: Janet Oleszek appears to have lost, 12,489-12,117, in Braddock District. So close, but yet so far. Also, frothing-at-the-mouth crazy Dick Black will now be frothing-at-the-mouth-crazy Senator Dick Black. It looks like "Sideshow Bob" will have company in Richmond! Chuck Colgan, after all the angst about his seat, ended up winning easily, 55%-45%, as did Dave Marsden (54%-46%) over Jason Flanary, Toddy Puller (55%-45% over Jeff Frederick, Phil Puckett (53%-47%) over Adam Light and George Barker (53%-47%) over Miller Baker.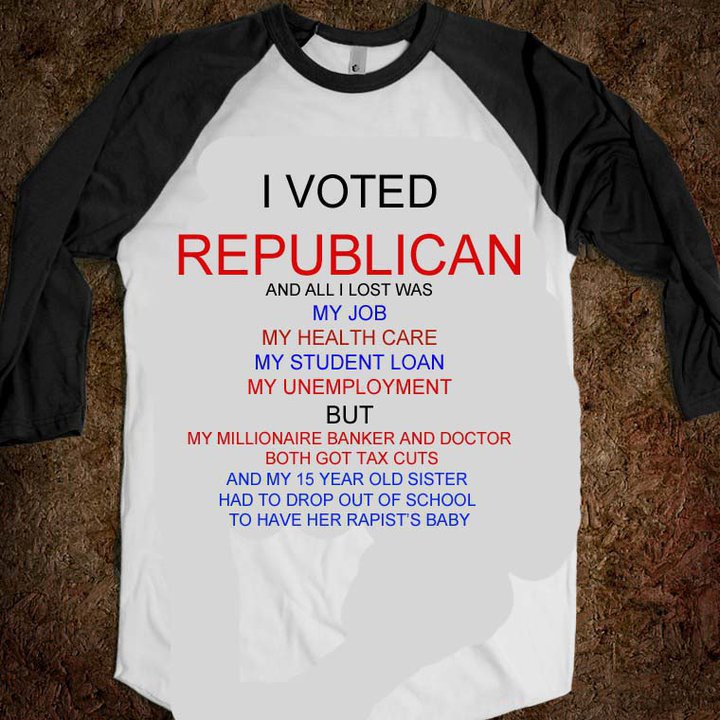 Polls in Virginia today are open from 6 am to 7 pm. Make sure you get out and vote for Democrats up and down the ballot, that is if you don't want monolithic, 1-party Teapublican (mis)rule - not to mention draconian restrictions on a woman's right to choose, guaranteed gridlock on the roads, guns in schools, nasty anti-immigrant measures, etc., etc. - over Virginia for the next two years.
Please feel free to use this thread to tell everyone what you're seeing in your neck of the woods. Thanks.
P.S. Potentially vulnerable Democratic Senators include Barker, Houck, Reynolds, Puckett, Miller, Edwards, Marsden, Colgan, and possibly even Puller. Other interesting Senate races to watch include Dodson vs. Garrett (22nd), Smith vs. Bell (19th), and possibly (hopefully!) Mitchell vs. Black (13th). In the House, keep an eye on Garces vs. Dudenhefer (2nd), Armstrong vs. Poindexter (9th), Langrehr vs. Yost (12th), Bennett vs. Villanueva (21st), Danner vs. Comstock (34th), Brennan vs. Farris vs. Wall (59th), Barlow vs. Morris (64th),Clingan vs. LeMunyon (67th), Kondratick vs. Ramadan (87th), and Abbott vs. Watson (93rd). Finally, keep an eye on the Braddock district race between Janet Oleszek and John Cook (plus independent candidate Carey Campbell) and the race for control of the Fairfax County School Board. Should be interesting. The following statement is from Tiffany Joslyn, President of the
Virginia Partisans
("The PAC of LGBT Democrats of Virginia").
Equality-Minded Virginians: Don't Be Fooled, Vote for Janet Howell and Her Fellow Democrats Tuesday November 8th

Tomorrow, Tuesday, November 8th is a critically important day in Virginia-it is Election Day. Every Election Day is important, but this Election Day bears special significant; not only is every seat of the state legislature up for grabs, but the fate of whose party will control the State Senate for years to come is at risk. Against a backdrop of conservative Republicans controlling both the Governor's Mansion and the House of Delegates, maintaining Democratic control of the State Senate is absolutely essential for the future well-being of the Commonwealth. But, even more importantly, preserving the Democratic majority in the State Senate is necessary to protect every single LGBT person and their families in Virginia.

It is for this singular reason that I call on every Virginian who cares about equality to join me in voting for Senator Janet Howell and her fellow Democrats tomorrow.

I would be remiss if I did not also address the shameful, and entirely manufactured, claims initiated by Senator Howell's opponent, Patrick Forrest; further exaggerated and mischaracterized by the Victory Fund and Log Cabin Republicans; and, sadly, reported as such without any semblance of fact-checking by the media.