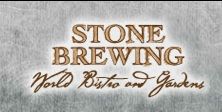 Governor McAuliffe, stung by legislative setbacks that he foresaw when he campaigned saying that he didn't want to be Governor if he faced a veto-proof General Assembly, is going to his advertised strong suit: jobs. It's a gamble. And he's playing a high profile hand with Stone Brewing.
"I've got to tell you, I'm excited. I have worked this like a dog." - Governor McAuliffe
Stone Brewing wants to expand East Coast sales. A brewery located on our side of the Mississippi expands presence and reduces shipping costs. The potential sites for the new brewery have been narrowed to Ohio and Virginia. Each state has its own transportation advantages with Ohio arguably better situated. But only Virginia allows sales of Stone Brewing's higher alcohol by volume (ABV) content brews.
There is something of an irony here. The competition is between Ohio and its Republican Governor, John Kasich and Virginia and our Democratic Governor. But it is Ohio's Republican legislature that stands in the way of Ohio's successful courtship of this employment plum.
"Stone Brewing expects to invest up to $60 million in its east coast brewery which will include a restaurant and retail area. The company anticipates 375 jobs would be created over 5 years." - WOSU Public Media
Last December, Ohio state Democratic Representative Dan Ramos introduced a bill that would adjust the allowed ABV content, removing that obstruction, if it really is one, from consideration. It had bipartisan support and an almost equal number of the 21 cosponsors from each party. But this will be familiar to Virginians: Ramos's House Bill (HB) 391 went to committee where it has since languished.
From what Stone Brewing has announced about the decision to locate, one can deduce that Ohio is the preferred location. The anticipated announcement allows time for Ohio legislative action on HB 391 but action has been slow coming. For once a Republican legislature may offer Governor McAuliffe an advantage. Sadly it isn't Virginia's. Dr. Bob Holsworth
laid to rest this Tip O'Neill wisdom during a presentation at the annual gathering of Virginia Democrats yesterday. Bob McDonnell's Chairman of the
Bipartisan Redistricting Commission
talked a little about the political environment in Virginia. It will mean much for the future of American politics.
Dr. Holsworth has been struck by the volatility in the last three national elections (2006, 2008, 2010). He characterizes them as wave elections where Democrats ran the table in the Senate in 2006, had the Obama wave in 2008, then in 2009, 2010 there were counter-waves that have been fairly dramatic. Virginia seemed to flow with the national tide. 19 state legislatures changed hands this past election. Holsworth says that this is a reflection of the nationalization of politics. This, he argues, means that the Tip O'Neill maxim can rest in peace. Though there remains some truth to that, it is no longer an extraordinarily good explanation of trends.
40% of the people who voted this past November say that they voted to send a message to President Obama. All of the Democrats found out that they had running mates in Harry Reid and Nancy Pelosi.