A tweet by Dave Wasserman of the Cook Political Report (see below) noted that Fairfax County last voted Republican for president in 2000. That...
(This is the second installment of a discussion begun here.) The first installment of this two-part article argued that the election of Donald Trump demonstrates...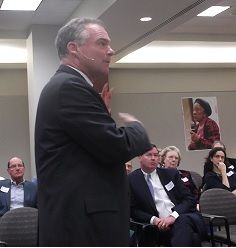 Going to war is serious business. Senator Kaine (D-VA) believes that those in whom that power is vested should follow a deliberate process and that the executive should be bound by the decision. The Constitution is not vague about the responsibilities but the world presents circumstances that are.
In an attempt to clear up any misunderstanding about the authority to commit forces to war, Senator Kaine has joined with Senator McCain (R-AZ) to offer legislation that will establish a process to ensure the judicious application of military force. Yesterday's participation in the Richmond Times Dispatch Public Square series was part of Senator Kaine's effort to gather "comments, suggestions, criticisms..." in a strategy to shape and craft the bill.
Tacitly, President Bush followed the requirements of the War Powers Act, a law passed in 1973 following the frustration over the prosecution of the Viet Nam War. That was designed to rein in the initiative of any President using military force but written with both Johnson and Nixon in mind. Johnson had the support of a Congress that never imagined the scope of involvement that would precipitate. Then Nixon attacked two countries, Laos and Cambodia, without consulting Congress. To be honest, no President went as far as Bush to conform to the letter of the War Powers Act. The others managed to avoid anything more than consulting with Congressional leadership and always went on their merry way. However, the fact that George Bush appealed for authority may be more revealing about how thin he knew his justification was and that he needed cover rather than indicating sincere regard for the law. Plus the timing of the request appears suspiciously politically motivated.
Further, the authorization that Congress gave President Bush has no sunset or clearly defined achievable objective. As long as it remains in effect, Presidents can and will chase any remnant or offshoot of al Qaida's ghost, real or imagined, while waving the authorization as justification for centuries to come. So, even if you argue that he and his successor have acted under the authority of the War Powers Act, you observe the same result that arose before the Act, different day: war(s) with a scope never imagined when authorized, being fought in second, third (fourth, fifth...) party countries. Senator Kaine's obsession with the subject is more than justified.
Though tempting to believe American military power turned the tide in Iraq when President Bush sent in additional troops and that today that same resolve can save an illegitimate government, neither is true. We learned this lesson in Viet Nam. The military answer is simple. Obama's political choice is not.
Two important forces converged at the moment George Bush decided to throw more troops into the fray against the growing Iraqi insurgency. Neither were military. Neither were affirmations of support. It was the story of choosing the lesser evil as perceived by the Iraqi people.
American military forces committed atrocities that alienated the most important factors in any insurgency: the hearts and minds of the populace. It is a convenient fact that the American people were never allowed to grasp the full impact of Abu Ghraib and other moral lapses committed by our troops and their leadership. That failed leadership extends, by the way, all the way to Washington D.C. and is not limited to the principal resident of the White House. But as my Australian officer classmate, Mal Reardon, liked to aver, "Winners are grinners."
If you love America, you should read this even though it won't be pleasant. But for you super-patriots who love a place that doesn't exist, beware of cognitive dissonance.
In the fall of 2003 the rules of engagement for the invasion of Iraq included sweeping suspected regime sympathizers into custody. The term sympathizer was applied broadly and interpreted by at least one unit to include reporters for Arab news media. As told to the British Broadcasting Corporation (BBC) in Iraq After The Invasion, one reporter from al Jazeera was taken into custody when he responded to an explosion of a mini-bus in Diyala province north of Baghdad. He had been detained before and thought it would be the same questions and same result: release after an hour or two. This time was different; he was taken to a prison that had been infamous as a site of torture and execution under the Hussein regime: Abu Ghraib. We had taken part of the facility and used it as a military prison. In 2008, free-wheeling, unfettered markets toppled, erasing $11 trillion of American's net worth and 8.5 million jobs. Right, don't blame Bush; blame the entire bankrupt, oversimplified "conservative philosophy" and its blind eye to history. It all will become clearer in this election year, the bad hand Barack Obama was dealt.
Yet another reason for Republicans to attack public broadcasting: Frontline's series: Money, Power, and Wall Street is helping set the record straight. Incompetence, malfeasance, and reliance on an economic philosophy that rationalizes policy rather than providing safeguards against illegitimate market action are the underlying themes. All of this complements of Republican and private sector influence.
The first episode of this "Election 2012 Special Event" provides an engaging glimpse into the development of a new unregulated market in the securities sector built on an instrument that spread like poisonous kudzu throughout the financial world. From humble beginnings at JP Morgan in an effort to abate the risk exposure to an Exxon line of credit following the Exxon-Valdez disaster, credit default swaps (a kind of derivative that insures a loan against default) became common instruments even in the predatory lending galaxy, usually insulated and isolated in the legitimate financial universe. The stage was set. We are at a crossroads. Two unnecessary wars and irresponsible economic policy have stretched our resources to the breaking point. George Bush lit a fuse in the Middle East that is a catalyst for a loosely connected series of events responsible for this moment of inadequacy. History won't be kind.
Days ago the Pentagon realized that the paucity of American presence in the Mediterranean sent a signal for a power grab. The Mediterranean is becoming a Chinese lake filled with Iranian fish. The Chinese are at this instant establishing their hegemony with action in Libya. This moment became imminent the day Bush chose preemptive military action over posturing and leading from a position of strength. The entire United States naval force presence plan lays shattered.
The art of war is of vital importance to the State. It is a matter of life and death, a road either to safety or to ruin. - Sun Tzu
The Republican frat boys whose strategic skills were honed during exam weeks playing all-night Risk and taking speed never learned from overextending their armies on the board. They were happy to defend Kamchatka successfully. But this is real and there are consequences. And they have been laid in President Obama's lap.