They (including all of us) also serve who sit and wait. That would include the intrepid reporters from all media who have covered this thing like hawks, and are now sitting. This likely will take a while. I think the first Blago jury spent close to two weeks before being hung. Close to that amount of time before they convicted him.
Others have other views and opinions, including my husband of 42 years, who once was sequestered in Alexandria on a drug case, because persons operating, apparently, on behalf of the "defendant" had called up another juror and made threats. Sadly, they didn't sequester the family left behind: I got a couple of creepy "heavy-breather" and "hang up" calls.
My point is that jurors, even in simple cases, make sacrifices. In long, complicated cases, the sacrifices are much greater, both for them, and their families. The McDonnell case is long, complex, with considerable conflicting testimony spread out over five weeks, much of it on points of law that no person who isn't an attorney, a crook or grifting politician in the Old Dominion has any knowledge of.
This could take a while. They had to listen, get the instructions, retire to the jury room, get to know one another, at least a little, so they could pick a foreperson, whose main jobs are to send out messages, referee, call for votes, and I believe, sign off on the verdicts.
None of this is easy.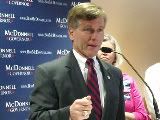 What we have here, is the failure of circumspection so common among neo-conservatives. The "here" are the personal attacks resulting from yesterday's
post about former Governor McDonnell's accumulating and compounding hypocrisy
. Somehow facts and evidence are irrelevant in the neo-conservative world unless they support your position.
It must be painful to have fallen for the original McDonnell shtick hook, line and sinker. Accepting this new fiction of a defense with all its twists, turns, and subplots as relief for the cognitive dissonance caused by recent revelations provides relief. Then someone points out the concurrent serial hypocrisy of McDonnell embracing a priest who casually violated his vow of celibacy with another man; behaviors McDonnell has blatantly condemned as antithetical to his core conservatism. This resonates and echoes hypocrisy. There is no argument that can refute the blatant self-serving behavior of their fallen hero, so resort to personal attacks.
Suddenly the raw truth of the McDonnell formula for defense being revealed is turned on its head and becomes an attack by the left on homosexuals. That is some desperation. This is just another brick in the wall McDonnell is building to defend himself. And we are cautioned that if we want to sway public opinion we need to make nice. Part of one rant is not only unintelligible but also contains utter nonsense:
"But it does show you an insight into the liberal extremist mind. Democrat (sic) bloggers, especially Lowly (sic), must not really like gay people. They need their votes, and the fact that they don't like religion makes gay people social "brothers in arms" with hatemongers like Lowly (sic), but in reality they only use gay people to shore up their own power."
Where to start?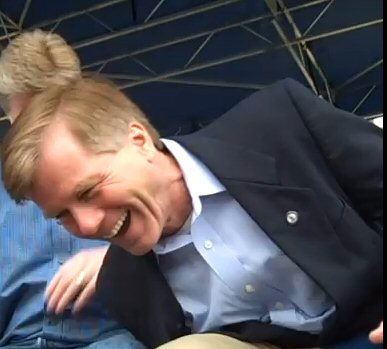 While accurate, "appalling" barely scratches the surface of this cess pit of deceit and embarrassment when it comes to former Virginia Governor Bob McDonnell.
The Gov. Rolex "failed marriage made me do it" defense goes beyond the pale. He clearly believes that the voters, or in this case the jurors, are morons. He has such a galactic sense of entitlement, he apparently believes that any fraud committed, any lie told, and any action taken to protect himself - no matter who else gets hurt - in pursuit of his Regent's thesis is not just forgivable, but permissible.
This is an embarrassment to the state of Virginia, made far worse by the fact that we have effectively been forced to contract out law enforcement to the federal government. So much for the "Virginia Way."
The former governor is a convincing, compelling, and accomplished golden-tongued, bald-faced liar. I campaigned for Creigh Deeds, who could not make a dent against what spewed so glibly, and so dishonestly, from this liar's mouth. McDonnell claimed, when his Regent's thesis was unearthed, that it represented no more than boyish musings.
Bob McDonnell's thesis was no such thing: in fact, it was written in 1989, when McDonnell was 35, a lieutenant colonel in the U.S. Army Reserve. I am unable to say what his final Military Occupational Specialty was. He started out as a clerk. He proceeded, as soon as he was elected, to impose those beliefs on the rest of us. So much for boyish musings, truth or integrity as well.
We already know that Bob McDonnell is a serial liar. It remains to be seen whether that was then, now, or all the time. Like the people he resembles, the C Street brotherhood, Gov. Rolex seems to believe that he can commit no sin, and do nothing unforgivable, in the pursuit of his right-wing religious agenda.
He is now campaigning in front of a jury of voters in Richmond, and based on past performance, obviously believes he can lie his way out of this one as well. It remains to be seen whether he will succeed.
Just what, exactly, will Maureen McD's defense be?She pleaded not guilty, so she must have one. Based on what I've read so far, which doesn't come close total transcript, I would be inclined to acquit Mrs. McD of everything, should she have the good sense to change her plea to "not guilty by reason of insanity." Except that being a spurned wife ruse doesn't rise to that level, even though Gov. Rolex's $600-an-hour legal team is trying to suggest it. And even if true and admissible, the "she's nuts" defense applies only to her.
It does nothing to explain the lies on the loan forms (mail fraud); the no-paper, no-payback "loans" (which benefitted Bob McDonnell, his sister and ex-brother-in-law); accepting all the loans from Jonnie Williams (Hobbs Act violation); the joint vacations; golf fees, games, proceeds, and club apparel, beverages and food, the latter of which benefitted him and his sons exclusively; or the wedding, dress, wedding rings, and reception, which benefitted him indirectly and likely will figure, and the exposure in the likely
coming, and tawdry, divorce proceedings.
Bob McDonnell doesn't care how many lives he ruins, as long as he stays out of jail. He ought to be ashamed that he isn't even ashamed.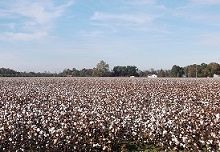 While Virginia exports of agricultural and forestry products approaching
$3 billion last year
is impressive, there is a downside. To a large extent, it is a function of geography and climate. Virginia has not positioned itself to take advantage of the bountiful harvest. Much more impressive would be sustainable jobs.
Bob McDonnell didn't make this happen under his watch. The convergence of conditions, largely out of human hands, did. And though you can claim that there is some correlation between this outcome and jobs, any additional employment is at the margin and highly susceptible to the vagaries of weather. So this is a moment when another man who told us he had a jobs plan, Governor McAuliffe, can step forward to show the world how to turn this advantage into something that can shield the state in the lean years.
As long as these products are shipped off to other places to be processed, ignoring the potential benefit resulting from jobs that are immune to weather, this portion of the economy will remain as vulnerable as any backwater that is content with shipping off raw materials for processing until they are exhausted. And then what?
It is the transformation of raw materials that creates wealth. In Virginia some of this does occur; sometimes due to force of circumstance. Hams keep and ship over long distances better than pigs, for instance. The grapes that we harvest are generally economical to grow because they reap a premium when transformed into wine. But we should not be satisfied when so much of the raw agricultural and forestry production in Virginia goes off to other lands where labor is rewarded for the potential that is unlocked there.
Production of end-products is not dependent upon Virginia agricultural conditions. If Virginia has a bad harvest as a result of drought or pestilence or whatever, there's always someplace else to find raw materials. If transformation of raw materials happens to be in Virginia, then the port continues to operate (and is potentially busier with the import of materials) and end product continues to be produced and sold. We are positioned to assist the sectors which are suffering misfortune to sustain them for the future good years.
So let's learn from this moment. We should all look forward to initiatives coming out of the McAuliffe administration that will leverage our great agricultural and forestry fortune. It certainly didn't happen under the other jobs governor.
While you must applaud the leadership on gift limitations imposed by the new Governor and Attorney General, they are largely symbolic. There are no specific penalties for policy violations. Only because this is an "at will" state are these enforceable. But what is a gift? Who is a friend?
As Bob McDonnell learned, you don't always know who your friends are. Thanks to an embarrassing amendment to the Virginia Constitution championed by Bob Marshall and his ilk, we don't even know when a spouse is a spouse (even though we really know). And while the order may have a chilling effect on corruption in the executive, for the legislature and judiciary it is business as usual.

...Travel that does not serve a "legitimate public purpose" falls under the cap, as do loans, lodging, meals, services, special discounts and entertainment unless it is a ticket to a Virginia school or government event.

Gifts from personal friends, private business relationships and family members are excluded from the cap. So are financial aid, invitations from an official or candidate to political events, tickets that go unused, gifts that are returned unused within 60 days, retirement gifts from government agencies, honorary degrees, awards from civic or religious groups and competition prizes. - as reported in the Washington Post
What is "legitimate?" A "scholarship" to attend an ALEC meeting? I have to tell you, someone who gives me, say, $100,000 is going to be my close personal friend and we are going to have whatever private business relationship they desire. As Richard Nixon once explained, you just can't place a value on some "gifts."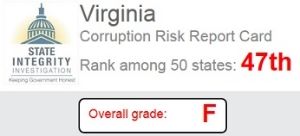 It isn't politicians alone. Commercial media never called out a horribly flawed Governor and Attorney General. Less than two dozen citizens showed up for a public forum on ethics. And the newspaper that hosted that event obscured references to specific instances of malfeasance. Truth is, it's always open season here.
Monday, the outgoing Lieutenant Governor issued a memorandum he penned proposing changes to existing ethics standards. Where was he when it was revealed that his fellow Republican statewide office-holders violated the very standards he proposes? Or anytime during his almost two decades in the Senate chamber? Wednesday members of the House of Delegates offered up what was termed a "sweeping bipartisan ethics reform agreement." The only thing it sweeps is the issue under the carpet. I am ashamed it's called bipartisan. And consistently the media has offered up little in the way of objective or substantive reporting on ethics violations.
Maybe the citizens of Virginia don't care that the state is rated one of the most vulnerable to corruption by the Center for Public Integrity. When the Richmond Times Dispatch held one if its Public Square events last October, it was sparsely attended. When it reported on the discussion, the transcript that publisher Tom Silvestri promised was delivered redacted, removing the most compelling discussion, much of which was about politicians the paper regularly supports.
A couple of things before I continue. No doubt Tom Silvestri would be a super game show host and is certainly an entertaining addition to any cocktail party guest list, but I wouldn't count on his paper or any Media General product for my news. Delegate Jimmie Massie (R-72nd) will come across in what follows as at best naïve and sometimes self-serving, but gives no cause to suspect his personal integrity. At least Delegate Massie puts himself out there and should be applauded for showing up and his openness during this discussion. But there are a number of things you might not know if you rely on the redacted transcript (or "highlights" to use the paper's term), you weren't among the twenty or so at the forum, or you can't find the full video online because the Times Dispatch has made that difficult to search by titling it Public Square 1008 on YouTube. This was Public Square 48.
For three years we have heard that Virginia is enjoying budget surpluses. All the while, a series of gimmicks have been employed that will unravel during the years to come; some immediate, some long term. Terry McAuliffe would be well advised to determine baselines that provide context for funding obligations.
Ken Cuccinelli was right when he claimed that taxes would increase during a McAuliffe administration; what he failed to point out was that they also had consistently increased during the current administration and would under his own. The difference will be that Governor McDonnell was allowed to borrow against the future and underfund capital requirements, in effect levying the tax on his successors and generations to come. Cuccinelli would have done much more of the same. Such maneuvers by the coming McAuliffe administration will not be met with the deafening silence afforded the current administration.
Maintaining the Illusion of Surpluses
The Virginia Retirement System (VRS) "loan" amortization, the legislatively mandated 20% annual contribution deficiency, and total unfunded pension obligations
Education infrastructure maintenance, capitalization and re-capitalization underfunding
Transportation infrastructure maintenance, capitalization and re-capitalization underfunding
Positive growth of revenue streams; particularly from areas such as agricultural production where weather and markets are beyond the influence of state government but have had a good run
Terry McAuliffe should conduct an audit early on so that the inevitable future claims of fiscal malfeasance can be placed in context when the bills come due. This one must be much more honest than the audit by McDonnell's team which made claims like turning up over $100 million that had been "mismanaged" by the Department of Transportation during the Kaine administration (conversely, McAuliffe should make certain that operating funds and reserves have not been drawn down). No, this audit should nail down underfunded and unfunded obligations that are currently, to a great extent, off the books. Some will come due during the next four years; some will continue to grow otherwise unacknowledged until they explode with consequences similar to the Detroit pension crisis.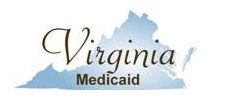 Remember squandering $126 million in federal unemployment money from recovery funding? Yesterday McDonnell proposed stripping $1 billion from the 2012-14 budget adopted by the General Assembly; federal dollars earmarked to provide health insurance for 400,000 low-income Virginians during implementation of the Affordable Care Act's Medicaid expansion.
"The Governor's removal of $1 billion for health care hurts not only uninsured Virginians, but also Virginia's hospitals and the overall economy." - Jill Hanken, Virginia Poverty Law Center
"The infusion of $1 billion into Virginia's economy was expected to support 30,000 jobs throughout the state," Hanken said. "Does the Governor truly support job creation? If so, he should support the Medicaid expansion, which would bring billions of federal dollars into Virginia's economy over many years."
The Affordable Care Act raises the national income eligibility level for Medicaid to 138 percent of the federal poverty line. Many of the people covered under the expansion are working poor, with annual incomes of about $15,000 for a single person and $32,000 for a family of four. In June, the Supreme Court decided states could not be forced to expand Medicaid, making the increase in eligibility a state option. Hanken said most states will probably expand their programs, because the ACA calls for the federal government to fund 100 percent of the cost for the first three years and then phase down to no less than 90 percent of the cost in 2020.
But McDonnell's rejection of a program that would infuse $6 billion into the economy through 2017 means Virginians' federal tax dollars will not return to the commonwealth. "Virginia's Medicaid eligibility levels for adults are nearly the worst in the country," Hanken said. "Why should our federal tax dollars go to other states when there is so much need here?"
Hanken believes the General Assembly will recognize that the Governor's rejection of billions of dollars for Virginia's citizens and the health care industry is unwise and shortsighted.
That property on Patterson where Shirley McClain's and Warren Beatty's father was a school administrator is being used in a clumsy bait and switch. You have to wonder if Shirley will one day return there to haunt the place. You don't have to wonder if this deal will haunt Richmond.
The seven basic principles of (fiscal) magic:

Palm - Hold the public trust in an apparently empty hand.
Ditch - Secretly trade the public trust.
Steal - Secretly obtain a fungible obligation.
Load - Secretly move the obligation into a form that is popular.
Switch - Secretly exchange one obligation for another.
Simulation - Give the impression that something has happened that has not.
Misdirection - Lead attention away from a secret move.
With Mayor Jones "acting" to represent the public interest, private interests unveiled a Redskins summer camp proposal that featured a "public-private partnership." The mayor apparently unwittingly allowed his "advisors" to pretend they went with nothing in hand to the private sector seeking sponsors. There is actually no telling how many different objects were palmed during the pitch. Palm: But we now understand one of the hidden objects was a property on Patterson Avenue. Ditch, steal, and load: Quietly, Bon Secours sidled up, greased the palm and that property slid into theirs.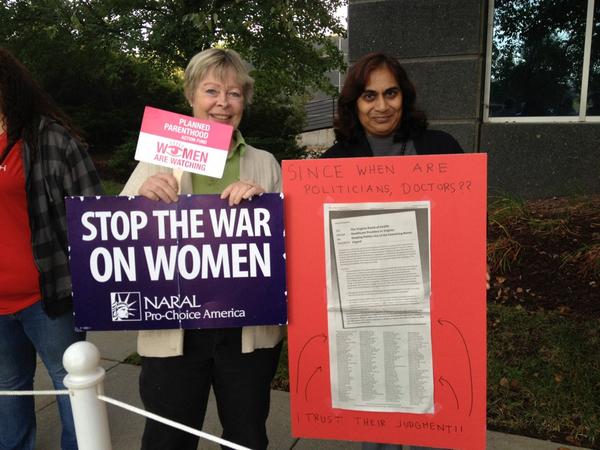 This afternoon the Virginia Board of Health deliberating health regs for abortion clinics rejected two attempts to grandfather existing clinics proposed by Jim Edmonson. They rejectd a process for waivers also promoted by him.
And they pushed through a final vote in supported of the rigid regs, which lined up with the Kooch (the AG) and Transvaginal Bob (VA Gov.) 13-2.
Next, I'll offer some additional impressions, gatherred from several Twitter feeds and what I was able to hear through U-Stream. Although advocates from both sides tried to attend, and some pro-choice supporters were in the hearing room, it appears the audience was largely anti-choice. The Board announced one time for opening the hearing room and another (earlier) one when it became available, catching the pro-choice people short.
Groups supporting choice, including the ACLU indicated that many, perhaps a hundred or more were kept from the hearing room and had to watch in another room. Additionally, the Board strictly limited the statements by many health advocates and cut off the public comment period. And it appeared the fix was in. It makes you wonder. Where is the democracy?