by Dan Sullivan When John Fredericks told Governor McAuliffe he'd recommended him to Donald Trump as Secretary of Commerce, McAuliffe responded that he's not leaving office early...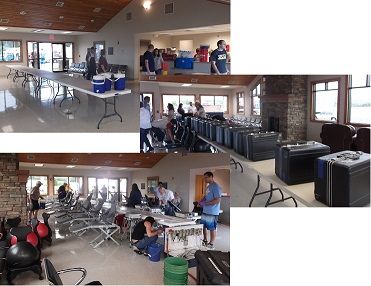 There's always a story behind the story and sometimes one belies the other.
Remote Area Medical (RAM)
is a godsend; make no mistake about it. But like any private sector organization, the transparency or accountability we demand from government is not always evident. Today's "conservatives" would never acknowledge that.
Watching and taking part in the transformation of a rural air terminal into expeditionary specialty clinics, dental and vision, is not an immersion in military precision. It almost can't be when much of the labor is borrowed. The effort resulting when organization is flattened results in stove-piping. The raw volunteers care about pitching in and recognize the limits of their ability to contribute to technical assembly of the equipment. There are enough seasoned volunteers that as long as the boxes and bags are lined up at their assigned places, they can readily and efficiently assemble and order materials; in their areas. The lack of organization and efficiency among the unguided volunteers is more than compensated for by their numbers and camaraderie. From pitching tents (probably the most organized effort), to setting up tables and chairs, to moving crates and boxes, the unbridled activity ends in mission accomplishment.
This is at the tactical delivery end. Strategically there is always another view that is masked by the appearance if not the reality of good intentions. My father had no time for the American Red Cross. After raging battles on isolated Pacific islands during World War II, the Red Cross sold donuts to the Marines and sailors ashore; the Salvation Army was there handing out goods gratis. Guess which organization he favored. My wife cannot turn down a request for a donation from Saint Jude's in Memphis despite having no clue who Danny Thomas was; it's those children. On the other hand, when I see anyone collecting donations to benefit our military service members or veterans, I challenge their credentials on the spot. I wasn't as discerning with RAM until I saw the DC-47 (a WWII DC-3 configuration) touch down in Lee County. After all, RAM had been endorsed via association by both of Virginia's United States Senators, our current Governor, and General Assembly members from both sides of the aisle. Bear with me. I am going to share 3 paragraphs, and then explain.
In the midst of this grim summer, my faith in humanity has been restored by the saga of Rachel Beckwith. She could teach my generation a great deal about maturity and unselfishness - even though she's just 9 years old, or was when she died on July 23.

Rachel lived outside Seattle and early on showed a desire to give back. At age 5, she learned at school about an organization called Locks of Love, which uses hair donations to make wigs for children who have lost their own hair because of cancer or other diseases. Rachel then asked to have her long hair shorn off and sent to Locks of Love.

"She said she wanted to help the cancer kids," her mother, Samantha Paul, told me. After the haircut, Rachel announced that she would grow her hair long again and donate it again after a few years to Locks of Love. And that's what she did.
This is from Rachel's Last Fundraiser, a column this morning by Nicholas Kristof. I have now quoted all I am going to quote.
You should read the entire column, then the rest of this diary will be unnecessary, and I will be more than happy.
In case I haven't persuaded you, please keep reading. If you have read the column, feel welcome to keep reading.