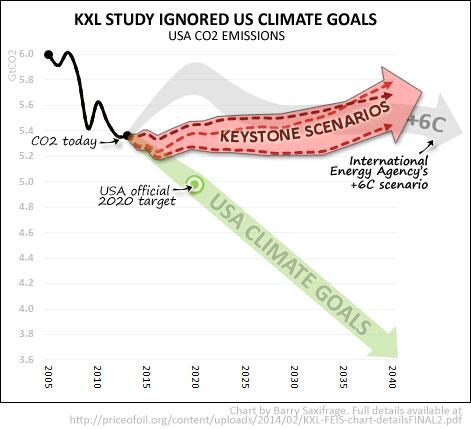 President Obama talks a lot about standing up to the industrial carbon polluters disrupting our climate. So why does he act like the decision on Keystone XL tar sands pipeline - a
carbon bomb
& one he doesn't have to beg Congress to defuse - is so hard? Why are he and Secretary of State John Kerry standing by in silence as his State Department hires
oil contractors to write the environmental review
?
Rep. Raul Grijalva (D-NM) has a must-read op-ed on KXL in today's New York Times:
The administration's approach to the pipeline is a throwback to the time when endangered species were defenseless in the face of corporate moneymaking. It is a reminder that even though our environmental laws use science, not profits, as the basis of our environmental decisions, any company with bottomless pockets used to be able to game the system and get away with it.

That's why Keystone is about more than one pipeline. It is about establishing once and for all whether we have moved on from the disastrous Bush-Cheney view of environmental policy. [...]

Depending on the outcome, I worry that the American public won't just lose faith in Keystone. It will lose faith in the government's ability to fund, carry out, understand and implement scientifically based environmental policy. President Obama doesn't want that to be his legacy. Neither do I. And I am hardly alone.
Will President Obama and Secretary Kerry do the right thing, or will they be
yes men
for Washington's big money special interests?
Ask them to say no to Keystone XL
.
For months, Sen. Tim Kaine has been publicly undecided on the Keystone XL tar sands pipeline - supporting a full and thorough review, backing President Obama's right to make the ultimate decision, and speaking favorably of TransCanada's promises of jobs, while not taking a position himself. But in a recent email to a Virginia supporter of the
Chesapeake Climate Action Network
, Kaine says that he's listened to all sides, thought long and hard about the issue, and has made up his mind:
After giving this issue a lot of thought, I do not believe Keystone XL would be in our national interest. I've long believed that energy policy should be about using innovation to produce energy more cleanly tomorrow than we do today. Keystone XL will facilitate the use of tar sands oil that is worse for the environment than conventional petroleum. While we will use fossil fuels for a long time, we should always be striving to get cleaner rather than backsliding.

Additionally, I believe claims about this project's job creation potential, energy security impacts, and impact on U.S. gas prices may be overstated. Gas prices, for instance, are largely driven by the global market for crude oil. The oil that would flow through Keystone XL would be shipped to the global market, not reserved for the U.S. market to lower domestic prices at the pump.

A more effective way to reduce the burden of high gas prices is to design cars that use gas more efficiently so we don't have to buy as much of it. In the last several years, we have made unprecedented improvements in vehicle fuel economy. We have successfully reduced tailpipe emissions, created jobs in engineering and manufacturing, and saved American drivers thousands of dollars over the lives of their vehicles. We don't have to choose between strengthening our economy and saving the environment; we can do both.
"
We thank Sen. Kaine for recognizing that Keystone XL is not in our national interest, given how damaging tar sands oil is for the environment
," said Keith Thirion, CCAN's Virginia Field Director. "It's time for Sen. Warner to do the same. At every turn, Virginians are showing Sen. Warner that he can't be for a safe climate and for the Keystone XL pipeline at the same time."
Self-styled "centrist" Democratic senators like Tim Kaine and Mark Warner say they recognize climate reality and support action to cut carbon pollution. But ... then they see polls that show the public is split on the Keystone XL tar sands pipeline ... and feel pressure from Very Serious People in Washington who won't say no to anything the oil, gas and coal industries want ... and think, maybe we can have both? Get credit for support this current & specific polluting pipeline AND burnish climate bona fides by
hand-waving towards some future & not yet existent climate effort
?
No. Climate action isn't just about the easy & popular things, like clean energy and energy efficiency. It's also about the hard things, like saying no to oil and coal barons who may spend lots of money to try to defeat you in your next re-election campaign. You can't claim to support climate action, but wilt like corn caught in a global warming-fueled drought every time big polluters come asking for a favor.
Either folks like Tim Kaine and Mark Warner support climate action. Or they support Keystone XL and don't really care about things like confronting superstorms like Sandy or protecting our natural resources for future generations. They can't have it both ways.
Those who support climate action but say it's not worth fighting the Keystone XL tar sands pipeline like to imply that President Obama's approval of the pipeline would earn him political capital. But the head of one polluter front group would like to assure Washington that
whether President Obama approves or rejects Keystone XL, Big Oil will still hate him just as much
.
Grist's David Roberts has extensively documented the Very Serious People BipartisanThink case against #noKXL activists. As Jennifer Yachnin reports in E&E News (sub. req.), a top oil industry lobbyist says they're wrong - that Big Oil will fight any efforts to cut carbon pollution tooth & nail regardless of President Obama's Keystone decision:
But [American Energy Alliance and Institute for Energy Research President Thomas] Pyle added that approving the pipeline won't curb industry criticism of the Obama administration, including over what it sees as efforts to hold back oil and gas production on federal lands.

"I don't know that it buys him any good will," Pyle said. "There will be lots of statements of thank you ... but ultimately from a political perspective I don't know that it buys him any room to maneuver."

And ill will could linger over how much time it has taken the administration to make a final decision on the pipeline, Pyle added.
All the climate-disrupting carbon pollution and not even a thank you from his political enemies?
All the more reason President Obama should do the right thing and reject the Keystone XL tar sands pipeline
.
If there's a global oil crisis, does anyone really believe that Canada, which has bet its
entire financial future on cashing in on high-priced tar sands
, will give us a friend discount? Or is it more likely that, just as much
higher oil production here in the U.S. hasn't lowered gas prices
, we're just transferring our expensive addiction to a different dealer?
Sen. Mark Warner (D-VA) signed yet another letter today urging President Obama & Secretary of State John Kerry to approve the Keystone XL pipeline even before a public health, wildlife & climate review can be completed. Why the panic? Whose interests would approving Keystone XL even if it fails review serve?
Building the Keystone XL tar sands pipeline wouldn't solve any of our energy problems - and would make the climate crisis much, much worse. That's hard to explain to people who don't follow politics. Even with Congressional approval ratings at all-time lows, people assume there must be SOMETHING in it for Virginia ... right? Our members of Congress wouldn't just go along with a terrible deal without asking hard questions ... right? But Keystone XL really IS that bad of a deal: Before the phrases "economic development" or "job creation/growth" can be used from here on out, appropriate evidence must be provided to whoever the message is directed towards. Interior Secretary Ken Salazar recently commented that "Alaska's energy resources...hold great promise and economic opportunity for the people of Alaska and across the nation." Political representatives in the Republican Party use these phrases with as much alacrity and certainly more gusto. Indeed, the Virginia GOP in particular has turned the utterance of such phrases into a fine art that awes as much as it infuriates.
Apparently, drilling or investing, cutting or building all inherently create jobs, maybe even thousands of them. The economic genies must therefore be fast at work for many politicians who pull the "job creation" or "economic development" card out of their hats. That is, these individuals throw out job numbers and economic figures appendixed upon proposals like the Keystone XL pipeline or drilling in the "Artic frontier" without offering the first shred of evidence to substantiate their sometimes wild or slightly exaggerated claims (or if they do provide evidence, it has become increasing industry-based). Perhaps they truly believe the almighty free hand of capitalism will swiftly come in to save the day, or maybe they are merely cynical politicians and government bureaucrats. However, the end result is usually the same.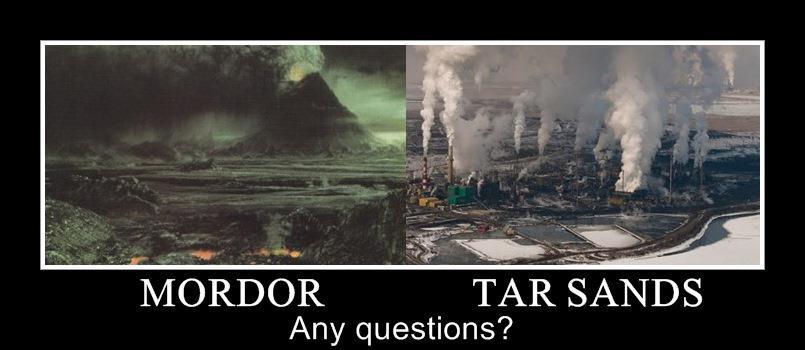 UPDATE 7:33pm: Over 500,000 people have signed a petition asking the Senate to leave Keystone dead in just 7 hours
The U.S. Senate may vote Tuesday on whether to green-light the proposed Keystone XL tar sands pipeline even before a safe route has been determined. Why is that a terrible idea?
TransCanada wants to build this pipeline so it can stop dumping tar sands oil at a discount in the Midwest. TransCanada's own analysis shows it would raise Midwest gas prices by 15 cents a gallon.
How does that impact states outside the Midwest like Virginia? American consumers could pay an extra $500 million for goods from the Midwest thanks to those higher gas prices.
A Cornell University study found those higher gas prices are one reason Keystone would kill more jobs than it creates - again, especially in a state like Virginia that would see few (if any) jobs directly created by the distant pipeline.
The pipeline would do nothing to lower U.S. gas prices because the oil will be sold on the international market. Think about it - if you wanted to sell the oil in America, why would you build a pipeline literally all the way down through America to the Gulf Coast?
The pipeline would benefit from billions in taxpayer subsidies.
TransCanada predicted its Keystone I pipeline would spill once a year. It's spilled once a month.
Tar sands oil emits far more carbon pollution over its life cycle than regular oil, fueling the global warming that's threatening Virginia.
Please take a moment to call Sen. Mark Warner at 202-224-2023 and Sen. Jim Webb at 202-224-4024 and ask them to say no to Keystone XL tar sands pipeline. If you can't call,
email your members of Congress
. As an added bonus, doing the right thing by killing Keystone XL is also a
political winner
. Isn't it nice when good policy and good politics come together?
Learn more from Robert Redford:
This week, we learned famed culinary fat food-pusher
Paula Deen has diabetes
, but only revealed it 3 years late to protect her cooking empire and is now hawking diabetes drugs winking that - for a price - maybe you don't have to do all those hard diet & exercise changes.
And then former oil company consultant Newt Gingrich blasted President Obama for rejecting Congress' efforts to force him to approve the Keystone XL tar sands pipeline before TransCanada has even determined a safe route, even though it would kill jobs and raise gas prices.
Last night I was in Harris Teeter and spotted this combo package of DiGiorno Pepperoni Pizza/Nestle Toll House Chocolate Chip Cookies and wondered ... isn't gluttony #2 on the list of deadly sins? And doesn't America claim to be three-quarters Christian? Talk about cafeteria Christianity.
But come on - there's no money to be made in hard choices. How could Paula Deen keep making money by the pudgy fistful by telling people to stop shoving cheese, salted meat, chocolate & dough into their gaping maws & go for a walk? How could Newt Gingrich keep the oil money flowing by telling people the only real way to save on gas is to drive less or pay more for an efficient vehicle?
Much easier to tell people to have a second helping of pizza & cookies and take their magic snake oil pill, and tell people it's not our conspicuous consumption but the gays that are the cause of our moral decay.
Let's say you had an overweight coworker. One who repeatedly professed to be desperate to lose lots of weight. But you walked into the break room day after day to find him chowing down on
Outback Steakhouse Aussie Cheese Fries with Ranch Dressing
. Finally, you decide you have to say something. "Hey, Sam. If you really want to lose weight, why don't you ease off on the cheese fries?"
"What, you expect me to lose 100 pounds today?" your coworker scoffs between greasy bites. "It's going to take years to lose all that - I can't possibly stop eating right now."
Now as President Obama considers whether to green light a ranch dressing tar sands pipeline, some are warning against putting America on an oil crash diet:
More than 200 people were arrested today in the final day of the civil disobedience urging President Obama to reject a
proposed tar sands pipeline
. More from
TarSandsAction.org
:
The proposed Keystone XL pipeline has become the most important environmental decision facing President Obama before the 2012 election and sparked nationwide opposition, from Nebraska ranchers to former Obama campaigners. A petition with 617,428 names opposing the pipeline will be delivered to the White House today.

Over the course of the two-week sit-in 1,252 people were arrested, including top climate scientists, landowners from Texas and Nebraska, former Obama for America staffers, First Nations leaders from Canada, and notable individuals including Bill McKibben, former White House official Gus Speth, NASA scientist Dr. James Hansen, actor Daryl Hannah, filmmaker Josh Fox, and author Naomi Klein.

"Back home we are fighting to protect our land and water. This week, we decided to bring that fight to the President's doorstep," said Jane Kleeb, Director of BOLD Nebraska, who led a delegation of Nebraskans who were arrested this morning. "We are acting on our values and expect our President to act as well."
Despite the 1,252 arrests and about a thousand more people rallying in Lafayette Park, the White House is continuing its code of silence: "We heard not one word from them," McKibben
told
the
New York Times
.
More details, photos and a video from Saturday's protest after the jump.