This
certainly isn't the most beautiful building in the world. Its wiring is sketchy, it leaks when it rains, and it probably was ready to be torn down several years ago. But, for those of us who worked on the 2006 Webb for Senate campaign, we'll always have fond memories of 1916 Wilson Boulevard in Arlington.
I remember the early days of Webb's candidacy in early March 2006, when Steve Jarding and Lee Diamond (photo after the "flip") were driving around Northern Virginia, looking for affordable (aka, "cheap", since the campaign had very little money) office space suitable for Webb's budding campaign. They finally found what they were looking for, right near Courthouse Metro and - perhaps just as importantly - close to several bars and restaurants like Ireland's Four Courts, Brooklyn Bagel Bakery, California Tortilla, and Rhodeside Grill. Webb staffers held many lunches and many "meetings" at those establishments, no doubt providing a significant boost to the local economy. :) Inside that building, the Webb for Senate team on the 3rd floor, and the volunteers on the 2nd floor, somehow managed to pull off a victory that pretty much nobody thought was possible when 2006 began. That victory came, of course, with a big assist from an anti-Bush tsunami and a huge cowboy-booted foot in George Allen's mouth, but we'll take it nonetheless!
Anyway, it now appears that there are plans to demolish Webb's old headquarters and replace it with "stores and restaurants on the sidewalk level...200 residential units, two open courtyards and an underground parking garage." Sounds like a major, much needed, upgrade. Still, I'll miss driving by 1916 Wilson Boulevard and remembering the excitement of the 2006 Webb-Miller and Webb-Allen races. Good times.
Among many other fond memories of the Webb for Senate HQ at 1916 Wilson Boulevard, I'd definitely have to list the rally with Jim Webb and John Kerry held in the parking lot (see photos above and after the "flip") the day before the June 13 Democratic primary. Kerry's endorsement was a big one for Webb in the Democratic primary, and 300 supporters turned out to celebrate.
Of course, I also remember the hordes of volunteers - ably guided by people like the extraordinary Mary Detweiler, and of course Josh Chernila - descending on 1916 Wilson Boulevard during the fall of 2006. People like filmmakers Annabel Park and Eric Byler from LA, a group of law students from Yale (intent on protecting the vote), senior citizens, high school kids, and "Real Virginians" of all types, all fired up to elect Jim Webb, defeat George Allen, and help take our country back from the disastrous, Republican misrule of Bush, Cheney, Hastert, DeLay, etc. The energy was incredible, and in the end it helped us take back the Congress in 2006 and the White House in 2008. Now, we need to make sure we don't lose that energy, or even worse, cede it to fired-up folks on the far right. If we let that happen, then a "wrecking ball" will come down not just on 1916 Wilson Boulevard, but also (metaphorically) on all the progress we've made in the last few years. With that, enjoy the photos...and the memories! I just got back from the Arlington County Democratic Committee (ACDC) meeting, at which the
change of government resolution
was discussed. I was going to say "debated," but the representative for those supporting the change of government resolution, Mike Staples of the Fire Fighters Union, decided earlier today that he would not be attending the debate.
So, in the end, the ACDC only heard from former Arlington County Manager Ron Carlee, former, who spoke strongly against changing Arlington County's form of government from the County Manager Plan form to the County Board form. In the end, Ron Carlee's side prevailed, with ACDC voting unanimously, 74-0, on a resolution opposing the referendum, and instructing the ACDC to work to persuade Arlington voters not to support it.
P.S. The discussion tonight, particularly Ron Carlee's powerful opening remarks, convinced me to strongly oppose the change of government resolution. I am now convinced that this is very bad public policy, and would be a major mistake if Arlington were to move in this direction.
This should be interesting.
Arlington County Democratic Committee to Host Forum and Vote on Proposal to Change Arlington's Form of Government

Arlington, VA - The May 5, 2010, meeting of the Arlington County Democratic Committee (ACDC) will feature a special debate on the petition drive led by Arlington Fire Fighters and other groups to force a referendum to change Arlington County's form of government from the County Manager Plan form to the County Board form.

This effort has been the subject of substantial discussion within the Arlington community, and has prompted the establishment of groups both supporting and opposing the proposed referendum.

The May 5 forum will be moderated by Arlington County Democratic Committee Chair Mike Lieberman. The event is open to public and media are welcome to attend.

Immediately following the debate, the Arlington County Democratic Committee will likely consider and vote on whether to support or oppose the proposed ballot measure.

What: ACDC Forum and Vote on the Change of Government proposal
Who: Mike Staples, President of the International Association of Fire Fighters, Local 2800
Ron Carlee, former Arlington County Manager, and Director of Strategic Domestic Initiatives for the International City/County Manager Association

Where: NRECA Building, 4301 Wilson Blvd., Arlington, VA
When: May 5, 2010 ACDC Meeting
Time: 7:00 pm - 9:00 pm
For more information on this subject, which is being hotly debated in Arlington County right now, see the
"Committee for a Better Arlington" Facebook page
(for those supporting a change in Arlington's form of government) and the
"Coalition for Arlington Good Government (CAGG)" Facebook page
(for those opposing this change). Also, see
here for a chart
showing the various forms of county government in Virginia, and
here
for a memo by Arlington's county attorney analyzing the the proposed change in government form. To put this measure on the ballot, supporters need to gather around 14,000 signatures (of Arlington registered voters) by July 15. I have no idea how close they are to doing so, but hopefully we'll find out next Wednesday at the ACDC meeting.
P.S. It's worth noting that the Arlington County Greens and the Arlington County Republicans both support this proposal, as do the police and firefighters' unions. Many Democrats, including County Board Chairman Jay Fisette, strongly oppose it.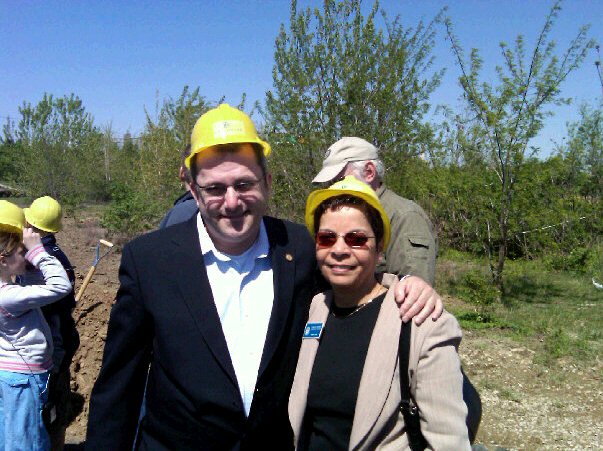 For more on Arlington's new Long Bridge Park,
click here
. Here's a brief synopsis.
Planning for Long Bridge Park began in 2001 with the goal of transforming a light industrial area into a green space. The park will be a showplace of environmentally sound development, with public green spaces, high-quality outdoor recreation facilities and environmentally responsible structures.

[...]

All facilities on the site will be designed to achieve the U.S. Green Building Council's LEED program Silver rating. Outdoor facilities such as parking areas, picnic areas, plazas and roads will be designed to make this park a model of environmentally responsible design. Read more about Visions & Goals for Long Bridge Park.
Great work by Arlington County on this one, demonstrating how an industrial area - containg a brickyard, a scrapyard and other businesses - can be transformed into a 28-acre aquatics, health and fitness facility and park. This is the kind of project that should be replicated across Virginia.
P.S. This photo is of Del. Adam Ebbin and Arlington Commissioner of Revenue Ingrid Morroy, earlier today, at the construction kickoff for the park.