In comparing 2017 to 2013 results for Virginia House of Delegates races, I wasn't sure anything interesting would pop out, but as it turns...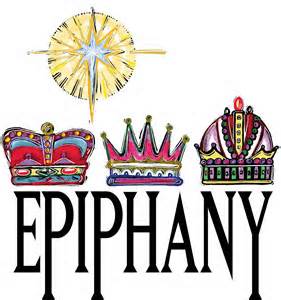 Welcome to the end of this twelve part series looking at the challenges, obstacles, and future possibilities of Virginia Democrats. Thank you for reading; you've made it to the final one! Check out the past entries here: Day One, Competitive Districts. Day Two, Turnout Problems. Day Three, Past Mistakes. Day Four, Downstate Democrats. Day Five, Unchallenged Incumbents. Day Six, Present Opportunities. Day Seven, Democratic Trends. Day Eight, Swing Voters. Day Nine, 2021 Redistricting. Day Ten, Independent Redistricting. Day Eleven, A Diverse Future. At the end of this diary is a poll on tomorrow's special elections, don't forget to vote!
On the twelfth day of Christmas, the Commonwealth of Virginia gave to me ...
Gold, frankincense, and myrrh?
Keep the gold, pawn it off for cold hard cash, because on this Epiphany, the three magi would be better off bringing money, messaging, and mobilization to Virginia Democrats.
Campaigns are fought on battlefields defined by demographics, candidates, random events and other factors that may be out of our control. But once the battle has been joined, victory belongs to the side that brings the three M's: money, messaging, and mobilization.
(Welcome to this twelve part series looking at the challenges, obstacles, and future possibilities of Virginia Democrats. If you've missed past diaries, follow these links: Day One, Competitive Districts. Day Two, Turnout Problems. Day Three, Past Mistakes. Day Four, Downstate Democrats. Day Five, Unchallenged Incumbents. Day Six, Present Opportunities. And as always, at the end of the diary there is a poll! Thank you for reading, and have a happy 2014!
)
On the seventh day of Christmas, the Commonwealth of Virginia gave to me ...
Encouraging signs of growing Democratic trends in the state's largest counties and most competitive districts!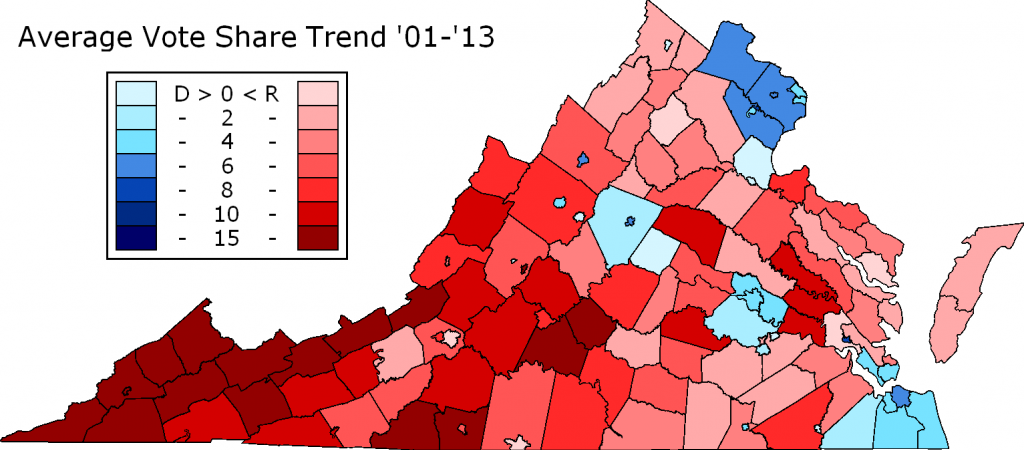 Take a look at the vote trend between 2001 and 2013 from Daily Kos. There's a lot of red there, but it's in the most rural, slow-growth parts of the state. All of the major population areas, from Northern Virginia to Richmond to Tidewater, are trending blue. The population growth in the state is heavily concentrated in this urban crescent. Favorable demographic trends and the alienation of moderate suburban voters by the hard-right have combined to turn Virginia into a blue state ... at least statewide in higher turnout elections.
Yeah, but what about in the General Assembly?
Put away your preconceived notions of libertarians; most Sarvis voters have never picked up "Atlas Shrugged" in their life (and save yourself the trouble too, read something enjoyable!). As the dust settles on this Democratic sweep of the Commonwealth, let us take a look at Sarvis voters and what they actually mean.
Voter turnout was up because of Sarvis
2,000,819 Virginians turned out to vote in 2009, including 2,502 who wrote-in a candidate. Turnout was only 42% of active voters. Four years later, 2,240,178 Virginians voted, for turnout of 47%. But turnout with just the two-major party gubernatorial candidates was just 43%. Most of the increase in turnout came from the 145,967 Sarvis voters.
Most Sarvis voters wouldn't have voted otherwise.
Without Sarvis on the ballot, the race would have been 48% Terry McAuliffe, 46% Ken Cuccinelli, and 5% wouldn't have voted. Do the math and election day would have been McAuliffe 51%, Cuccinelli 49%. Two and a half times as many Sarvis voters would have gone to McAuliffe over Cuccinelli, but most wouldn't have voted at all.
Sarvis voters are overwhelmingly white and young.
Not only are Sarvis voters mostly white, a whopping 15% of the 18 to 29 cohort voted for Sarvis. It was also the cohort that McAuliffe improved the least over Creigh Deeds from 2009. What motivated so many younger votes to reject the two party system?
They are independent.
Helping to explain why they would vote for a third-party candidate or not vote at all, most Sarvis supporters affiliated themselves as independent voters, not members of either the Democratic or Republican Party.
Wow! Talk about a total collapse; Virginia Republicans should start transferring money to local dog catcher races to try to hold onto power after next week's election. The
latest Washington Post poll
shows a blue tsunami coming down on the GOP. I've stopped worrying if Herring will win, he should, and have started asking just how high this tidal wave will go.
In 2005, Senator Creigh Deeds lost the race for Attorney General to then Delegate Bob McDonnell by just over 300 votes. It set McDonnell up for his run for Governor four years later, forcing Bill Bolling to step aside. Just minor changes to the outcome on election day in 2005 would have almost certainly produced a Deeds vs. Bolling match-up in 2009. Deeds may well have lost, but who knows how things would have developed for Virginia ...
Today, we may be facing a very similar fork in the political road. Republicans are going all in for State Senator Mark Obenshain of Harrisonburg. Should he win, it will almost guarantee that the 2017 Governor's race will be between Obenshain and Northam. Ben Tribbett has already expressed concerns about Ralph Northam as the Gubernatorial nominee in four years. In my opinion, choices are good and Virginia Democrats would do well to keep their options open.
Furthermore, if Obenshain wins, he'll have four years building a record to run on in 2017. Cuccinelli lost the race for Governor by being too extreme during his time in the AG's office, waging a war against science at the University of Virginia and prioritizing defending bans on sex in court. We can hope that Obenshain is that stupid, but we should fear him finding un-offensive issues like human trafficking, drugs, and defending the elderly that hide his conservatism from the public eye in 2017.
Without Obenshain, the Republicans will be in disarray in 2017, as the growing discontent expressed from Republicans like Bill Bolling and Tom Davis will be aired out in the open by more members during any nomination fight. The party could do some soul searching and come up with a moderate nominee in 2017, but more likely an effort to run a moderate will result in a bloody, brutal primary (or convention).
We need Mark Herring to win. How could that happen?
I was planning on turning to the Attorney General's race next, but for a number of reasons I'm going to look at the House of Delegates first.
In 2001, Democrats broke back into the Governor's Mansion in Richmond after eight years with Mark Warner trouncing Mark Earley. Along the way, Warner helped Richmond Mayor Tim Kaine win as Lt. Governor, but he couldn't get Donald McEachin over the finish line against Jerry Kilgore. More importantly, the Warner-Kaine victory came despite a Republican landslide at the House of Delegates level, mainly due to the new Republican gerrymandering. As Democrats look to sweep at least the top two spots in Virginia on November 5, how are their chances in the House of Delegates looking?
Under the new Republican-drawn lines, Obama won only 45 House of Delegates districts, despite his statewide victory. Tim Kaine won an additional six and was close in several more. Although McAuliffe could poll as high as 52%, the internal polling indicates that there will be some variance compared to Obama's similar statewide victory in 2012. Let's look at this regionally.
We're counting down the days until the Election in Virginia and there's growing evidence that Democrats are sweeping the top two statewide slots. Republicans are shifting resources to give Obenshain a fighting chance at the Attorney General's race; the Republican State Leadership Committee has given Obenshain $500,000 in hopes he can salvage the GOP ticket and protect down-ballot Republicans.
In the House of Delegates, Democrats have released three internal polls showing our candidates well positioned to make gains. But there are also signs that the wave on election day may crash upon hostile shores down-ballot. All that, and MORE, to be discussed in this, the first of a multi-party diary analyzing what we know so far about the Virginia election.
First, the good news for Virginia Democrats. Terry McAullife's position in the latest NBC4/NBC News/Marist poll shows him expanding his lead against Ken Cuccinelli, up 46% to 38%, with Libertarian candidate Sarvis receiving 9% of the vote. That's up 3 percentage points from the pre-shutdown Marist poll.
It's only one poll of many, but it can't be good for the Virginia GOP that both McAullife and Sarvis are gaining in the polls while Cuccinelli is flat. The only "good news" in the last few weeks for Republicans may have been their ability to exclude Sarvis from the debates, limiting his exposure, but he's still polling in the high single digits.
Without Sarvis, the Marist poll has McAullife up 52% to 43%. That 52% may be a good approximation of McAullife's ceiling in these closing days of the campaign. George Allen loved sports metaphors. Now that he's history, I'm taking them back.
Imagine, if you will, that you're Frank Beamer, legendary coach of the Virginia Tech Hokies and Hillsville, VA native. Say that you just had a disappointing season (like, say, last season). You're Frank Beamer. You're not going to let it happen again. To make matters worse, you know you'll have an empty roster due to graduations, transfers, underclassmen declaring for the NFL draft, etc. Through some horrible stroke of misfortune, you now see that you're going to only have 20 players (unbelievable, but stay with me here)! You can't even take the field with a full offense or defense (never mind any players that may want to play both ways, it's not feasible today). You MUST go out and recruit in advance of this potentially disastrous situation.
So what would you call a college football program that doesn't even bother to recruit enough players to not only fill the roster, but even start the game?
You would call them a team not playing to win. In other words, losers.
So what do you call a political party that needs 51 seats (in the Virginia House of Delegates) to pass anything in its agenda that only runs 43 candidates?
As of today, we have 43 Democratic House of Delegates candidates either currently in office and not saying they will retire or challenging current Republicans. I applaud the 12 brave Democrats who have stepped up to challenge sitting Republicans, some of whom are challenging entrenched incumbents with multiple terms of experience in very red districts. At least 5 are running in districts President Obama won in 2012. When I first heard the news that Tom Perriello was considering running for Governor next year, I was, like many here in the community, was skeptical. I have been a strong supporter of Tom throughout his campaign and would love to see him run for Governor, I simply was surprised by the news and at first believed it too good to be true. I've heard some dismiss the rumors as being put out by simply one blogger, although a very well connected and respected blogger. But the media coverage is increasing and seems closer to Tom himself now. Today there was a new Perriello speculation story out, this time from Buzzfeed, showcasing Obama's visit to campaign for Perriello in 2010.
And now Nate Cohen of The New Republic brings a dash of reality to the idea that Terry should be seen as a frontrunner, even if Tom gets in, and tears down several arguments regarding Terry's supposed appeal.
Ultimately, McAuliffe enters the '13 contest without any proven base of support. That's not surprising, since McAuliffe has never held public office and candidates seeking a higher office often attract lasting support from voters in their home districts. Still, in a low-turnout primary familiarity and past loyalty can make a difference and McAulifffe doesn't have either. Indeed, a recent Quinnipiac poll showed that 65 percent of Democratic voters had no opinion of McAuliffe.

So far, most speculation about a possible challenger centers on Tom Perriello, a former representative from Virginia's 5th congressional district and the president of the Center for American Progress Action Fund. Recent reports indicate that Perriello is mulling a bid and it's not hard to see why. Perriello has solid liberal credentials and earned the support of activists for his insistence on defending the Obama administration's policies during his failed reelection bid in a relatively conservative congressional district. Perriello's narrow defeat in the 2010 midterm is considered one of the more impressive electoral performances of the cycle.

If Perriello challenged McAuliffe, the former DNC chairman would be in a difficult position. While McAuliffe's financial resources and support from the Clintonistas make him a more formidable candidate than his polling numbers, those same assets were only worth 26 percent of the vote four years ago. McAuliffe remains vulnerable, and Perriello, who has a reputation for authenticity and knows how to deploy a populist message, seems well-suited to capitalize. Perriello's appeal with liberal activists would be an asset, since they make-up the core of the Democratic primary electorate in a low-turnout election. With McAuliffe potentially weak in northern Virginia and Perriello strong in western Virginia (he hails from Charlottesville, and his old district in west-central Virginia represents 8 percent of the primary electorate), McAuliffe's ability to perform well among black voters in eastern Virginia might be the decisive question. But there's plenty of footage of Obama praising Perriello, and little reason to assume that Perriello would be weak in the eastern part of the state.
I don't need to explain here Perriello's progressive bona fides. The growing media coverage does make me believe that there is more to this speculation that simple rumor. Today, the blogger that seems to have started all this pointed out
a hereto overlooked advantage of a Perriello candidacy
.
What's happening in Danville is actually very similar to what is happening in Henrico County near Richmond, and Prince William County in Northern Virginia as well as many other localities in Virginia. For the last two decades the minority population in those areas has had a dramatically higher birth rate than the white population. What that creates is a "demographic tidal wave" as Sean Connaughton once called it. You can see it from looking at demographic stats of these school systems versus the senior populations in these localities. The babies from twenty years ago are now voters, and are starting to have their own kids that will be creating an even larger tidal wave in coming years.

It's worth noting that Democrats have yet to be successful in turning out those voters in many elections that were non-Presidential so far- with the exception of Tom Perriello in 2010 who got large turnout in Danville and was able to win a 16.3% margin of victory over Robert Hurt here even in the awful political environment of 2010 for Democrats. Compare that to the federal midterm from 2006- when George Allen narrowly defeated Jim Webb in Danville even with a strong national Democratic wind at Webb's back. With Perriello considering a run for Governor this year, Danny Marshall has got to be pulling for Democrats to stick with Terry McAuliffe for Governor- as this district could flip with Perriello on top of the ticket.
Danville isn't the only community that is part of the "demographic wave" that reelected Barack Obama. Perriello has shown that he knows the importance of mobilizing these new members of the Democratic coalition. In addition to his progressive politics, can Perriello also offer a people powered campaign that would help down ticket candidates?