 Even though I swore off doing another series of diaries at Blue Virginia on past, present, and future trends in politics, I've been thinking a lot about where our Commonwealth stands.
Governor McAuliffee is ready to keep up the fight on Medicaid expansion in Virginia
, while also laying down the foundation for
a fight with the General Assembly over redistricting
. As we prepare to enter into 2015, here are some random, at times disjointed thoughts on Virginia's present and future.
1. On the expansion of Medicaid, the issue isn't just about what the Commonwealth will do for the least fortune among us. Thinking about a practical blank check from the federal government to do more today for struggling Virginians is a timely issue on the eve of Christmas. There is also an argument for asking why Virginia should be paying for the Affordable Care Act without receiving its full benefits.

But after the Supreme Court's ruling, Republican governors and legislatures in state after state rejected the expansion. Rejecting the Medicaid expansion, however, doesn't exempt a state from the taxes and spending cuts Obamacare uses to fund the Medicaid expansion. A September analysis from McClatchy estimated that "if the 23 states that have rejected expanding Medicaid under the 2010 health care law continue to do so for the next eight years, they'll pay $152 billion to extend the program in other states - while receiving nothing in return." That's a helluva gift from (mostly) red states to (mostly) blue ones.
In the next term, the Supreme Court will rule on the claim that the law does not allow for subsidies for health insurance plans purchased on the federal exchange. Depending on the ruling, the Republican Party's opposition to participating in the health care law will mean even fewer dollars going to Virginian families.
2. I haven't seen a detailed analysis of the Medicaid eligible population by House or Senate district, but the numbers I've seen based on localities indicate that this is not just a moral issue in 2015, but a political winner in areas like Prince William County.
3. Medicaid expansion links well to redistricting reform. While usually such insider baseball is not the stuff of political campaigns, it bolsters the imagine of the Republican Party standing opposed to progress and reform.
But if that's where we are in 2015, where are we going? Virginia is changing rapidly, and I think the great Yogi Berra's observations ring true. "You've got to be very careful if you don't know where you're going, because you might not get there."
What's the vision for Virginia Democrats not just in 2015, but long term?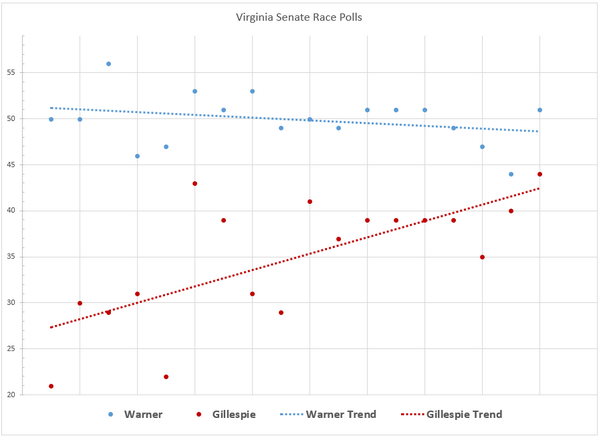 Since my series on Virginia politics back in December and January I've given up my Virginia roots, moved to the District of Columbia, and even find myself voting in a DC election! You can take me out of Virginia, but you can't take Virginia out of me. With Election Day just around the corner, I'm delurking to raise some questions about what we should expect from the Mark Warner victory on Tuesday ... Knock on wood!
Despite my concerns about jinxing the election, a Mark Warner defeat on Election Day is the furthest thing from the realm of plausibility. Consider this trend line of polling in the Virginia Senate race tweeted earlier this week by Speaker Howell's spokesman, Matthew Moran.
I fully expect Warner to win on Tuesday, but I think we should be prepared for a closer than expected victory. Libertarian Robert Sarvis was hoping to build on his surprisingly strong showing from 2013, but he will be lucky to hit 2% this time around. I would not be surprised by a Warner margin of victory of 5 to 6 percent, far closer than earlier polls showing him up by over 20 percent. Warner has run a positive campaign based on his personal brand, playing up bipartisan support from that other Senator Warner and reminding Southwest Virginia of his work bringing Virginia Tech into the ACC. The polls show we won't have the same "Warner Country" that turned out for Mark almost two to one from 2008.
One of the constant themes from my Christmas series was that the Democratic Party of Virginia needs to prioritize competitive races based on the underlying Democratic lean of the districts, not idealizing the magical appeal of candidates who can supposedly swim up stream against the partisan tides that have been moving rural Southwest and Southside Virginia into the Republican column. This year could be a good test of the personal appeal of Mark Warner in Southwest Virginia versus the "War on Coal" rhetoric in Republican attack ads.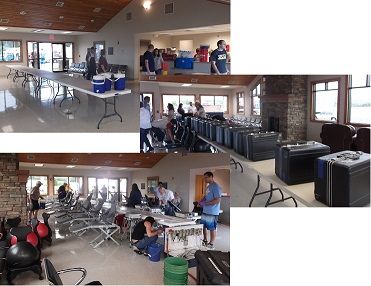 There's always a story behind the story and sometimes one belies the other.
Remote Area Medical (RAM)
is a godsend; make no mistake about it. But like any private sector organization, the transparency or accountability we demand from government is not always evident. Today's "conservatives" would never acknowledge that.
Watching and taking part in the transformation of a rural air terminal into expeditionary specialty clinics, dental and vision, is not an immersion in military precision. It almost can't be when much of the labor is borrowed. The effort resulting when organization is flattened results in stove-piping. The raw volunteers care about pitching in and recognize the limits of their ability to contribute to technical assembly of the equipment. There are enough seasoned volunteers that as long as the boxes and bags are lined up at their assigned places, they can readily and efficiently assemble and order materials; in their areas. The lack of organization and efficiency among the unguided volunteers is more than compensated for by their numbers and camaraderie. From pitching tents (probably the most organized effort), to setting up tables and chairs, to moving crates and boxes, the unbridled activity ends in mission accomplishment.
This is at the tactical delivery end. Strategically there is always another view that is masked by the appearance if not the reality of good intentions. My father had no time for the American Red Cross. After raging battles on isolated Pacific islands during World War II, the Red Cross sold donuts to the Marines and sailors ashore; the Salvation Army was there handing out goods gratis. Guess which organization he favored. My wife cannot turn down a request for a donation from Saint Jude's in Memphis despite having no clue who Danny Thomas was; it's those children. On the other hand, when I see anyone collecting donations to benefit our military service members or veterans, I challenge their credentials on the spot. I wasn't as discerning with RAM until I saw the DC-47 (a WWII DC-3 configuration) touch down in Lee County. After all, RAM had been endorsed via association by both of Virginia's United States Senators, our current Governor, and General Assembly members from both sides of the aisle.
Welcome to this twelve-part series looking at the challenges, obstacles, and future possibilities of Virginia Democrats. If you've missed past diaries, follow these links: Day One, Competitive Districts. Day Two, Turnout Problems. Day Three, Past Mistakes. Day Four, Downstate Democrats. Day Five, Unchallenged Incumbents. Day Six, Present Opportunities. Day Seven, Democratic Trends. For today's poll, I'm asking about your early support for Governor in 2017.
On the eighth day of Christmas, the Commonwealth of Virginia gave to me ...
Swing voters, that crucial demographic of people who voted Romney-Kaine, or Cuccinelli-Northam-Obenshain, or even were crazy enough to go for Sarvis!
In the last half-decade, Virginia Democrats have seen a range of elections that allow us to roughly identify geographic areas of ticket-splitters. I'm talking about folks who came out and voted for Mitt Romney and Tim Kaine. Or switched back and forth in 2013 between Sarvis, Northam, and Obenshain. Or even McDonnell-Wagner-Shannon! It's all possible.
Peter Peterson and his "institute" (which is really a propaganda machine) are ubiquitous once again. They really never went away though. They've slithered in and out and around the halls of power, dropping nearly half a billion dollars to own the conversation according to a recent
article
at
Huffington Post
. And own it they did and do.
Once again this week, the Peterson Foundation called a "fiscal summit" and the salivating dogs of the press were there on the spot to pay homage. From NPR to newspapers to cable news we heard once again about the purported need to reduce the deficit while doing the worst possible thing for deficit reduction, slashing revenue.
It's astounding that Peterson thinks we are so stupid that we believe the BIG LIE of trickle down non-economics still. Even more astounding, his institute wants, no, demands, huge added tax cuts for the rich. The fairy tale that tax cuts cuts solve deficits is is laughable. More laughable is that a man who has worked the system, not bettered it, but milked it, thinks he should run the show.
Earlier today,
Lowell brought to our attention the enthusiasm gap
between Virginia Democrats and our Republican colleagues as we close out 2011 and look ahead to 2012 and 2013. Republican candidates are coming out of the Tea Party woodwork to prepare for statewide runs in 2013, while the Democratic side is silent. I joined the comments to promote discussion of several observations I have on the matter, but I wanted to pull them all together in a diary to get more discussion and throw out some more controversial thoughts.
First, 800 pound gorilla in the room is the Junior Senator from Virginia, soon to be Senior Senator, and former "His Excellency" Mark Warner.
There is a push in the party to get Warner to return to Richmond in 2013 as the only way to reverse the party's fortunes after setbacks in 2009 and 2011. You can see my comment on this possibility here. For this diary I'll just say that until we get a clear statement from Warner one way or another I wouldn't count on the Democratic lead up to 2013 to come alive with announcements.
Next, to borrow from Lowell, "why would any sane Democrat WANT to be governor of Virginia?"