 Before the 2014 election
I wrote about specific areas to watch
for sorting out ongoing political trends in Virginia. After Mark Warner's nail-biting reelection night,
I tore apart the Warner campaign's claim
that they ran significantly ahead of other Democrats in Virginia's rural areas, with
a follow-up diary
comparing Mark Warner to Tom Perriello. Today, I want to take the time to follow up on some of the areas I picked as canaries in the coal mine of Virginia politics. While dissecting Election 2014 by House of Delegates and State Senate district is
still being finalized by the good people at VPAP
, here are some preliminary findings.
9th House of Delegates District (Franklin, Henry, Patrick Counties): The 9th had been at the center of Warner's crossover support in 2008, and featured a lively fight by Ward Armstrong after Republicans targeted him in their gerrymandering. The result in 2015? Mark Warner received 36% of the vote, just marginally above Obama's 34% in 2012.
12th House of Delegates District (Montgomery and Giles Counties, Radford City): Warner received 52% of the vote here, higher than Obama's 50% but behind Kaine's 54%. This is a unique district, the influence of Virginia Tech makes it very different than other Southwest districts. It also remained one of the best districts for Libertarian candidate Robert Sarvis.
6th House of Delegates District (Wythe, Carroll, Smyth Counties): Warner's 34% of the vote is behind Democrat McGrady's 37% from his 2013 delegates race, which somehow House Democrats convinced themselves was in the bag. About the same as Tim Kaine's 34% in 2012, but not an impressive showing based on prior Warner claims about Southwest popularity.
14th (Danville City; Pittsylvania and Henry Counties) & 16th (Pittsylvania and Henry Counties; Martinsville City) House of Delegates Districts: Warner received 48% of the vote in the Danville based 14th, marginally better than expected given his near defeat statewide. His 43% in the 16th was similar; better than normal Democrats, but only by a few points.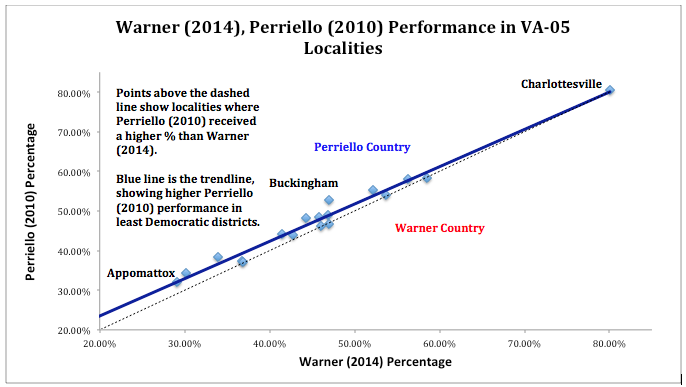 Yesterday I
blew open the claim from the Warner campaign
that they ran significantly ahead of Democratic performance in Southwest and Southside Virginia. But I had a thought on a more nuanced pro-Warner argument that I wanted to question today.
Putting aside the grand claims of Warner's success in rural Virginia, suppose there's an argument that with the older, more white electorate that by its very nature turns out in off-years Democrats have to campaign as more centrist, bipartisan political creations in order to hit roughly the same performance we see in presidential turnout years, even in rural localities. Trying to run as a proud Democrat and campaign on issues that mobilize our base risks alienating more voters than it turns out to the polls, a la Udall in Colorado.
While I can't explain away what happened in Colorado, I can provide some counterpoint to the idea that the only way to sustain Democratic performance in an off-year is to run as a watered down centrist.
What if you compared Mark Warner's 2014 performance with another Virginia Democrat who lost in a lower turnout off-year, Tom Perriello in 2010?
For this I only compared the localities that were entirely within Virginia's 5th District prior to the 2010 redistricting, which also meant not including the split counties of Bedford, Henry, and Brunswick. I dropped the cities of Martinsville and Bedford (which no longer exists) because they were entirely contained in those split counties, these are a geographically cohesive sample.
I only looked at the two-party vote, ignoring the role of the two independent candidates in each election. In all but two localities (Danville and Halifax), Perriello received a higher percent of the vote than Warner. In some it was minor; their difference in the city of Charlottesville was half a percent. In others it was much larger, like almost 6% in Buckingham.
The result is that while both candidates lost the combined counties, Perriello received 48.9% of the vote and Warner only 46.9%. As noted, it's not just explained by liberal areas like Charlottesville. Perriello ran better in several small rural counties like Buckingham, Greene, Appomattox, and Campbell. Today I attended VPAP's "
After Virginia Votes
" panel discussion on the 2014 election featuring senior strategists for both the Warner and Gillespie campaigns. Aside from helping to lower the average age in the mostly octogenarian filled room at George Mason University's Fairfax campus, I attended to hear how Warner advisor David Hallock would try to spin the near defeat for his boss.
Sadly, the sometimes candid conversation between David Hallock and Paul Logan paled in comparison to the sparks between Chris LaCivita and Ellen Qualls during VPAP's 2013 analysis. Now that was an analysis worth attending! LaCivita is an unapologetic political hack, in the most delightful way possible, who never shies away from defending his dirty approach to politics. No wonder many of my friends simply call him "the devil." Compare that to Logan and Hallock shifting uncomfortably in their seats trying to defend the practice of spamming inboxes in order to raise low donor funds.
Hallock at several times made the point that the lack of engagement during the midyear election depressed both volunteer enthusiasm and eventual voter participation, particularly among the Democratic base. While bemoaning the difficulties of getting Democratic constituencies to the poles, he clung to defending Warner's "statewide" campaign that stressed bipartisanship and reaching out to Southwest and Southside Virginia.
Perhaps Democratic disengagement is not a fact of life for midterm elections, but a byproduct of the type of campaign Warner ran?
In his concluding remarks, Hallock made the case that the Democratic Party needs to do a better job of engaging our voters and turning them out in off-year elections.
Let's talk about that.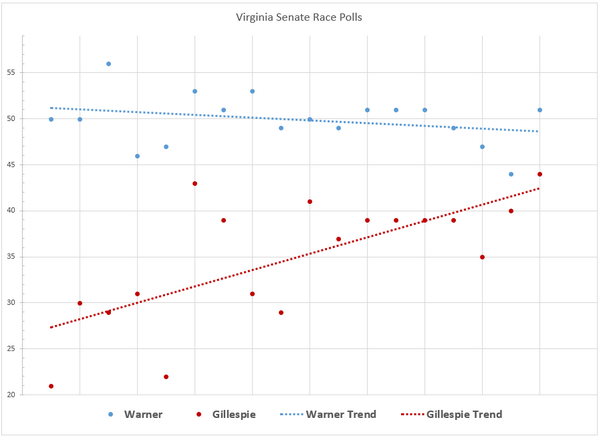 Since my series on Virginia politics back in December and January I've given up my Virginia roots, moved to the District of Columbia, and even find myself voting in a DC election! You can take me out of Virginia, but you can't take Virginia out of me. With Election Day just around the corner, I'm delurking to raise some questions about what we should expect from the Mark Warner victory on Tuesday ... Knock on wood!
Despite my concerns about jinxing the election, a Mark Warner defeat on Election Day is the furthest thing from the realm of plausibility. Consider this trend line of polling in the Virginia Senate race tweeted earlier this week by Speaker Howell's spokesman, Matthew Moran.
I fully expect Warner to win on Tuesday, but I think we should be prepared for a closer than expected victory. Libertarian Robert Sarvis was hoping to build on his surprisingly strong showing from 2013, but he will be lucky to hit 2% this time around. I would not be surprised by a Warner margin of victory of 5 to 6 percent, far closer than earlier polls showing him up by over 20 percent. Warner has run a positive campaign based on his personal brand, playing up bipartisan support from that other Senator Warner and reminding Southwest Virginia of his work bringing Virginia Tech into the ACC. The polls show we won't have the same "Warner Country" that turned out for Mark almost two to one from 2008.
One of the constant themes from my Christmas series was that the Democratic Party of Virginia needs to prioritize competitive races based on the underlying Democratic lean of the districts, not idealizing the magical appeal of candidates who can supposedly swim up stream against the partisan tides that have been moving rural Southwest and Southside Virginia into the Republican column. This year could be a good test of the personal appeal of Mark Warner in Southwest Virginia versus the "War on Coal" rhetoric in Republican attack ads.
Earlier today,
Lowell brought to our attention the enthusiasm gap
between Virginia Democrats and our Republican colleagues as we close out 2011 and look ahead to 2012 and 2013. Republican candidates are coming out of the Tea Party woodwork to prepare for statewide runs in 2013, while the Democratic side is silent. I joined the comments to promote discussion of several observations I have on the matter, but I wanted to pull them all together in a diary to get more discussion and throw out some more controversial thoughts.
First, 800 pound gorilla in the room is the Junior Senator from Virginia, soon to be Senior Senator, and former "His Excellency" Mark Warner.
There is a push in the party to get Warner to return to Richmond in 2013 as the only way to reverse the party's fortunes after setbacks in 2009 and 2011. You can see my comment on this possibility here. For this diary I'll just say that until we get a clear statement from Warner one way or another I wouldn't count on the Democratic lead up to 2013 to come alive with announcements.
Next, to borrow from Lowell, "why would any sane Democrat WANT to be governor of Virginia?"