There are no national winners, only losers, in 2016 national politics. Here they are: -The Biggest Loser: Donald Trump, the most authoritarian, ignorant, unprepared, racist,...
Here are some "winners" and "losers" from Virginia politics in 2016. Note that, as usual, this list isn't comprehensive, so please feel free to...
The following list is not meant to be comprehensive, but these are some of the top political stories, IMHO, that took place in Virginia...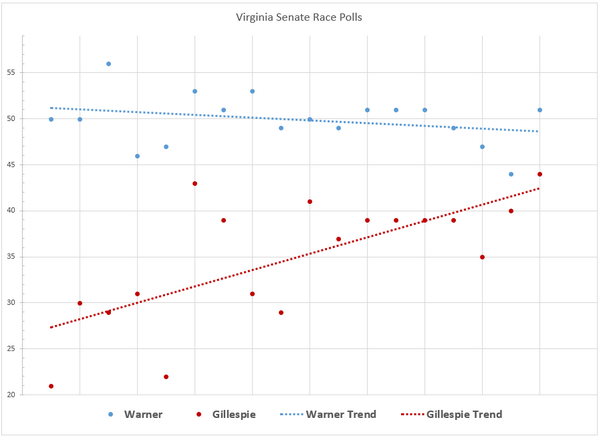 Since my series on Virginia politics back in December and January I've given up my Virginia roots, moved to the District of Columbia, and even find myself voting in a DC election! You can take me out of Virginia, but you can't take Virginia out of me. With Election Day just around the corner, I'm delurking to raise some questions about what we should expect from the Mark Warner victory on Tuesday ... Knock on wood!
Despite my concerns about jinxing the election, a Mark Warner defeat on Election Day is the furthest thing from the realm of plausibility. Consider this trend line of polling in the Virginia Senate race tweeted earlier this week by Speaker Howell's spokesman, Matthew Moran.
I fully expect Warner to win on Tuesday, but I think we should be prepared for a closer than expected victory. Libertarian Robert Sarvis was hoping to build on his surprisingly strong showing from 2013, but he will be lucky to hit 2% this time around. I would not be surprised by a Warner margin of victory of 5 to 6 percent, far closer than earlier polls showing him up by over 20 percent. Warner has run a positive campaign based on his personal brand, playing up bipartisan support from that other Senator Warner and reminding Southwest Virginia of his work bringing Virginia Tech into the ACC. The polls show we won't have the same "Warner Country" that turned out for Mark almost two to one from 2008.
One of the constant themes from my Christmas series was that the Democratic Party of Virginia needs to prioritize competitive races based on the underlying Democratic lean of the districts, not idealizing the magical appeal of candidates who can supposedly swim up stream against the partisan tides that have been moving rural Southwest and Southside Virginia into the Republican column. This year could be a good test of the personal appeal of Mark Warner in Southwest Virginia versus the "War on Coal" rhetoric in Republican attack ads.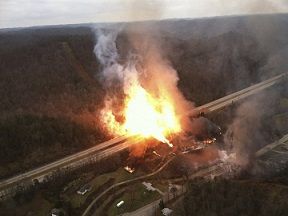 Like his discredited predecessor and kowtowing to the fossil fuel sector, Governor McAuliffe has embraced an "all of the above" energy plan that begrudgingly mentions renewable energy. Tomorrow he'll foist it at the
Science Museum of Virginia
. Some of the people he avoided in Charlottesville will be inside to greet him.
Climate change activists, including Richmond Resistance have organized an assembly that is drawing participants from across Virginia. While access to the event inside the museum is at capacity, some activists who oppose the Dominion natural gas pipeline did obtain entry and will be there. They do not intend to disrupt the event, but will wear shirts that show solidarity with those picketing outside.
The Sierra Club commended the McAuliffe plan for promoting renewables "to jump start our lagging clean energy business sector."

On the other hand, the club's Virginia director, Glen Besa, said in a statement that McAuliffe's support "for offshore drilling, and expanding gas pipelines and coal technology exports seriously undercuts his intentions to address climate change." --Associated Press via Seattlepi.com
Talk about faint praise.
And the Sierra Club understates the main objection. This plan egregiously ignores the impact of the "strategy" on climate change. Between the lines is a pragmatic acceptance of fracking and the resulting threat to aquifers and the atmosphere; just to mention a couple of things vital to the environment.
There appears no serious investment in wind and solar energy contained in the 461 page plan. The Governor's continued pragmatism on climate change and other issues may do more to suppress Virginia's Democratic vote in 2016 than any Republican scheme, much to the chagrin of a close and personal friend. In both 2008 and 2012, Barack Obama won the presidency and Virginia because he cobbled together a new Democratic majority, one composed of young voters under 40; women, especially single women; Blacks; Hispanics; Asians; Jews...just about everybody except for white men, older married women, and evangelicals.
I'm both heartened and worried about the emergence of that new majority, one that has the potential to rival the coalition FDR put together, a coalition that put in office political leaders who gave us the social safety net we have today. I'm heartened for the future, but I'm worried about the present, especially about state and local elections and the ability of Democrats to motivate those same voters to come to the polls in every election.
Key is the fact that Obama voters twice gave him victory. In 2008 many in the GOP rationalized his win as coming from the disgust of voters with George W. Bush, and that may have been somewhat true. However, the 2012 victory was achieved by President Obama running on his own record, in a time of horrible economic hangover from the first financial panic since the Great Depression. That's proof that Obama and his campaign leadership had the ability to appeal to the emerging Democratic majority I described and to set up the ground game to get out their vote.
We have a critical election coming up next year in Virginia, one that simply cannot duplicate the disaster that occurred in 2009. Bob McDonnell in moderate drag was bad enough. (Never forget he turned into "Transvaginal Bob.") Now, Ken Cuccinelli is trying to palm himself off as a mild-mannered middle-of-the-roader. We can't allow him to succeed. We need candidates in 2013 who can appeal to the new Democratic voters and can motivate them to action. If the Democratic ticket is composed of three white men over the age of 50 who simply come across as the same-old, same-old politicians, what appeal will they have to those up to now, presidential-only voters?
Earlier today,
Lowell brought to our attention the enthusiasm gap
between Virginia Democrats and our Republican colleagues as we close out 2011 and look ahead to 2012 and 2013. Republican candidates are coming out of the Tea Party woodwork to prepare for statewide runs in 2013, while the Democratic side is silent. I joined the comments to promote discussion of several observations I have on the matter, but I wanted to pull them all together in a diary to get more discussion and throw out some more controversial thoughts.
First, 800 pound gorilla in the room is the Junior Senator from Virginia, soon to be Senior Senator, and former "His Excellency" Mark Warner.
There is a push in the party to get Warner to return to Richmond in 2013 as the only way to reverse the party's fortunes after setbacks in 2009 and 2011. You can see my comment on this possibility here. For this diary I'll just say that until we get a clear statement from Warner one way or another I wouldn't count on the Democratic lead up to 2013 to come alive with announcements.
Next, to borrow from Lowell, "why would any sane Democrat WANT to be governor of Virginia?"