Home
Tags
Dominion Virginia Power
Tag: Dominion Virginia Power
The Atlantic Coast Pipeline (ACP) is supposedly designed to bring fracked natural gas to theoretical markets in Virginia and North Carolina. This environmentally devastating...
by Adam Siegel Virginia Democrats face a real choice in the primary as to who will be the Democratic nominee for (and next) Governor of...
Dominion Virginia Power is projecting that the capital cost of a third nuclear reactor at its North Anna facility will total over $19 billion, according to filings in its 2015 biennial review before the State Corporation Commission (PUE-2015-00027).
This works out to over $13,000 per installed kilowatt, according to the testimony of Scott Norwood, an energy consultant hired by the Attorney General's Department of Consumer Counsel to analyze Dominion's earnings evaluations. He notes that this capital cost is "approximately ten times the capital cost of the Company's new Brunswick combined cycle unit," which will burn natural gas.
As a result of this high capital cost, the "total delivered cost of power from NA3 is more than $190 per MWh in 2028." That translates into 19 cents per kilowatt-hour.
By comparison, in 2014 the average wholesale price of electricity in the PJM region (which includes Virginia) was 5.3 cents per kWh. Dominion currently sells electricity to its customers at retail for between 5.5 and 11 cents/kWh.
In other words, NA3 is ridiculously expensive.
Dominion had kept its cost projections for NA3 secret until this rate case forced the disclosure. Previously, executives had acknowledged only that the cost would be "far north of 10 billion."
This cost revelation may point to the real reason Dominion pushed so hard for SB 1349, the 2015 legislation that insulates the company from rate reviews until 2022. As Norwood testifies, "DVP forecasts a dramatic increase in NA3 development costs over the next five years, during which there will be no biennial reviews."
This winter Dominion Virginia Power promised Governor Terry McAuliffe it would build 400-500 megawatts (MW) of utility-scale solar power in Virginia by 2020, part of the deal it cut to gain the governor's support for a bill shielding it from rate reviews through the end of the decade. The company also took a welcome first step by announcing a proposed 20-MW solar farm near Remington, Virginia.
The applause had hardly died down, though, when Amazon Web Services announced it would be building a solar project in Accomack County, Virginia, that will be four times the size of Dominion's, at a per-megawatt cost that's 25% less.
Why such a big difference in cost? The way Dominion chose to structure the Remington project, building and owning it directly, makes it cost more than it would if a third party developed the project, as will be he case for the Accomack project. That means Dominion is leaving money on the table-ratepayers' money.
There is nothing wrong with the Remington project otherwise. The site seems to be good, local leaders are happy, and solar as a technology has now reached the point where it makes sense both economically and as a complement to Dominion's other generation. But by insisting on building the project itself, and incurring unnecessary costs, Dominion risks having the State Corporation Commission (SCC) reject what would otherwise be a great first step into solar.
And that's a crying shame, because solar really is a great deal for consumers these days. Utilities now regularly sign contracts to buy solar for between 4.5 and 7.5 cents per kilowatt-hour. Compare that to the 9.3 cents/kWh cost of electricity produced by Dominion's newest coal plant in Virginia City, and it's no wonder that solar is the fastest growing energy source in the country.
Utilities get those rates by buying solar energy from solar developers, not by playing developer themselves. From the ratepayer's point of view, developers have three advantages over utilities: they are experts at what they're doing, they work on slimmer profit margins, and they get better tax treatment. Dominion loses all three advantages if it builds the Remington solar farm itself.
Dominion Resources and its regulated subsidiary, Dominion Virginia Power, are gambling big on natural gas. But while the utility giant will be a winner if gas prices stay low over the next 20 years, the risk of losing this bet is very real-and the risk is being borne disproportionately by Virginia consumers.
Ever since the shale gas boom sent natural gas prices into a tailspin beginning in 2008, Dominion has increasingly been putting its chips into gas. Its Virginia subsidiary just completed a 1,329 megawatt (MW) natural gas plant in Warren County, began construction last year on a 1,358 MW gas plant in Brunswick County, and last month announced plans for a 1,600 MW plant in Greenville County, to be operational in 2019. Virginia ratepayers will foot the bill for construction costs, plus the cost of operating and fueling these mammoth plants for decades to come.
But while Virginians tend to think of Dominion as an electricity provider, its bigger business line is in natural gas transmission and storage. According to the Dominion website, its subsidiary Dominion Transmission, Inc. maintains 7,800 miles of pipeline in six states and operates what it says is one of the largest underground natural gas storage facilities. Another subsidiary operates 1,500 miles of pipeline in South Carolina and Georgia. The company is moving aggressively to add and upgrade compressor stations and build additional pipeline capacity in West Virginia and Pennsylvania.
It is also angling to add a massive 42-inch diameter, 550-mile gas pipeline to run from West Virginia through Virginia to the coast in North Carolina. Promising a vast new supply of cheap fracked gas for industrial users, Dominion has won the support of lawmakers like Virginia Governor Terry McAuliffe while galvanizing opposition from landowners and environmentalists.
Meanwhile, Dominion has another game afoot, with plans to begin exporting liquefied natural gas from its Cove Point, Maryland facility. Upgrading the facility will cost the company $3.8 billion, and running the liquefaction facility will require 240 MW of power (using more natural gas). Natural gas is so much more expensive in foreign markets that Dominion considers the gamble worthwhile, even as it cites a U.S. Energy Information Administration study for the proposition that little or no natural gas would be exported if the U.S. price "increases much above current expectations."
No, you can't always get what you want.
You can't always get what you want.
You can't always get what you want.
But if you try sometime you find,
You get what Dominion Power wants.
--With apologies to the Rolling Stones
I guess there's a reason I never made it as a songwriter. That last line is a disaster. But that, in a nutshell, is what happened to SB 1349, known as the rate-freeze bill, the ratepayer rip-off, or the Dominion bill, depending on whether you were pro, con, or still trying to figure it out.
The bill began and ended as a way for Dominion Virginia Power to shield excess profits from the possibility of regulators ordering refunds to customers. Along the way, Appalachian Power jumped on board, even though its president had already admitted the company had been earning more than it should.
When we last looked, SB 1349 was undergoing radical rewriting on the floor of the Senate, in real time. Conflicting amendments were being passed around. Outside the chamber, lawmakers from both parties were huddled in hallways with Dominion lobbyists. The coal caucus had already tacked on language making it harder to close coal-fired power plants. Now the Governor, progressive leaders and clean energy supporters were pushing amendments guaranteeing more solar and energy efficiency programs.
To get a sense of how impossible it was for the rank and file to follow, check out the bill history with its amendments offered and rejected, and the readings of the amendments waived.
With cameras rolling and the clock ticking, senators made speeches about provisions other people told them were now in the bill, but without anyone having the time to read the language they were expected to vote on. That being normal, they voted on the strength of promises made and assurances given. A solar array that would have more than doubled Virginia's solar power will not be built after all, with the developer blaming Dominion Virginia Power and other utilities for their lack of interest in buying the output.
The Winchester Star reports that the 20-megawatt array-100,000 solar panels, capable of powering 20,000 homes-had been planned for 145 acres of agricultural land in Clarke County. A spokesman for the developer, OCI Solar Power, said the company allowed its land option to lapse "due to the lack of long-term solar procurement efforts by Dominion and other VA utilities."
This shouldn't surprise anyone. Virginia has done little to encourage our utilities to buy solar power, and so for the most part they haven't. The state's voluntary renewable energy goal is a sorry dishrag of a law. It can be-and is-met with old, out-of-state hydro plants, trash burning, and wood. And because our utilities have a state-sanctioned monopoly on power sales, customers who want solar power can't go buy it from someone else.
But if it isn't surprising for Virginia to lose a big solar opportunity due to utility intransigence, it is stupid. Virginia consumers would love to buy solar energy, local governments would love to have solar farms generating tax revenue, and local businesses would love to create solar jobs. A win-win-win opportunity is being wasted, at a time when lawmakers complain about how hard it is to reduce our carbon emissions.
Even Dominion says it wants utility-scale solar (eventually), but it wants to build its own so it can earn the fat return on equity guaranteed to it by Virginia law. (If the utility buys power from someone else, it can pass along the cost to customers, but it doesn't earn a profit.)
Last year the General Assembly overwhelmingly passed a bill to support solar development, and then failed to fund it. Governor McAuliffe's energy plan talks a good game on solar, but it's toothless. We will continue to miss out on opportunities like this one until we have a law that requires Virginia utilities to buy solar, or lets consumers contract for it directly from any willing seller.
Or better yet, both.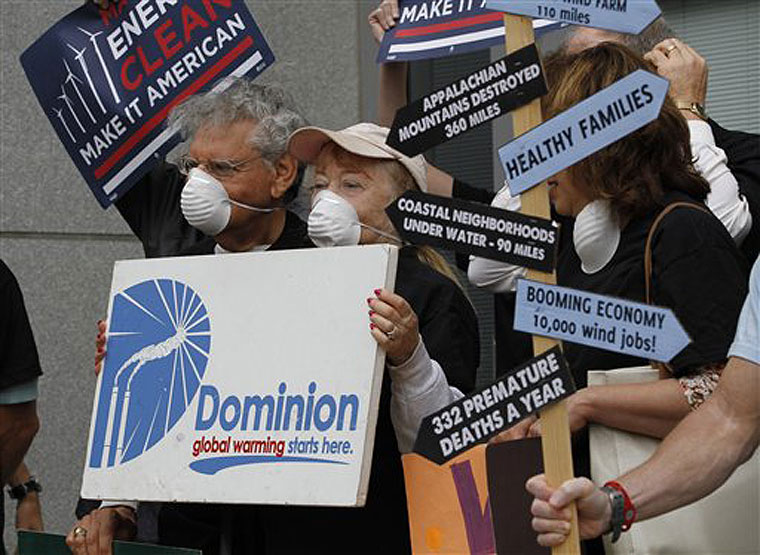 While wind power continues to grow across the country, the winds of hypocrisy have blanketed the Commonwealth of Virginia in the form of Dominion Virginia Power. While Virginia's energy Goliath leased close to 113,000 acres of the Atlantic Ocean off Virginia Beach to supposedly construct an offshore wind farm, "their statements and company documents showed they have no intention of building anything larger than a small, two-turbine offshore test project unless the costs come down." Did I also mention that Dominion Virginia Power's executives are liars?
On the one hand, it's impressive that Dominion Virginia Power would go to such great lengths to deceive the people of Virginia into believing that it was serious about Virginia's future. During a six-round auction held by the Department of the Interior, Dominion managed to outbid Apex Virginia Offshore Wind with a $1.6 million winning bid to build wind turbines 27 miles off of Virginia's coast. As it turns out, Dominion's investment in Virginia's energy future was nothing more than an investment in protecting Dominion's virtual monopoly on large-scale renewable energy efforts off Virginia's coast.
By staving off serious competitors from actually following through on building large scale wind farms, Dominion Virginia Power has fortified its comfortable place as Virginia's fossil fuel distribution king. That is, a push towards renewable forms of energy like wind power would disrupt Dominion's current business model and potentially reduce its profits in the short run. Cross-posted from that paragon of journalism and reporting Richmond Progressive Examiner.
Dominion Virginia Power would like to build another power plant in Brunswick County that will allegedly save Virginians money over its "expected life" while reducing the quality of living over the course of the "expected lives" of several generations who have been forced to live with more dirty fossil fuel sources of energy (this last half is my own assessment!).
In its unshaking thoughtfulness for its 'customers', Dominion Virginia Power has proposed building a $1.3 billion, 1,358-megawatt, gas-fired power plant close to a town called Lawrenceville in Brunswick County, Virginia. In making a case for its construction, Dominion is arguing that the new gas-fired power plant will save customers almost $1 billion over the projected life of the power plant relative to the "next best alternative."
The alleged demand for more generating capacity would be met with this new plant, according to Dominion. But an State Corporation Commission (SCC) Hearing Examiner, A. Ann Berkebile, didn't agree with Dominion's assessment, and coming from anyone inside a historically Dominion-friendly agency like the SCC, the Hearing Examiner's conclusion was all the more powerful.
Congressional Republicans, led by House Majority Leader Eric Cantor (R-VA), have been blocking extension of several key clean energy tax credits, investments that represent a
tiny fraction of the subsidies received by the oil, gas & nuclear industries
over time. And here in Virginia, officials have dragged their feet on encouraging offshore wind and been
accused of letting Dominion Virginia Power slow down the process
.
Now the GOP's ideological war is having real consequences and costing Virginia jobs at a critical time for the fragile economic recovery. Wind energy giant Gamesa has announced that if the U.S. and Virginia can't commit to wind energy, it can't commit to the U.S., building key new wind prototypes off Spain & Africa instead: