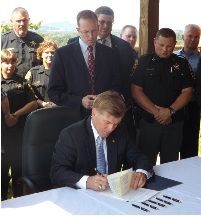 Virginia Delegate Rob Bell (R-58th) hails a set of laws directed at sex crimes against children he walked through the Virginia Legislature at the height of the Sandusky scandal. If they were so essential, why did it take Governor McDonnell months to "sign" them?
In fact, if they were anything more than gimmicks, if they solved any threat to public safety, why weren't they passed as emergency legislation? And why did their effective date pass without fanfare? Instead, last Friday, they provided a photo op for Bell's campaign for Attorney General.
Over the last two years in Virginia there have been 215 adults convicted of these vile crimes, and only 10 cases have resulted in life sentences. The median sentence overall was only 13 years. I believe the only sure way to keep other children safe is to keep these convicted sexual predators locked up for the balance of their lives. - Delegate Bell's AG campaign E-mail
And who was Attorney General over the past two years and in the years just preceding? Who was governor during those same two years? And when did either Cuccinelli or McDonnell ever mention mandated reporting for public and private college employees before the Sandusky scandal? Or condemn the Republican Pennsylvania Attorney General's foot dragging in the Sandusky case?
As college football bowl season gets into full swing,
New York Times
columnist Joe Nocera reminds us that the games will generate millions in revenue for the schools and coaches - and
almost nothing for the kids actually playing
:
The hypocrisy that permeates big-money college sports takes your breath away. College football and men's basketball have become such huge commercial enterprises that together they generate more than $6 billion in annual revenue, more than the National Basketball Association. A top college coach can make as much or more than a professional coach; Ohio State just agreed to pay Urban Meyer $24 million over six years. Powerful conferences like the S.E.C. and the Pac 12 have signed lucrative TV deals, while the Big 10 and the University of Texas have created their own sports networks. Companies like Coors and Chick-fil-A eagerly toss millions in marketing dollars at college sports. Last year, Turner Broadcasting and CBS signed a 14-year, $10.8 billion deal for the television rights to the N.C.A.A.'s men's basketball national championship tournament (a k a "March Madness"). And what does the labor force that makes it possible for coaches to earn millions, and causes marketers to spend billions, get? Nothing. The workers are supposed to be content with a scholarship that does not even cover the full cost of attending college. Any student athlete who accepts an unapproved, free hamburger from a coach, or even a fan, is in violation of N.C.A.A. rules.