From 2020 VA-01 Democratic nominee Qasim Rashid, who is 100% right about this: Can we talk about the mass voter fraud and suppression in our...
Yep, this blog is sponsored by your theoretically state-regulated monopoly utility, Dominion Power. I say "theoretically state-regulated" because, actually, it's the other way around,...
First, here's Virginia House Speaker Bill "ALEC" Howell linking to a brain-dead, click-bait story by the Washington (Com)Post and claiming - against reams of...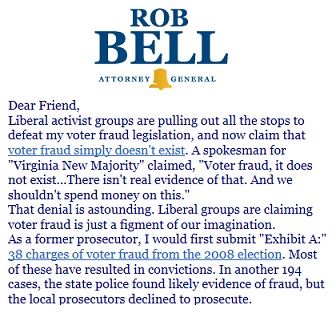 Delegate Rob Bell (R-58th) is touting his voter ID bill by perpetrating a fraud. The fraud is either his intellectual capacity or his argument supporting the bill.
Bell's "Exhibit A:"
a report that 38 persons were charged with voter fraud in 2008. Guess what.
None of them misrepresented their identity.
This is the kind of fellow Democrats dream of running as the Republican candidate for Virginia Attorney General. But then again, his Republican opponent, Senator Mark Obenshain (R-26th) is probably more familiar with voter fraud, hailing from the seat of Republican voter fraud shenanigans: Harrisonburg. Unlike Bell, maybe Obenshain read the entire RTD article and has refrained from using it as the rationale for his own bill (SB 1256).

"None of the cases appeared to involve someone who misrepresented his or her identity at the polls to vote." - Richmond Times Dispatch
How is it that Rob Bell's bill (
HB 1787
), or Obenshain's for that matter, will solve any real voter fraud issues? It really doesn't matter and they don't care. Bell's bill won't go into force until 2014. If it is so important, why the delay? Doesn't matter, that isn't his objective. He simply wants to pander to the Republican delegate demographic that Ken Cuccinelli's subterfuge has delivered to their convention this year.
By the way, both of the bills require the state of Virginia to provide the form of required ID. Obenshain's places a photograph on the voter's registration card. How's that for a subtle way to suppress the vote? Last week a contractor for the Republican Party of Virginia was arrested in Harrisonburg and charged with throwing away voter registration forms. Attorney General Cuccinelli, no stranger to using his office for partisan gain, so far has refused to investigate. There's every reason to believe these violations could be more widespread. The company the contractor worked for has been operating in localities across the Commonwealth. There's no excuse for not protecting the vote and ensuring the integrity of our elections so we're asking for help.
Yesterday, Congressmen Jim Moran, Bobby Scott, and Gerry Connolly called on Attorney General Eric Holder and the Department of Justice to investigate. Please join the Democratic Congressmen of Virginia and ProgressVA in calling for federal officials to investigate voter registration fraud in Virginia.
For some, the only rationalization for an electoral defeat is vote tampering. If they had substantive rather than anecdotal evidence there would be cause for alarm. Instead, the purveyors of this myth use innuendo and predisposition of their audience to convince. Where were these facts in Virginia's legislative debates?
"It is not the people who vote who count; it's the people who count the votes." - Josef Stalin
This is a cause celeb without a justifiable cause. If the integrity of elections were really the concern, the few individual voters who have been prosecuted would not be the focus. The largest Virginia case of tampering did not occur at the ballot box, but in a Registrar's office where 100 or so eligible voters were denied registration. That single case involves many more votes than the few individual cases not to mention the loss in the institutional basis for trust in the process. The legislature did nothing to protect us against the greater demonstrated threat to the legitimacy of the electoral process. Rather, Republicans are putting into practice Stalin's maxim.