by Cindy Right-wing blogger Jim Bacon casually says in a recent post (in his trash - climate denial, immigrant bashing, etc. - blog, which I...
The Richmond Times Dispatch is the Commonwealth's capital's local rag. It is the rag perhaps most likely to be on the desk of government...
Over at Bacon's Rebellion, which is proudly sponsored by our friends at Dominion Power, Jim Bacon interviews "Aaron Ruby, a spokesman for Dominion Transmission,...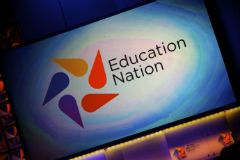 The for-profit "education" charade trots out two more pathetic claims. Minority students are "shut out" of the public higher education system and the higher student loan default rate of "career college" attendees is the government's fault. These institutions are nourishing their prey through a government subsidized free market ponzi scheme.
One shame in all of this, completely missed by the apologists (including Brian Moran) is that without federal grants and loans, these parasites could not exist at all; the market would do due diligence. Ignored by champions of the market are the realities of the market itself which in a complex world holds nothing ceteris paribus. Adam Smith's invisible hand is unencumbered by the flaws and shortcomings of human perception shaped in each individual's basket of experience. Smith lived in an essentially agrarian economy where those participating in the market had equal access to information; sometimes equally uninformed.
Citing a study conducted by the Virginia Career College Association, Jim Bacon argues that without the private sector, minority students would be "shut out of the higher education system." There are some seductive numbers. In 2008, 13.8% of students attending public institutions were African-American while 47.4% of the students enrolled in for profit schools were African-American. Clearly this was an attempt to appeal to undiscerning liberals and embolden righteous conservative free marketeers. However, Bacon is actually arguing that the market failed. That those who failed selection to the credible educational institutions were somehow maligned by the all knowing market forces. Uninformed, those failed applicants, the vagaries of the market misinterpreted, flock to the web of the private sector parasites.