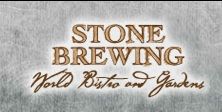 Governor McAuliffe, stung by legislative setbacks that he foresaw when he campaigned saying that he didn't want to be Governor if he faced a veto-proof General Assembly, is going to his advertised strong suit: jobs. It's a gamble. And he's playing a high profile hand with Stone Brewing.
"I've got to tell you, I'm excited. I have worked this like a dog." - Governor McAuliffe
Stone Brewing wants to expand East Coast sales. A brewery located on our side of the Mississippi expands presence and reduces shipping costs. The potential sites for the new brewery have been narrowed to Ohio and Virginia. Each state has its own transportation advantages with Ohio arguably better situated. But only Virginia allows sales of Stone Brewing's higher alcohol by volume (ABV) content brews.
There is something of an irony here. The competition is between Ohio and its Republican Governor, John Kasich and Virginia and our Democratic Governor. But it is Ohio's Republican legislature that stands in the way of Ohio's successful courtship of this employment plum.
"Stone Brewing expects to invest up to $60 million in its east coast brewery which will include a restaurant and retail area. The company anticipates 375 jobs would be created over 5 years." - WOSU Public Media
Last December, Ohio state Democratic Representative Dan Ramos introduced a bill that would adjust the allowed ABV content, removing that obstruction, if it really is one, from consideration. It had bipartisan support and an almost equal number of the 21 cosponsors from each party. But this will be familiar to Virginians: Ramos's House Bill (HB) 391 went to committee where it has since languished.
From what Stone Brewing has announced about the decision to locate, one can deduce that Ohio is the preferred location. The anticipated announcement allows time for Ohio legislative action on HB 391 but action has been slow coming. For once a Republican legislature may offer Governor McAuliffe an advantage. Sadly it isn't Virginia's.
In Florida, you must register to register persons to vote unless they are immediate family or you work for the state. It is more difficult to register voters there than it is to get a concealed carry permit in Virginia. McDonnell is missing the boat on the voter ID veto.
As indicated last week, the voter ID bill that the Governor seems intent to allow to go into law without his signature is unimaginative child's play on the part of Virginia Republicans. In Florida, other than the two exceptions, anyone who solicits or collects any voter registration application is or is an agent of a Third-Party Voter Registration Organization (3PVRO). Some specific responsibilities of 3PVROs:
Timely submit all voter registration applications collected, including incomplete applications
Serve as a fiduciary for the applicants from which it collects voter registration applications
Ensure its assigned ID # is on any voter registration application
Keep its registration and registration agents' information updated within 10 days of any change
File monthly reports on Form DS-DE 123 no later than the 10th of each month reflecting an accounting of all registration forms it provided to and received from its registration agents during the preceding month
So why, in a year that he could be on the Republican national ticket, McDonnell even hesitates is the bigger question. And the biggest question of all is why, if he is the leader of the state party, he cannot manage to influence his own party members in the legislature to let go of this voter ID nonsense. Next year, he and his could ramp up suppression so much more effectively following Florida's (and ALEC's?) lead.