Lovely, eh? Of course, the sign is completely backwards; in fact, Trump is the candidate who has expressed support and/or admiration for authoritarian/dictatorial regimes,...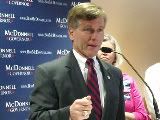 What we have here, is the failure of circumspection so common among neo-conservatives. The "here" are the personal attacks resulting from yesterday's
post about former Governor McDonnell's accumulating and compounding hypocrisy
. Somehow facts and evidence are irrelevant in the neo-conservative world unless they support your position.
It must be painful to have fallen for the original McDonnell shtick hook, line and sinker. Accepting this new fiction of a defense with all its twists, turns, and subplots as relief for the cognitive dissonance caused by recent revelations provides relief. Then someone points out the concurrent serial hypocrisy of McDonnell embracing a priest who casually violated his vow of celibacy with another man; behaviors McDonnell has blatantly condemned as antithetical to his core conservatism. This resonates and echoes hypocrisy. There is no argument that can refute the blatant self-serving behavior of their fallen hero, so resort to personal attacks.
Suddenly the raw truth of the McDonnell formula for defense being revealed is turned on its head and becomes an attack by the left on homosexuals. That is some desperation. This is just another brick in the wall McDonnell is building to defend himself. And we are cautioned that if we want to sway public opinion we need to make nice. Part of one rant is not only unintelligible but also contains utter nonsense:
"But it does show you an insight into the liberal extremist mind. Democrat (sic) bloggers, especially Lowly (sic), must not really like gay people. They need their votes, and the fact that they don't like religion makes gay people social "brothers in arms" with hatemongers like Lowly (sic), but in reality they only use gay people to shore up their own power."
Where to start?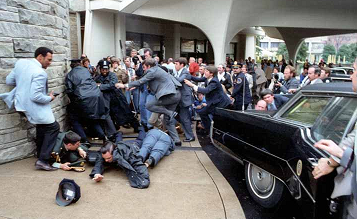 Let's begin that discussion about guns: the current application of our Second Amendment protects the proliferation of weapons. At the time it was written, it was damn difficult to kill with them, though Aaron Burr managed not long thereafter. That amendment was never meant to aid and abet carnage.
I don't remember not owning a firearm. My first was given as a Christmas present when I was young; a Savage over and under .22/.410. My father instilled the greatest respect for firearms in me. He locked them away and I did not have access unless there was a purpose. Later I learned that upon his return to college from the Pacific theater and engagements on Tarawa and Saipan, he'd kept a handgun at his bedside. One night late, a spring roller blind in the bedroom snapped open and by the time he awoke he had locked, loaded, and drawn down on my mother who'd jerked up next to him in bed. He'd nearly killed her. Weapons in their home remained secured after that.
As a college student, I carried a weapon wherever I travelled. I did not have one with me the morning in Richmond when three fellows with sawed off shotguns came into the convenience store near Carytown where I worked. Thinking back, I don't think it would have helped the situation much, even if I'd open carried. After all, they were only exercising their own open carry rights.
You'll find no one more rationally and sentimentally supportive of the second amendment than I. But all this silliness, false bravado, and acting out about what gun rights mean misses the problem it has created: we have guaranteed access and availability of firearms to every individual regardless of their capacity, intent, or history. And our own Governor McDonnell is on record as supporting "the more the merrier" approach to provision. This outcome and attitude is sinfully irresponsible and far from the intent of the framers.