Home
Tags
Virginia Organizing
Tag: Virginia Organizing
From Virginia Organizing: VIRGINIA ORGANIZING HOSTS TELE-TOWNHALL WITH SENATOR TIM KAINE ON COVID CRISIS AND EMERGENCY RELIEF Newport News, Va. – Today Virginia Organizing held a tele-townhall featuring...
From Virginia Organizing: VIRGINIA ORGANIZING AND 100+ PUBLIC OFFICIALS CALL FOR CONGRESS TO DIRECT RELIEF FUNDS TO COMMUNITY PRIORITIES Richmond, Va. – Today Virginia Organizing released a letter...
Two press releases this morning from Virginia Organizing, "a non-partisan statewide grassroots organization dedicated to challenging injustice by empowering people in local communities to...
Yesterday's Washington Post story on Dominion Energy's "campaign to elect a pipeline" - astroturfing, disparaging pipeline opponents as "absolutists," attacking the media for not toeing...
From Virginia Organizing:  Lee County, Va.—A recently released report from the Rural Power Project shows undemocratic election procedures resulting in disproportionate board representation in electrical... If today's demonstration in Verona is any indication, the movement to ban migrant children from communities across the nation does not enjoy broad support. A report that such children were being administered at the Shenandoah Valley Juvenile Detention Center brought an immediate effort to organize a local protest for today.
But one story in Verona was that the counter-demonstration brought out just as many people who support following the laws regarding the processing of migrant children. Another story is that both groups got along without incident mostly by ignoring each other. They marched to the protest site, the highway 612 I-81 overpass, on opposite sides of the west bound lane. At the bridge, they kept their integrity, left and right of center.
Local tea party leader Dr. Edward Long claimed no role in organizing today's protest when contacted by the local newspaper. However, if t-shirt slogans and bumper stickers are any indication, the protesters share most of the tea party attitudes and political perceptions. Virginia Organizing member Barbara Lee indicated that group was involved in the counter-demonstration.
The press was there. The interviews were the normal shallow questions about the questions of the day. One interview with a woman who said she legally immigrated from Canada demonstrated a typical personal anecdotal depth of knowledge that is so lazily generalized. Her chief complaint seemed to stem from the requirement for her to have gone through a laborious and costly process to immigrate that migrants were managing to avoid. How quickly she has adapted the conservative attitude Lowell mentioned at the end of his piece about Senator Warren just yesterday. But the fact is that migrants who enter without application stand to face a much more laborious and costly experience with far less chance of success.
The other subject in which the protesters seem completely steeped is the human trafficking aspect of the issue. However, it seemed they were mixing and matching trafficking and transportation together so that it made more sense to them. Scratching the surface of any aspect of the current migrant situation does neither side of the debate any favors.
What should be apparent to all sides of this issue is that our current immigration system is antiquated and ineffective. They should be at their Congressional Representative's office demanding immigration reform, not grandstanding on a bridge shouting into the wind. And there won't be any progress at all if both sides continue to ignore each other.
We are no closer to expanding health care coverage in Virginia than we have ever been. Governor McAuliffe blames the tea party but that is too kind to the legislators who do not support expansion. They are either math challenged or corrupt, morally and/or ethically. The tea party provides obfuscation.
"There still is a House of Delegates which remains unmoved and unmoving on this issue." - Reverend John Peterson speaking at an Organizing Virginia vigil for Medicaid expansion just prior to the Senate joining the forces of obstruction
Hospitals and patients in Virginia have to live within the reality of the law whether or not one agrees or disagrees with the Affordable Care Act, explained John Peterson, Chairman of the Board of Augusta Health. So it is in all our best interests to find a solution that makes the law as workable as possible for as many patients and those who serve them as possible. $300 million in annual payments to Virginia hospitals were eliminated under the Affordable Care Act including disproportionate share hospital payments for treating the uninsured and cuts to Medicare reimbursement rates. Those Medicare reductions were to be offset by Medicaid expansion in the states.
Peterson outlined the effects of failing to expand Medicaid. Augusta Health provided some $25 million in uncompensated care last year and an additional $5 million in community benefits related to care.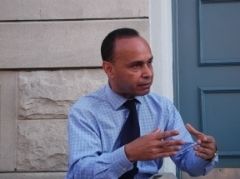 Representative Luis Gutierrez (D-IL) came to call in Representative Bob Goodlatte's (R-VA 6th) district yesterday. He seeks a dialogue about immigration reform with Goodlatte, who controls which immigration bills are considered in the House. Goodlatte declined the invitation to appear at the event in Harrisonburg due to a scheduling conflict.
The Chicago Congressman made two appearances in Virginia on Monday as part of an effort to break the immigration reform deadlock. The appearance in Harrisonburg was a Virginia Organizing event and was attended by a crowd of some 400.
Gutierrez said he came to Harrisonburg because he had been invited. This event, he said is one of as many as a thousand such that will occur across the country demonstrating support for comprehensive immigration reform "even in Republican parts of Virginia."
"...in every survey, whether the surveys are conducted by a conservative leaning institution or a liberal leaning institution, all find, in general, people are for comprehensive immigration reform." - Representative Gutierrez