(Welcome to this twelve part series looking at the challenges, obstacles, and future possibilities of Virginia Democrats. If you've missed past diaries, follow these links: Day One, Competitive Districts. Day Two, Turnout Problems. Day Three, Past Mistakes. Day Four, Downstate Democrats. Day Five, Unchallenged Incumbents. Day Six, Present Opportunities. And as always, at the end of the diary there is a poll! Thank you for reading, and have a happy 2014!
)
On the seventh day of Christmas, the Commonwealth of Virginia gave to me ...
Encouraging signs of growing Democratic trends in the state's largest counties and most competitive districts!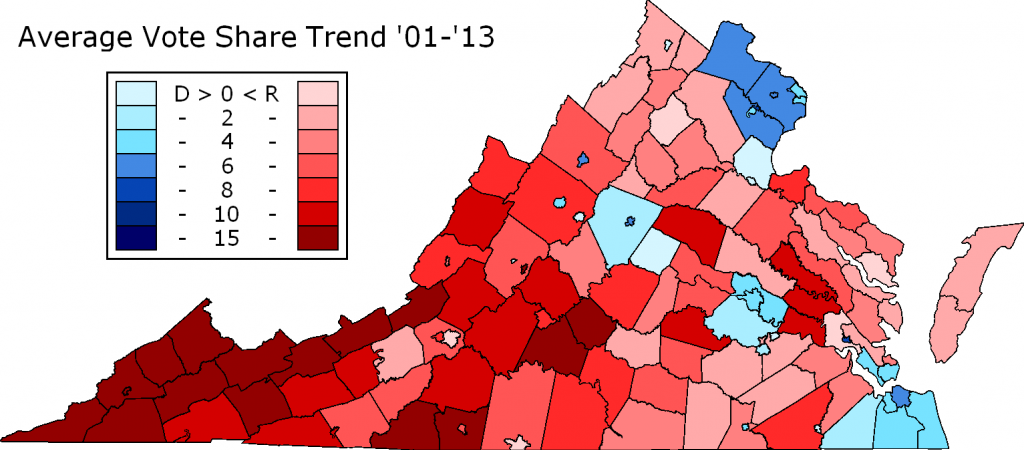 Take a look at the vote trend between 2001 and 2013 from Daily Kos. There's a lot of red there, but it's in the most rural, slow-growth parts of the state. All of the major population areas, from Northern Virginia to Richmond to Tidewater, are trending blue. The population growth in the state is heavily concentrated in this urban crescent. Favorable demographic trends and the alienation of moderate suburban voters by the hard-right have combined to turn Virginia into a blue state ... at least statewide in higher turnout elections.
Yeah, but what about in the General Assembly?
"McAuliffe leads Cuccinelli in Virginia governor's race!
That is the type of story I want to wake up to on a brisk autumn morning. But look beneath the headline-worthy results and there are some big concerns ahead for Virginia Democrats. There is just over a month remaining to avoid another 2005-style outcome, where the joy of sending Tim Kaine to follow in Mark Warner's footsteps was mixed with the agony of defeat for the rest of our statewide ticket and disappointment at the lack of coattails in the General Assembly. Like any good remake, the cast of characters in 2013 is different from the 2005 original, but the ending may be the same.
In 2005, Jerry Kilgore ran an offensive, dirty campaign against Tim Kaine. The tax increases passed by the Republican General Assembly divided Kilgore's party; his campaign was a bumbling effort to avoid attacking the turncoats that helped Mark Warner while also promising to roll back the historic revenue increase that provided for a significant investment in public education. Usually if you can't say anything nice, you're not supposed to say anything at all, but Kilgore instead found that his only message was to go negative against Tim Kaine. We all remember the October ad referencing Hitler and Tim Kaine's religious and moral objection to the death penalty.
Kilgore's fate was sealed, but only narrowly. Russ Potts, a moderate Republican exiled by his party's primitive proto-Tea Party wing, provided a vehicle of protest for moderate Republicans fed up with Kilgore. Polling as high as 4 to 5 percent in the month before the election, Potts received just over 2% of the vote. It might not sound like much, but it's the highest showing for a third party candidate for Governor of Virginia since William Story's 13.38% in 1965 as a Virginia Conservative (ignoring Henry Howell's 49.28% in 1973 when the Democrats did not run a candidate). A minor shift of other swing voters to Tim Kaine, based primarily in the suburban counties across the Commonwealth, made up the rest of the margin of victory over Kilgore.
In 2013, the Republican Party of Virginia has replaced the country bumpkin Kilgore with the Tea Party zealot Ken Cuccinelli. Faced with a signature legislative accomplishment, Cuccinelli turned hard right against Governor Bob McDonnell's transportation plan. This split could have provided an opening for Bill Bolling to run as an independent, a choice that Big Bill is probably regretting right now as he watches the no-name Sarvis polling in the double digits. Like Kilgore, Cuccinelli cannot run on any legislative accomplishments from Richmond, and now finds himself without a popular Governor to latch his campaign to. When you don't have anything positive to say about yourself, the only campaign tactic left is to attack your opponent and drag them through the mud.