(Welcome to this twelve part series looking at the challenges, obstacles, and future possibilities of Virginia Democrats. If you've missed past diaries, follow these links: Day One, Competitive Districts. Day Two, Turnout Problems. Day Three, Past Mistakes. Day Four, Downstate Democrats. Day Five, Unchallenged Incumbents. Day Six, Present Opportunities. And as always, at the end of the diary there is a poll! Thank you for reading, and have a happy 2014!
)
On the seventh day of Christmas, the Commonwealth of Virginia gave to me ...
Encouraging signs of growing Democratic trends in the state's largest counties and most competitive districts!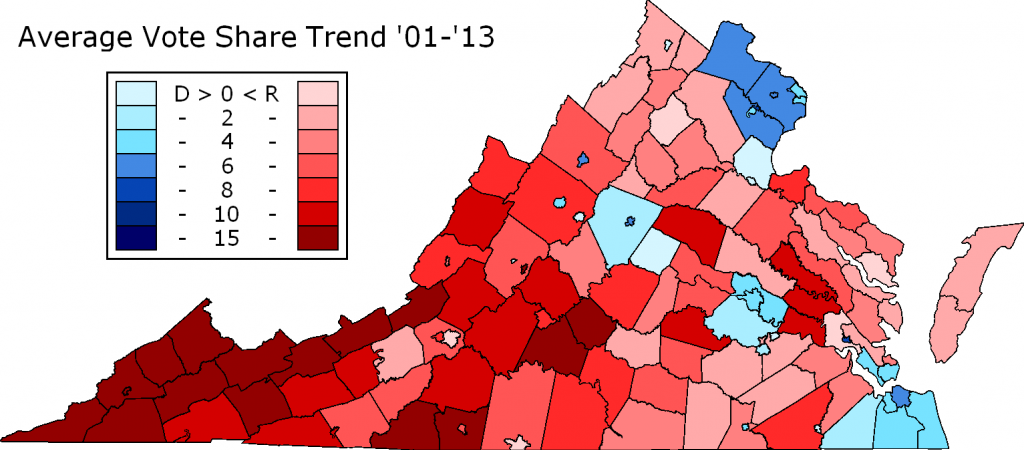 Take a look at the vote trend between 2001 and 2013 from Daily Kos. There's a lot of red there, but it's in the most rural, slow-growth parts of the state. All of the major population areas, from Northern Virginia to Richmond to Tidewater, are trending blue. The population growth in the state is heavily concentrated in this urban crescent. Favorable demographic trends and the alienation of moderate suburban voters by the hard-right have combined to turn Virginia into a blue state ... at least statewide in higher turnout elections.
Yeah, but what about in the General Assembly?