Home
Tags
Central Committee
Tag: Central Committee
By Josh Stanfield of Activate Virginia Last week, I ran across an obscure story out of South Dakota that piqued my curiosity. I'd never really...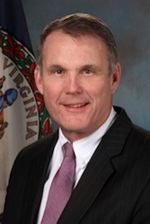 Taking a break from a long weekend of supervising the writing of vetoes in the Governor's office, Paul Reagan stopped by the quarterly Central Committee meeting this morning. He shared some thoughts, getting an enthusiastic standing ovation from the committee members.
We vetoed the MIRC becaise it is a sham. It is nothing but an obstacle to Medicaid expansion.
We vetoed the Stanley amendment because it purports to restrict an appropriation the doesn't exist.
We vetoed $18 million worth of judges because they said that the Governor could not make those appointments if they are not in session. We're for those judgships. We can get the money restored, but they are not going to restrict the Governor's power to appoint.
We don't have money for a lavish new General Assemebly building when we don't have money for homeless people.
That said, Reagan bade farewell to a cheering audience of Democrats proud of a Governor who can deal with bush league Republicans. They may have just met the man we elected and they grossly underestimated.
"I think what we saw yesterday was a continuation of what the Governor has done from the very first moment that he got into office. And that is do exactly what he said he would do in his campaign; which was to restore integrity to government, fight for health care, and bring trust back into the state government."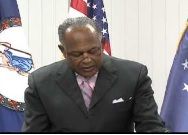 It must be tough being an elected Virginia Democrat; with Governor McAuliffe leaning on you to support his choice for the Virginia Party Chair. No matter where you stand or how this turns out, Terry will be there when the smoke clears. There is no public option. Tough business, this.
So really, the support for Dwight Jones coming from elected officials must be severely discounted. Many of them don't have a vote in this selection or have regularly failed to attend Central Committee meetings, so there they have no say either. And at this point, after the Boyd Marcus maneuver, they cannot be certain if there would be any consequences if Jones does not become Party Chair. The vote is closer than many will acknowledge and a secret ballot provides cover for the principled stand.
"Should Jones assume the chairmanship, it will be interesting to see how Democrats finesse painting Republicans as intolerant for embracing a view their own head of the party shares." - Richmond Times Dispatch Editorial
On the face, some pretty savvy members of the General Assembly have come across as illogically rationalizing their support for Mayor Jones. Calling the objections a litmus test or saying Jones is being denigrated is about the only way you can respond when your Party's Governor has leaned in on you. Rejection of litmus tests applies more appropriately to candidates for elected office, not to the face of the party. And what does it mean when you say Jones should get a pass because the Governor is at fault for the selection? If Dwight Jones aspires to be Governor, this may be his Waterloo. His choices are not what he wants them to be. They are to announce an incredible revelation or to step away. If he becomes Party Chair, he will spend four years documenting his inability to deliver on promises. Unlike
unsubstantiated claims of $40 million in capital investment
, failures to fill seats in the House of Delegates and state Senate are readily evident. Bad posture for one who will want to claim effective stewardship.
Sensing a rising tide of sentiment against the prospect of Mayor Jones' candidacy for DPVA chair, it seems the "powers that be" have chosen to short-circuit the process. This further solidifies the argument that Jones is no more than a strawman for whomever feeds his self-perceived competence.
While this certainly will save the Central Committee substantial time and effort at the meeting on March 15, if true, the announcement will come as a pre-emptive strike that is not so surprising, yet will serve to allay any illusion that the DPVA functions for the benefit of its members. And it will be good news for the Republican Party of Virginia, despite themselves, because it would guarantee that the DPVA will lack the focus required to maintain control of the State Senate beyond 2015.
The best part of this ham-handed move is that it alienates the party members who reside in districts that are currently held by Republicans; as in the grassroots members who the DPVA needs the most to accomplish any gains anywhere. While a competent, experienced, incumbent Executive Director would be able to manipulate a marionette Chair with one hand, it will probably require both hands just to keep the ship steady in the heavy rolls that can be anticipated with the staff changes that have already taken place.
Advice to the powers that be: don't ask for unanimous consent or acclamation at the Central Committee. It doesn't exist.
Update: The revised version from the RTD.