Home
Tags
John Hickenlooper
Tag: John Hickenlooper
And so, after nearly 2 1/2 years of the Trump nightmare, the 2020 presidential campaign is really starting to heat up, with part two...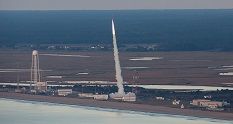 While riding the good fortune of geographic proximity to Washington, McDonnell never brought a single advanced industry employer to Virginia but was proud to take credit for every job at any new convenience store. Now it is Governor McAuliffe's turn to show that jobs aren't just a campaign talking point.
The kinds of jobs that mean something are those that will employ the STEM (science, technology, engineering, and math) workers we hear about from every politician who wants to sound like an higher education proponent. These are in industries, manufacturing and services, which pay well and contribute significantly to the GDP because they have a multiplier effect. They have supply chains that stimulate local economies by leveraging opportunities from the benefit of shorter lines of communications.
"They send you to new governors school when you are elected. We're standing outside talking ... so what'd you run on? ... We all kind of, after a while, sheepishly admitted we were going to be the jobs governor. And we realized that all thirty plus new governors at that point in time were going to be the jobs governor. The point of that is that it is a very competitive world out there." - Governor Bill Haslam (TN) speaking at the Brookings Institute
Possibly the clumsiest McDonnell attempt to weigh into advanced industry focused on Wallops Island. During his campaign for Governor he pledged a tenfold boost in state funding for the Mid-Atlantic Regional Spaceport and proposed space tourism as a natural tie-in. His only tangible legislative achievement was an initiative that amounted to a frequent flyer program for well-heeled space travelers. No miles have been accumulated in any individual account just yet.