by Kellen Squire A while back, I was acting as the triage nurse in the emergency department I work at. It was an incredibly busy...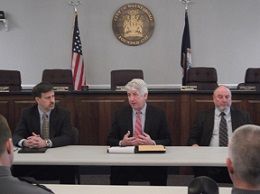 In Waynesboro yesterday Mark Herring concluded a series of productive meetings with regional officials aimed at helping the top prosecutor's office best serve the needs of communities. Unfortunately, many of the reports of these meetings have reduced the lessons to budget shortfalls. Problem? He isn't carrying a rabid social agenda.
Herring began this meeting explaining that his heart is truly with local government where he got his start in politics. Before elected office, he served as the town attorney for a small town in western Loudoun County.
As Attorney General, he has taken three major initiatives: first, is a review of systems and operations to see that the Office is operating as efficiently and effectively as possible; next is a top to bottom review of all the services and programs the Office is a part of as well as the human capital that is linked to those; and, the third piece, what he was doing yesterday, is meeting directly with local law enforcement, those on the front lines protecting the community, so he can hear first-hand about the challenges they face as well as ways they have worked with the Office in the past and ways the Office might be able to help meet the challenges they face.
The series of 22 meetings have been incredibly informative according to Herring. There have been some common themes. Funding, he said, is always a challenge. But another common theme has been mental health. There are some regional differences which you would expect in a state as large and diverse as Virginia. While overall, violent crime is down, there are some areas that are continuing to experience gang problems. In some areas the gang problem is not as visible but the gangs have become an offshoot of organized crime. Some other localities are seeing continuing problems with meth labs and prescription drugs. He also pointed out that there can be the tendency, when you take a short period of time to talk about crime, which can lead to a misimpression of an area; that he knows these communities are safe locations where a lot of people are doing a lot of good work. And it is those local successes he wants to hear about as well.