Home
Tags
James Madison University
Tag: James Madison University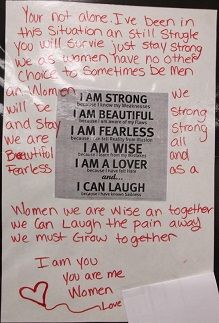 The cloak of silence surrounding
intimate partner fatalities
is nearly impenetrable. Details are buried with the victims. Family members deny evidence of abuse before their very eyes. But partners who have survived and healed provide a window on the methods and complexity of power wielded by their abusers.
What follows are stories told by women who could be your sister, mother, neighbor, or boss. These women came together in October at Charlottesville's Shelter for Help in Emergency to share their lives; to try to explain and describe how they were bound to their abusers, how they left, and how they continue to suffer though the healing process. Looking at them you would never know what is inside or be able to distinguish them from the staff at the Shelter. These are striking women who you know but who live secret parallel existences; hidden even from themselves.
The stories that follow are at once different and the same. One striking aspect of these is that the methods the abusers employ are from the same kit familiar to anyone who has studied child or elder abuse or, for that matter, financial exploitation of the wealthy in Ponzi schemes. They are just applied in different variations depending upon the situation and prey. If we recognize the tools in the toolkit, then maybe observing them being applied is the red flag to defend ourselves and others. This, as suggested in A Journey Into Intimate Power and Abuse, provides a perspective that hints a "healthy cynicism" is the necessary defense against any form of nefarious advantage.
All of these women were and are like any of us, reaching to achieve their hopes, dreams, and aspirations. What makes us vulnerable is how and when we assign trust. That vulnerability is an aspect of human commerce as is trust. Sociopaths leverage an intuition crafted from their own experiences to recognize prey and know how to "close the sale."
Note: The posters featured here line the walls of the conference room at the Charlottesville Shelter office. Like the stories that follow, there are no names displayed out of respect for the privacy and security of these survivors. (click to embiggen)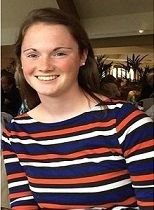 Possibly only because Hannah Graham disappeared did we learn she was a victim of foul play. Statistically, 1,137 other American undergraduates were raped that day. Why aren't they in the headlines? Bet you if four UVA football players had gone missing in five years, those cases would have been solved.
There is every disincentive for victims of rape to report their assaults. When they do, they invariably become victimized again. The deck is stacked in favor of assailants. You'd think that in the enlightened environs of college campuses this would not be so. When will the discussion about violence against women change from women avoiding potential danger to men behaving with respect?
There is nothing positive about this to learn from the leadership on Virginia's campuses. And there seems no accountability for leadership failures. The President of James Madison University (JMU), at a minimum, provided cover for the malfeasance in his administration's handling the Sarah Butters sexual assault, deflecting blame onto the victim. Governor McAuliffe plastered over the scandal of Title IX investigations across Virginia by appointing a task force to conduct a "top-to-bottom" review of procedures for investigating sexual assaults and resolving complaints at public colleges and universities. You can conduct the tightest investigations in the universe and it won't prevent the next broken life. Nice try Governor, but this won't change the climate on campuses. You want Presidents of Virginia's universities and colleges to be invested? Fire one; start with JMU President Alger who allowed Sarah Butters' dignity to be trampled upon.
The overuse of football as a metaphor for life can be irritating but sadly in the area of leadership, some college coaches are way ahead of their "bosses." Last July after Coach Charlie Strong started kicking players off of his team for their behavior toward women, ESPN commentator Rod Gilmore was asked about football players' violence against women. Gilmore, a former Stanford football player, accomplished attorney, and ESPN analyst praised Strong for doing the right thing.
"He's one of the few people who takes a strong stand against violence against women. I mean he comes out on day one and says that if you don't treat women with respect, you cannot play for him. And he's new at Texas and he backed that up today. But seriously, across the landscape of college football, we don't take it seriously enough." - Rod Gilmore on ESPN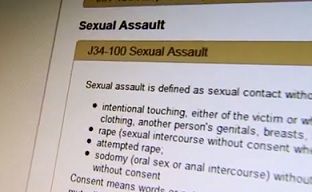 "Critics of such legislation" may reveal more than they intend when they question lawmakers' "real-world wisdom." It is that conventional "wisdom" that poisoned the well of justice in
Sarah Butters' case
. It comes down to this: rape is not about midnight wrestling matches between hormonal lovers. It's about violence.
Those quoted phrases are from a dismissive opinion piece in The Free Lance-Star that diminishes the importance of the work undertaken by Governor McAuliffe's task force to combat sexual violence at Virginia's colleges and universities. It is symptomatic of a prevailing cultural attitude toward the value of women and ignores a significantly greater social disease for which there is currently no innoculation.
In "civil" conversation involving sexual relations we usually pussyfoot and that plays into avoiding a substantive discussion about the violence. The violence has a sexual manifestation but it is actually a complete disregard for the victim; usually female (but sometimes male, by the way). It is about dominance and misogyny.
There are a number of "realities" that we want to pretend away. That one in five women on campus are the victims of sexual violence is easier to accept if, as that opinion piece does, we frame these as "misunderstandings." While there are cases of remorse after acquiescence in a relationship, we shouldn't count them in that 20%. Nor should the task force pretend that is an explanation for the alarmingly high, and likely under-reported percentage. Next, accepting that 20% figure does not indict 20% of the males on campus as perpetrators. Research shows that sexually violent perpetrators commit serially. While that may help some feel better about our culture and men in general, what it should also do is emphasize the imperative to get anybody who commits any single act of this sort off campus immediately and permanently. Plus, the number of violent acts against women that involve more than one perpetrator, often referred to as gang rape, is uncomfortably greater than we want to know...so we pretend; and women, shamed by the experience, shutter it, setting up the next target of group "affection." Not finally, but I will pause here, the abuse of authority (i.e. professors) to impose one's will on another (aka seduction) is no less a betrayal, act of violence, and rape than a forceful, physical subjugation (and serial).
For these and other reasons, I have little confidence that the Governor's task force will accomplish much, if anything. Maybe the discussion about Combatting Campus Sexual Violence today on HearSay with Cathy Lewis will provide a glimmer of hope.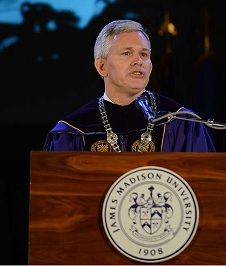 This morning
the Governor will visit a farm
just south of the James Madison University (JMU) campus. While farming best practices are admirable, the safety of students on campus, neglected by the JMU administration in Sarah Butters' sexual assault case, screams for immediate attention. President Alger deserves a wakeup call.
On Alger's campus a student may participate in a gang sexual assault of a fellow student, videotape it, publish it on the internet, be accused by the victim then escape any substantive punishment. Following the revelations about JMU's bumbling enforcement of its own sexual assault policies, the University President, Jonathan R. Alger, withdrew to his comfort zone: acting as his own lawyer rather than campus leader. What was his reaction to McAuliffe's formation of a task force to combat sexual violence at Virginia colleges?

"For all of us, this is a time to come together, to share best practices, to make clear that we all take this issue very seriously," said Jonathan R. Alger, president of James Madison University. He said the freshmen now gathering at the school in Harrisonburg are getting the message that they must not be bystanders to sexual assault. - Washington Post
Best practices? Seriously? The message?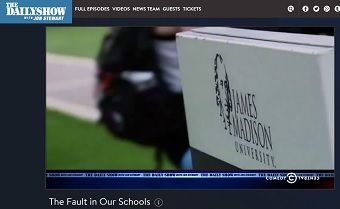 Now we have to wonder why this isn't on the JMU or, for that matter, the McAuliffe administration's radar. It's been a week now since
WHSV reported on the Sarah Butters sexual assault case
. More than 10,000 have signed the online petition for justice. Silence. Crickets chirping in Richmond.
This case is horrifying. But at least the woman has evidence...you know, video...At least this time the school cannot sweep this one under the rug...James Madison University is going to be the laughing stock of this country...WTF? Are colleges trying to incentivize sexual assault?
Okay, the U.S. Department of Education thinks there is a problem. We here at Blue Virginia think there is a problem. Over 10,000 people online think there's a problem. The student body President thinks there is a problem. A party to the investigation thinks there is a problem. But no one in those fine buildings in Harrisonburg or Richmond have the courage to come forward. Maybe they are waiting for Republicans to force their hands.
This is exactly how we handle sexual violence in America; until it's our daughters. But of course, then it's too late. Just like the response to this travesty.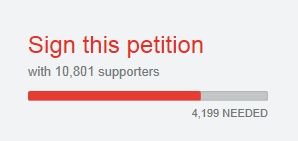 The online petition for justice in the
James Madison University sexual assault case
reached its goal of 10,000 signatures yesterday and is now headed toward 15,000. So while the school's administration did not comprehend her complaint and the McAuliffe administration has remained silent, the case is drawing ignominious attention.
The Student Government Association (SGA) President, Taylor Vollman, posted a letter to fellow students on the SGA blog two days after the news about the case was made public on WHSV. From the content of the letter the inference is that the JMU administration, fumbling with the Sarah Butters case, never made the effort to involve students in an effort to curb sexual volence on campus during the year and a half that it stalled a decision. Vollman says "we are trying to gather as much information as possible on this complex issue in order to have a holistic view of where we are and where we need to go."
Really. A "holistic" view isn't something which the JMU administration has shown itself capable of grasping. But good luck with that.
Tonight was
WHSV's third installment in a series
indicting the James Madison University Administration for failing to take sexual assault seriously. Apparently the McAuliffe Administration fails to recognize the malfeasance that is evident or suffers the same hope that this will simply be forgotten.
Suspend and investigate the administrators now!
There is actually much more to be concerned about. Apparently Alger and his crew are completely unfamiliar with the characteristics and behaviors of sexual predators. Generally predators are serial violators. And when allowed to escape appropriate punishment are emboldened to continue, armed with more knowledge of the processes that might result in their apprehension. Predators are stalkers and sociopaths. If the JMU administrators believe that this was just a misunderstanding among friends who had too much to drink, then they are unqualified to protect the students in their charge. In fact, the behavior of those three men typifies that of a stalker who lays in wait for such an opportunity to present itself. It is very unlikely that this was their first or last such behavior. Every indication is that these men should be registered sex-offenders for the good of any community in which they reside. But JMU decided it is fine that they remain on campus despite the threat they present.
...with this verdict, myself, along with all the other females in the student body are torn down enormously. As a senior about to graduate in a few short weeks, I feel as though my last year has been tainted. I do not want to share a diploma with these three boys. I do not want to tell people I graduated from a school that thinks sexual assault and sexual harassment are acceptable. - excerpt from a letter to President Alger from a party to the school's investigation
Below the fold is the full letter to JMU President Alger from a friend of the victim that expresses frustration that the sexual assault of a student was taken so casually and dealt with so lightly. Like JMU advertises, "It's all about relationships."
There is an online petition demanding justice for the victim at change.org.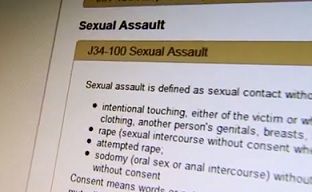 Less than two weeks ago
Senator Mark Warner was asked a question about how to address sexual violence
against women on campus. He pointed to the Administrations as the place where a culture that enforces appropriate behavior begins.
A WHSV report does not reflect well on JMU's
.
In the first of a three part series that began airing last night and continues tonight and tomorrow, a former JMU student tells her story of assault at the hands of three other JMU students while on Spring break in Florida. These were men that she considered her friends and whose video of the assault filtered through the internet before she was fully aware of what happened.
"I'm clearly like not really able to defend myself or fight them off," said Butters, "We were in an enclosed bathroom. It was three of them surrounding me and none of them thought they were doing anything wrong."
But the Administration was slow to act. The event occurred in March 2013 and was reported but the case did not seem to gain any attention until last fall. By the time the three members of the JMU Sigma Chi fraternity were admonished, they had earned their degrees and were allowed to graduate.
Their punishment: expelled upon graduation; not allowed to walk at graduation or allowed back on campus ... but graduated nonetheless.
This ball is not in Senator Warner's court now. This hot potato is Governor McAuliffe's. It is time for him to expel some of the administrators at JMU.
Senator Mark Warner is daddy to three young women. That was clear during Friday's town hall portion of a campaign stop. Responding to a question he could not have anticipated, he answered from the heart: no clichés; no mantras; no sophomoric solutions. None apply. He's had reason to "get it."
The woman who asked the question does not attend college in Virginia but Anna is a Virginian. She asked the question in a city that is home to a large university with a lively social scene; it wasn't directed at James Madison University. It is not about her school (Ferrum College) either. (She told me that the administration at Ferrum supports women's safety.) However, it follows the events in Isla Vista that are a clarion call for a very long moment of cultural introspection. In one horrible manifestation of misogyny, the crisis in mental health care, and the propensity to violence, Elliot Rodger painted an alarming abstract with all these elements that demands our attention.
Other symptoms of these cultural cancers are renown. Senator Warner is absolutely correct that there is no law that will prevent the tragedies; particularly those that are shrouded in shame; never reported. Those cannot even be punished; in practical terms the only remedy a law provides. We must break the cycle of misogynistic abuse through an honest assessment of our culture and ourselves; all of us: men and women, girls and boys, everyone in between. Shame is a curtain of steel and despite the source of our mores, secular, religious, or otherwise, it must be pulled aside to allow sunlight to shine on relations between women and men. All the ugly must be visited even if we desperately want to pretend it doesn't exist.
This reminds me of my own reticence to speak out about the clumsy and ineffective protestations in Congress over the treatment of women in the armed forces. My own angry immediate reaction to each report would do nothing to further the debate over how this problem should be addressed. And human relations are complicated enough without taking out a brush to paint them over with unenforceable pandering. That is what Congress gave us. There is the real shame! No, Senator Warner is exactly where he should be on the issue Anna raised and I suspect on the cultural problems that manifest in the military. I sincerely hope she follows up and that the Senator uses this as a door to help provide a glimmer of cultural leadership.