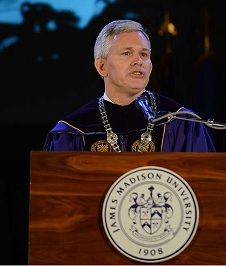 This morning
the Governor will visit a farm
just south of the James Madison University (JMU) campus. While farming best practices are admirable, the safety of students on campus, neglected by the JMU administration in Sarah Butters' sexual assault case, screams for immediate attention. President Alger deserves a wakeup call.
On Alger's campus a student may participate in a gang sexual assault of a fellow student, videotape it, publish it on the internet, be accused by the victim then escape any substantive punishment. Following the revelations about JMU's bumbling enforcement of its own sexual assault policies, the University President, Jonathan R. Alger, withdrew to his comfort zone: acting as his own lawyer rather than campus leader. What was his reaction to McAuliffe's formation of a task force to combat sexual violence at Virginia colleges?

"For all of us, this is a time to come together, to share best practices, to make clear that we all take this issue very seriously," said Jonathan R. Alger, president of James Madison University. He said the freshmen now gathering at the school in Harrisonburg are getting the message that they must not be bystanders to sexual assault. - Washington Post
Best practices? Seriously? The message?
Tonight was
WHSV's third installment in a series
indicting the James Madison University Administration for failing to take sexual assault seriously. Apparently the McAuliffe Administration fails to recognize the malfeasance that is evident or suffers the same hope that this will simply be forgotten.
Suspend and investigate the administrators now!
There is actually much more to be concerned about. Apparently Alger and his crew are completely unfamiliar with the characteristics and behaviors of sexual predators. Generally predators are serial violators. And when allowed to escape appropriate punishment are emboldened to continue, armed with more knowledge of the processes that might result in their apprehension. Predators are stalkers and sociopaths. If the JMU administrators believe that this was just a misunderstanding among friends who had too much to drink, then they are unqualified to protect the students in their charge. In fact, the behavior of those three men typifies that of a stalker who lays in wait for such an opportunity to present itself. It is very unlikely that this was their first or last such behavior. Every indication is that these men should be registered sex-offenders for the good of any community in which they reside. But JMU decided it is fine that they remain on campus despite the threat they present.
...with this verdict, myself, along with all the other females in the student body are torn down enormously. As a senior about to graduate in a few short weeks, I feel as though my last year has been tainted. I do not want to share a diploma with these three boys. I do not want to tell people I graduated from a school that thinks sexual assault and sexual harassment are acceptable. - excerpt from a letter to President Alger from a party to the school's investigation
Below the fold is the full letter to JMU President Alger from a friend of the victim that expresses frustration that the sexual assault of a student was taken so casually and dealt with so lightly. Like JMU advertises, "It's all about relationships."
There is an online petition demanding justice for the victim at change.org.