Home
Tags
Sexual violence
Tag: sexual violence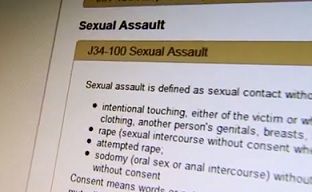 "Critics of such legislation" may reveal more than they intend when they question lawmakers' "real-world wisdom." It is that conventional "wisdom" that poisoned the well of justice in
Sarah Butters' case
. It comes down to this: rape is not about midnight wrestling matches between hormonal lovers. It's about violence.
Those quoted phrases are from a dismissive opinion piece in The Free Lance-Star that diminishes the importance of the work undertaken by Governor McAuliffe's task force to combat sexual violence at Virginia's colleges and universities. It is symptomatic of a prevailing cultural attitude toward the value of women and ignores a significantly greater social disease for which there is currently no innoculation.
In "civil" conversation involving sexual relations we usually pussyfoot and that plays into avoiding a substantive discussion about the violence. The violence has a sexual manifestation but it is actually a complete disregard for the victim; usually female (but sometimes male, by the way). It is about dominance and misogyny.
There are a number of "realities" that we want to pretend away. That one in five women on campus are the victims of sexual violence is easier to accept if, as that opinion piece does, we frame these as "misunderstandings." While there are cases of remorse after acquiescence in a relationship, we shouldn't count them in that 20%. Nor should the task force pretend that is an explanation for the alarmingly high, and likely under-reported percentage. Next, accepting that 20% figure does not indict 20% of the males on campus as perpetrators. Research shows that sexually violent perpetrators commit serially. While that may help some feel better about our culture and men in general, what it should also do is emphasize the imperative to get anybody who commits any single act of this sort off campus immediately and permanently. Plus, the number of violent acts against women that involve more than one perpetrator, often referred to as gang rape, is uncomfortably greater than we want to know...so we pretend; and women, shamed by the experience, shutter it, setting up the next target of group "affection." Not finally, but I will pause here, the abuse of authority (i.e. professors) to impose one's will on another (aka seduction) is no less a betrayal, act of violence, and rape than a forceful, physical subjugation (and serial).
For these and other reasons, I have little confidence that the Governor's task force will accomplish much, if anything. Maybe the discussion about Combatting Campus Sexual Violence today on HearSay with Cathy Lewis will provide a glimmer of hope.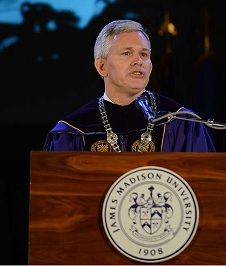 This morning
the Governor will visit a farm
just south of the James Madison University (JMU) campus. While farming best practices are admirable, the safety of students on campus, neglected by the JMU administration in Sarah Butters' sexual assault case, screams for immediate attention. President Alger deserves a wakeup call.
On Alger's campus a student may participate in a gang sexual assault of a fellow student, videotape it, publish it on the internet, be accused by the victim then escape any substantive punishment. Following the revelations about JMU's bumbling enforcement of its own sexual assault policies, the University President, Jonathan R. Alger, withdrew to his comfort zone: acting as his own lawyer rather than campus leader. What was his reaction to McAuliffe's formation of a task force to combat sexual violence at Virginia colleges?

"For all of us, this is a time to come together, to share best practices, to make clear that we all take this issue very seriously," said Jonathan R. Alger, president of James Madison University. He said the freshmen now gathering at the school in Harrisonburg are getting the message that they must not be bystanders to sexual assault. - Washington Post
Best practices? Seriously? The message?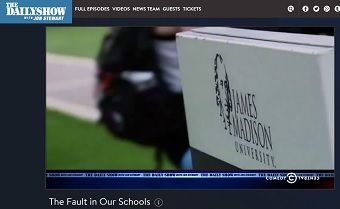 Now we have to wonder why this isn't on the JMU or, for that matter, the McAuliffe administration's radar. It's been a week now since
WHSV reported on the Sarah Butters sexual assault case
. More than 10,000 have signed the online petition for justice. Silence. Crickets chirping in Richmond.
This case is horrifying. But at least the woman has evidence...you know, video...At least this time the school cannot sweep this one under the rug...James Madison University is going to be the laughing stock of this country...WTF? Are colleges trying to incentivize sexual assault?
Okay, the U.S. Department of Education thinks there is a problem. We here at Blue Virginia think there is a problem. Over 10,000 people online think there's a problem. The student body President thinks there is a problem. A party to the investigation thinks there is a problem. But no one in those fine buildings in Harrisonburg or Richmond have the courage to come forward. Maybe they are waiting for Republicans to force their hands.
This is exactly how we handle sexual violence in America; until it's our daughters. But of course, then it's too late. Just like the response to this travesty.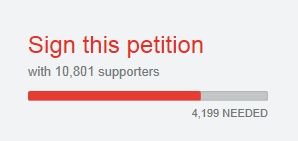 The online petition for justice in the
James Madison University sexual assault case
reached its goal of 10,000 signatures yesterday and is now headed toward 15,000. So while the school's administration did not comprehend her complaint and the McAuliffe administration has remained silent, the case is drawing ignominious attention.
The Student Government Association (SGA) President, Taylor Vollman, posted a letter to fellow students on the SGA blog two days after the news about the case was made public on WHSV. From the content of the letter the inference is that the JMU administration, fumbling with the Sarah Butters case, never made the effort to involve students in an effort to curb sexual volence on campus during the year and a half that it stalled a decision. Vollman says "we are trying to gather as much information as possible on this complex issue in order to have a holistic view of where we are and where we need to go."
Really. A "holistic" view isn't something which the JMU administration has shown itself capable of grasping. But good luck with that.